Interesting
John Macarthur
In the second year of this strange task of reviewing the awards, I must begin with the usual disclaimer – I don't know all these buildings sufficiently to assess the validity of the jury's decisions. But I can give some opinions about what the awards look like from a distance – looking at trends as much as winners, and with the advantage of last year's responses by Michael Keniger and Sandra Kaji-O'Grady as a basis for some comparisons.
Last year Keniger pointed out a division between those awarded buildings concerned with "surface and form and those governed by spatial experience, tectonics and response to place", proposing that the tension between the two was a driver in architectural culture. If so, no longer; it's gold, gold, gold for surface and form this year. "Space, tectonics and place" are only really represented by James Stockwell's Leura House, a building so mannered and polished in its STP-ness that it might as well be in the surface-and-form category. Queensland might be the state of "place-makers" but m3's Cherrell Hirst Creative Learning Centre at Brisbane Girls Grammar, winner of the Zelman Cowen, does its very best to subsume climatic design into graphic design. The Watercube of CSCEC + PTW Architects + CCDI + Arup (recognized with the Utzon award) has widely advertised our national interest in object-like forms of unusual geometry. The Klein Bottle House, winner of the Robin Boyd, is undoubtedly carefully sited and offers rewarding spaces, but it is Klein Bottle in the sense that Venturi wrote of object buildings as "ducks".
Last year, Kaji-O'Grady was generally disappointed in the projects up for consideration in the residential category, noting a converging market taste for neo-modernist decor and a lack of experimentation. McBride Charles Ryan seem to have taken this complaint seriously, as did Denton Corker Marshall, who received a commendation for the almost hubristic cantilever of the Wilson house, and an award for Adrian FitzGerald's more modest but nevertheless startling Tube House. Here the oft-observed "tube" of space of a terrace house literally becomes two square tubes like stacked concrete culverts. Kaji-O'Grady also found the Commercial category uninspiring, but this year McBride Charles Ryan's Monaco House is in no danger of failing to have an impact on the urban environment. While the winner of the Seidler, Lyons' Hume Offices, looks the way a generic office slab might if one dreamed it after a particularly rich dinner.
I should say immediately that the buildings I have mentioned certainly deserve their awards. The Hume Offices continue to demonstrate Lyons' ability to make bold cultural statements that refer to the background of ordinary commercial architecture without condescension. M3's Cherrell Hirst is a well-ordered environment that speaks of Queensland socially and climatically, but with an overarching formal verve that reminds me of nineteenth-century Queenslanders such as GHM Addison. And the Klein Bottle house fulfils its unlikely topological contract in a bravura piece of planning and fabrication. My attempt at caricature is, however, intended to make a broader and perhaps shallower point, as much about the judging as any project. None of the awarded buildings fails to be interesting, but as a set describing Australian architecture today, are they perhaps a little too interesting? While I've had a little fun with Keniger and Kaji-O'Grady picking trends from one year's sample, I'd be a coward not to take the same risk and ask, "Is 'interestingness' in danger of becoming a value?" On the coffee tables of Zurich this issue of Architecture Australia might suggest that both polite reticence and plain speaking are unknown in Australian architecture. I can speculate as to why this might be the case, for reasons both bad and good.
The current popularity of architecture is a mixed blessing. It has caused the inner cities to be back-filled with neo-modern apartment buildings of mediocre design and even produces the odd flat roof in the suburbs; how then does advanced architecture (after modernism, but all about modernism) distinguish itself? Are we returning to a cultural situation like the late 1950s and 60s, when there was a degree of continuity between popular taste, speculative building and high architecture? This would be good if one assumed that the normalization of architecture was good, and that architects could lead the making of the built environment by a united front on values and the trickle down of commensurate models and concepts. But one's values then would not be in the interesting, but rather in the self-evident authority of "good form" – not something that seems of interest to the profession as represented in these awards. Taking a darker view, we could see the current explosion of design culture as a rising tide of cliché and commodification that threatens to sweep away the distinctive culture of architecture. In which case the profession might need to be "interesting", in the sense of wit, novelty and the arrest of attention with unique features, but this would be a symptom of marginalization.
A happier reading of the awards would be to think on the longevity of many of these practices. One cannot but be impressed with John Wardle and the long and concentrated development that has led to two 2008 awards, including the Emil Sodersten, and two commendations for buildings of immense sophistication and good judgment. Similarly, ARM's library and museum has a design that is formally and semantically idiosyncratic, yet it is the idiom of Albury and the distinctive idiom of ARM, impacted one into the other. I mention these two practices because, while there is a lot of space between Wardle and ARM, and while tastes differ, no-one could think that the difference between them is a trivial matter of market positioning. These are investigations into the capacities of architecture that are decades long and consist of dozens of projects. ARM's Albury job recalls the Marion Centre of 2002, which is curious in a design approach that is so opposed to normative form. By making semantics and imagistic references run interference against its sensible and generous planning, ARM has continued to walk the tightrope of a formalist anti-formalism. Wardle's Peck Centre doesn't share a style with the Hawke Building or the Queensland Brain Institute so much as it shares some kind of ineffable spatial flavour, which can be articulated more finely than mundane space. In short, what I'm tempted to complain of as "interestingness" might be better explained as real and principled divergence that we should expect as practices mature.
If this is the better light on the situation, it isn't without its own problems. In the visual arts it is observed that in the so-called postmedial condition, painters still paint, but there is nothing self-evident in painting anymore. If the variety of the awarded buildings of 2008 is not merely interesting, if we agree with the judges that there is real depth of concept, discernment and technical innovation, then the divergence of approach suggests new demands. Is it the case today that each architect has to make float a whole conception of architecture in the body of their work? Is there nothing self-evident in architecture anymore?

Dr John Macarthur is reader in architecture at the University of Queensland.
a canny intelligence
Laura Harding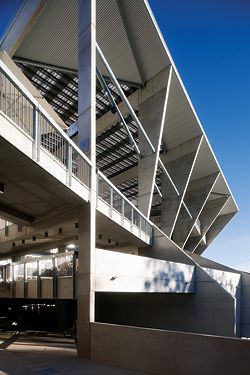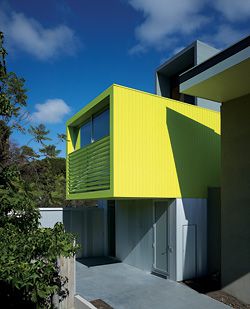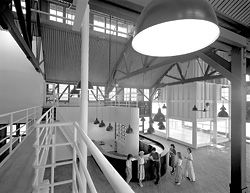 How is one to understand the disparate collection of projects that find themselves assembled as the 2008 Australian Institute of Architects National Architecture Award winners? Drawn from wildly varying clients, sites, programs, budgets and architectural agendas, they are now collectively recorded for posterity as the class of 2008. We will only become familiar with these works through drawings, photographs and words, as the full experience of their reality is a privilege belonging only to the five jurors. So what can we draw from these projects in spite or indeed because of the very abstract way that they are gathered and offered for scrutiny?
One finds compelling evidence of a sustained and significant reversal in the nature of public and private architecture. Traditionally, it was the public realm where ample budgets and enlightened patrons offered architects the opportunity to experiment with fine materials and draw upon sophisticated technology and skilful craft-based building traditions. This form of largesse is now firmly the preserve of the singular residence in the private realm. Far from chastened, contemporary public architecture is seeking the sublime in the ubiquitous and in doing so is revelling in renewed opportunities for tactile engagement in our urban and suburban environments.
Among the awards for public architecture we find a paradoxically rich material sensibility emerging from frugality. M3architecture, authors of the Sir Zelman Cowen Award-winning Cherrell Hirst Creative Learning Centre, wield a raw, off-form concrete skeleton and a mirage of aluminium plates with wit and vigour, fashioning a leavened institutional gravitas and provocative urban artefact from the humblest of materials. Similarly, John Wardle Architects' Nigel Peck Centre for Learning and Leadership engages with the urban realm optimistically and joyfully through material means – the gritty texture of "book bond" brick has an arresting visual tactility, while a jostling array of deep, steel-framed window boxes thrusts students into an unexpected and energizing encounter with the passing public.
Other projects use constraint as an opportunity to develop an informal and inclusive civic sensibility. PHOOEY Architects' Children's Activity Centre receives the National Award for Small Project Architecture for a knockabout assembly of rooms for children's recreation, formed from such ignoble materials as shipping containers, carpet tiles and fluorescent tubes. The Walter Burley Griffin Award for Urban Design is given to the Rouse Hill Town Centre for its authors' hard-fought battle to civilize the regional shopping centre, forming an engaging and climatically responsive series of urban spaces around the mute brutality of suburban retail barns. Robert Simeoni's delightful Seaford Life Saving Club takes the forthright, direct and utilitarian qualities of plywood, timber and cyclone wire fencing, and makes a public gathering space where bare feet and togs are de rigueur.
Others exploit few, forceful moves to make public architecture that derives its power from an uncompromising and direct materiality. Bligh Voller Nield's Beijing Olympic Green Tennis Centre is pared back, quite literally, to its bones. Astutely envisaging the pace and privation of its procurement, it draws its potency from naked structural form. Tonkin Zulaikha Greer receives the Lachlan Macquarie Award for Heritage for its deft insertion of silent concrete forms into the patina-laden brickwork armature of CarriageWorks theatre.
Running counter to these tendencies is CSCEC + PTW + CCDI + Arup's Beijing National Swimming Centre, recipient of the Jørn Utzon Award for International Architecture – and with good reason. The graphically flamboyant yet mathematically rigorous geometries of its ETFE bubbles serve the interests of sporting spectacle and global television audiences. This is one of the few architectural programs that can legitimately marshal contemporary architecture's waning obsession with surface – and the Watercube has done so very powerfully.
Only one project was awarded in the Multiple Housing category. From this we can infer that, however difficult the procurement of public projects may have become, the development industry's stranglehold on multiple housing is quite another beast altogether. Seasoned combatants in this rarefied form of trench warfare, Stanisic Associates are worthy recipients of the Frederick Romberg Award for EDO – yet another essay in the architectural possibilities of sparsity.
The compelling architectural materiality and urban engagement of the public and international projects, for me, render McBride Charles Ryan's Klein Bottle House a disappointment as the recipient of the Robin Boyd Award. Its aloof self-assurance stands in contrast to the jaunty agility of Adrian FitzGerald's Tube House, an invigorating response to an inner-urban site that indulges in a cat-and-mouse game of engagement and withdrawal; and to the highly sophisticated Fremantle House by Simon Pendal and Rebecca Angus, winner of a National Commendation for Small Project Architecture, which dramatically exploits poche to abstract the relationship of its tiny interior to the taut confines of its unassuming battle-axe lot.
That said, I find McBride Charles Ryan's Monaco House, winner of a National Award for Commercial Architecture, the strongest of the commercial projects. Here triangulated geometries operate in the service of more broadly ambitious architectural agenda – the opportunity to articulate a finely calibrated historic cadastral grain and a virtuoso urban facade that cultivates an intensely theatrical relationship between its consular microcosm and the wider city.
While debating, discussing and dissecting the current crop of winners, it is instructive to pause and consider the projects eligible for the 25 Year Award for Enduring Architecture. Decoupled from the circumstances of their creation and the theory, philosophy and predilections of a quarter of a century past, these works of architecture stand alone. What can they tell us about the qualities that enable architecture to maintain a genuine cultural relevance over time?
Vivian Frazer and The NSW Public Works Department's Wharf Theatre of 1984 is still, quite simply, extraordinary. As the jury notes, its success has spawned numerous replicas – but to me these fussy contrivances have nothing of the mastery of the original. What distinguishes it? The very same characteristics shared by all of the best works in this year's awards – a canny intelligence that makes more of less, a joyous experiential sensibility, an engagement with context predicated on wisdom and humility and, above all, an unwavering commitment to developing the public culture of the life of the city as a core concern of the discipline of architecture.

Laura Harding works with Sydney-based practice Hill Thalis Architecture + Urban Projects.