Can a leopard change its spots? This question hung over the announcement that Sydney's Star City Casino would undergo an $870 million redevelopment. Together with a major rebranding, which saw the casino's name change to The Star, the redevelopment, which was completed in 2011, attempted to remedy much of the architectural and interior infamy that had long given the complex a bad name in Sydney's design community.
The casino's monumental staircase has been replaced by a sweeping glass facade that addresses the bay, and the missing piece in the urban jigsaw – an empty lot that adjoined Union Street – has been skilfully resolved with the addition of the five-star Darling Hotel by Cox Richardson, with interiors by DBI Design.
On first sight, these architectural and masterplanning efforts answer the question previously posed with a tentative "yes."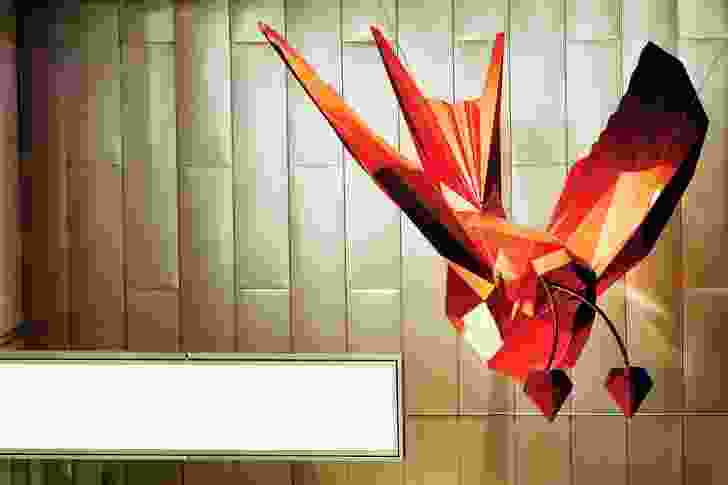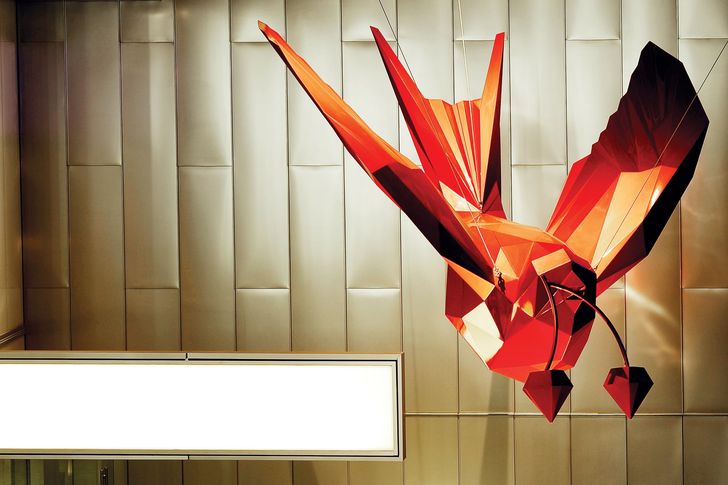 Fortune is heralded to those entering the Darling Hotel by a giant red aluminium swallow, the work of artists James and Eleanor Avery with Urban Art Projects. Bearing a pair of diamonds in its mouth, the bird's suspended swoop invites you inside. It is when you enter the lobby that you become fully convinced that DBI has done great work in creating the leopard's new look. The space is light filled and voluminous, and an interior street links the entries at either end and neatly separates the restaurant and bar area from the reception.
Visitors are immediately struck by the playful mix of colours, materials, finishes and furnishings, which provide a refreshing change from the generic international anywhereness that is often found in hotel lobbies, especially in Sydney. At the five-star level first impressions count, and every attempt has been made to indicate that the Darling is not an office, not a casino and not an ordinary hotel. It is, as the DBI design team stated, "an urban resort," albeit with a twist of "whimsy and indulgence" – an approach that runs through all aspects of the interior. This can be seen in the lobby, where autochthonous floral motifs burst out in a riot of colour from custom-designed carpets by Akira Isogawa, offsetting the sleekness of the stone-clad walls and floors. Isogawa is one of the Sydney-based artists and designers whose works feature as key elements of the interior, a strategy that works to reinforce the idea that while the hotel operates at an international level, it also offers a uniquely Sydney experience.
The design of the spa facilities also reflects the urban Sydney experience. Soft and subdued, it takes its cues from the tradition of the oriental hammam, using locally cast bronze sculptures to provide visual orientation in what is a luxurious labyrinth of bedonia stone, billowing curtains and candlelight.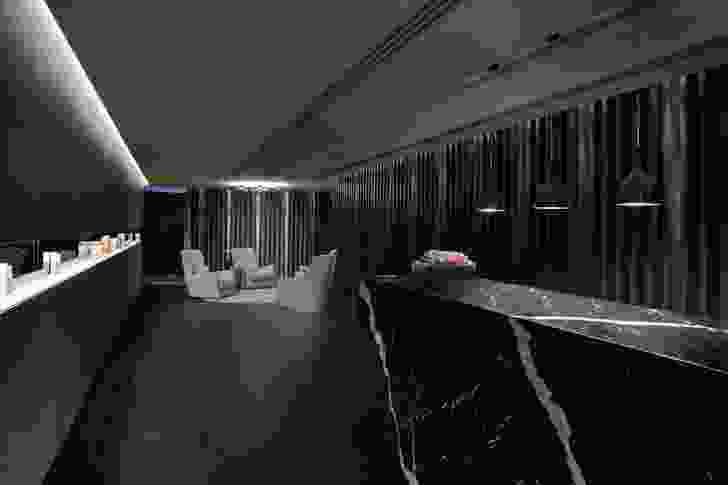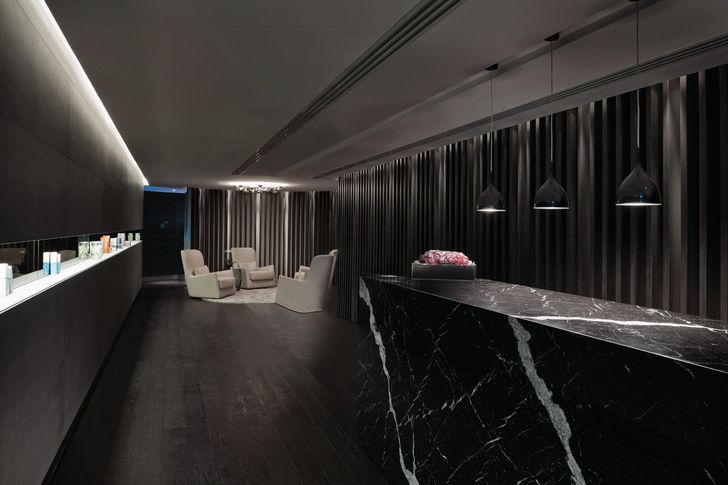 The treatment of the accommodation levels mediates between the moodiness of the hermetically sealed spa and the urban openness of the lobby. Entry to the rooms is marked by panels of brightly coloured fabric which, together with the use of dark hues and judiciously dim lighting, help successfully avoid the banality of design responses typical of such spaces. The rooms themselves have been conceived around a unified palette of walnut-clad joinery, black glass shower enclosures, marble, limestone and mosaic bathroom finishes. The sophisticated ensemble is once again given a twist by the splashes of colour provided at the detail level, quirky examples being the orange coathangers and purple bath linen, which the designers say are the fruitful result of close client participation.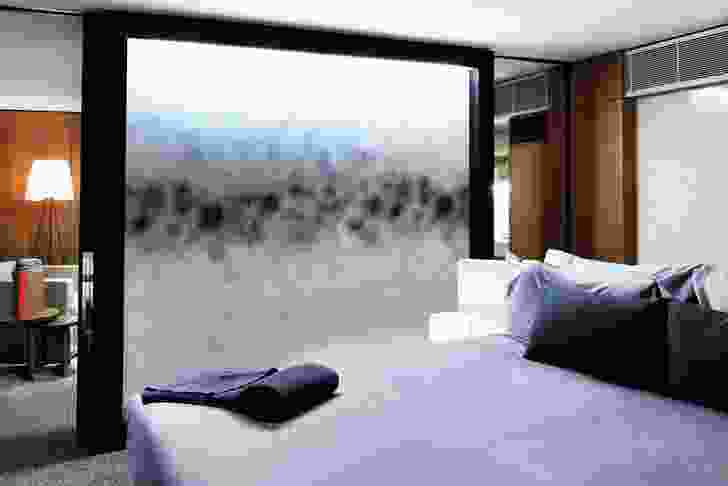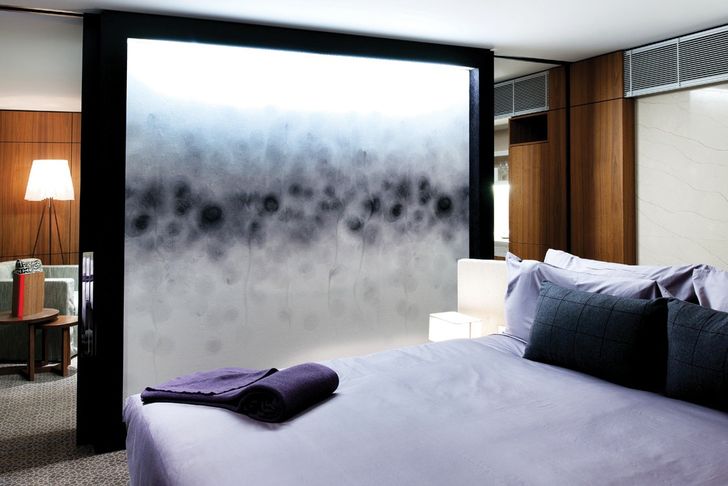 It is at this level of detail that the design of the rooms impresses. Everywhere you look, items have been custom designed and locally crafted, whether it's a fruit bowl, a writing desk or even the ubiquitous bar fridge, which has been reconceived as a cocktail bar should the need arise to host a party in your room. The spontaneity and playfulness of such suggestions was a major influence on the design strategy, this can be seen in the round bathtubs, which cheekily remind you that the hotel is connected to a casino.
These are the touches that imbue the design with a distinguished feel. It's young, luxurious and sophisticated, more sassy than serious. The design of The Darling does not shy away from the fact that it is part of the Star complex. Rather, it embraces it, and the feel here is "so … let's party."
Products and materials
Walls

Lobby in Platinum Portoro marble column cladding, reconstituted timber veneer from Eveneer, Eurosable leather panelling, exfoliated marble, exfoliated granite, quarter-matched directional marble, amenities include vitrified porcelain Laminam. Guest rooms in American walnut, stone slab from Zecevo San Grigio, vitrified tiles by Color Tile, and Trove wallpaper. Suites include custom Bisazza mosaic. Corridor fabrics by Maharam and Lelievre, and Santa Catarina travertine stone. Spa wall finishes are Bedonia stone cladding, solid timber battens, Nero Marquina marble mosaics and Baresque wall coverings.
Windows

Window blockout is Zepel fabric with custom toned blockout, sheer drape is custom woven.
Doors

Guest room doors finished in reconstituted timber veneer.
Flooring

Lobby in Mafi timber flooring, Italian stone slab, Brazilian marble, rugs by Designer Rugs custom designed by Akira Isogawa. In billiard room, rug is custom by DBI Design, manufactured by Designer Rugs. Lobby amenities feature a custom-designed marble mosaic. General guest rooms carpet by Brintons, custom-designed carpet in suites by Feltex. Corridors feature custom-designed carpet by Feltex with Italian marble slab to lift lobby. Spa public spaces are in vitrified tile and treatment rooms in woven vinyl Bolon.
Lighting

Lobby lights by Luce Plan from JSB Lighting, De Padova Circle floor lamp by Patricia Urquiola from Dedece and Anta Ella floor lamp. Billiard room, Mercury pendant by Artemide. Rooms, Flos Tab T LED desk lamp and Rosy Angelis floor lamp, both from Euroluce.
Furniture

Much of the furniture was custom designed for the project. Lobby also has Maxalto Febo sofa and armchair, B&B Italia Terminal 1 chaise and Porro Jade armchair all from Space Furniture, Poliform Airport poufs, Minotti Protofino Beregre armchair from Dedece, limited-edition Walter Knoll bucket chairs in the business lounge and Casamania Philippe tables. Guestrooms include custom furniture, manufactured in Sydney. Guestroom desk chair supplied by Hughes Furniture, Jewel Suites desk chair by Andreu World from KE-ZU, Adored suites dining chairs by Minotti from Dedece, Suites Sofas from i4 Mariani. Business centre desks clad in Opal Illume from Baresque. Spa has De Padova Lavenham armchairs from Dedece. Australian designed Nottage glass billiard table.
Bathroom

Lobby tapware by Vola from Dedece, toilets are Black Pillow from Studio Bagno. Guestroom tapware from Parisi, sanitaryware from Parisi and Caroma, bathroom hardware by Barben Industries including custom-designed multiple robe hooks, freestanding spa by Decina. Spa tapware from Rogerseller.
Artwork

Lucky Dip by James and Eleanor Avery with Urban Art Projects. In rooms, digital artwork image by artist Russell James, printed by Flash Photobition.
Credits
Design practice

DBI Design
Surfers Paradise, Qld, 4217, Australia
Project Team

Susan Rossi, Anna Goh, James Bassos, Neil Clarke, Melissa Martinez, Erin Shaw, Tammy Liew, Paul O'Connor
Architectural practice

Cox Architecture Sydney
Sydney, NSW, Australia
Consultants

Builder Brookfield Multiplex
ESD Cundall Australia
Fire engineer Arup Sydney
Landscaping Tract
Lighting Point of View
Mechanical and electrical engineers Bassett Consulting Engineers
Project manager Brookfield Multiplex, APP Corporation
Structural engineer Taylor Thomson Whitting

Site Details

Location 80 Pyrmont Street, Pyrmont, Sydney, NSW, Australia
Site type Urban

Project Details

Status Built
Completion date 2012
Website http://www.thedarling.com.au/
Category Hospitality, Interiors

Source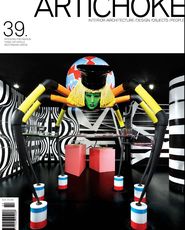 Issue
Artichoke, June 2012
Related topics