The Edge design competition winners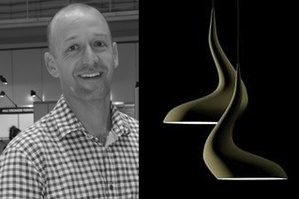 The Edge design competition announced its 2013 winners at the opening of the Australian International Furniture Fair in Sydney on Wednesday, 6 February.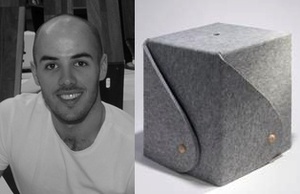 Judges Jan Henderson (Architecture Media associate publisher), Lisa Green (Australian House and Garden magazine editor in chief), Marc Schamburg (Schamburg + Alvisse) and industrial designer Adam Goodrum chose four winners from the competition's thirty-eight finalists.
Commerical Award
Victorian-based designer Ash Allen won the Commercial Award for Dollop Light, which is aesthetically inspired by a dollop of cream dripping off a ladle. Its earthenware slip cast pendant shades conceal the low-wattage LED bulb that instead bounces light off the highly reflective interior of the shade.
Green Award
University of South Australia Masters of Design student Toby Nowland won the Green Award for his Fold and Peg Stool. The stool is made from a flat piece of EchoPanel (recycled and recyclable PET) and Tasmanian oak pegs, without the use of adhesives. The fold-around "tabs" become pockets in which to stash magazines and newspapers.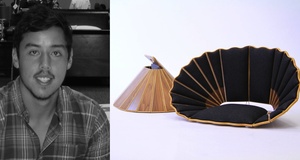 Student Award
RMIT University furniture design student Ben Brayshaw won the Student Award for his Clam Chair. This shell-inspired portable chair is padded with nineteen small cushions, and has been designed to open and close, and be lightweight and portable. Made from Americal walnut veneered hoop pine ply, flexible PVC and wool felt upholstery, it folds and unfolds easily and quickly. It also won the 2012 Australian Furniture of the Year student design award for Victoria and Tasmania.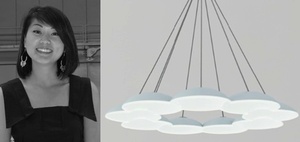 Concept Award
Industrial design graduate of Swinburne University of Technology Stephanie Ng Hui Sien won the Concept Award for her Halo Light, a modular lighting system made from polyurethane resin that can be configured in numerous shapes and sizes. Stephanie previously graduated in product design from Kuala Lumpur's Limkokwing University of Creative Technology.
Curated by Scott Lewis, the winning designs, along with all the finalists, are now on show at the Sydney Convention and Exhibition Centre as part of the Australian International Furniture Fair (6–8 February 2013).