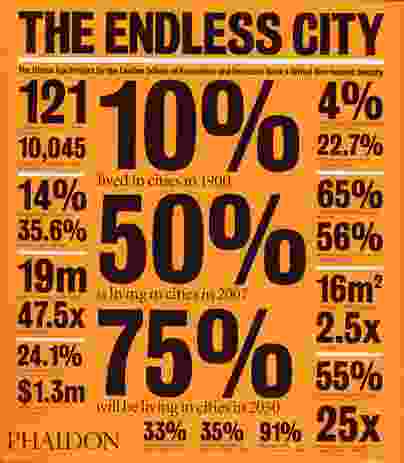 This mammoth book, <em>The Endless City</em>, is one of the few urban texts in recent years that has matched its subject matter so completely in terms of scale and impact. The premise of the book we already know – that as a planet we are moving towards an "urban age," where urbanity in its varied forms will come to characterize human habitat and become our dominant social condition. The book's foundation statistic is that in 1900, 10 percent of the population lived in cities. Today, that figure has edged over 50 percent and by 2050, within the career span of many of today's urban design practitioners, 75 percent of the world's population will be urbanites. This means serious change.
The book is the outcome of two years of investigation into six different cities: New York, Shanghai, London, Mexico City, Johannesburg and Berlin. The cities chosen give a broad description of the shades of global urban change, yet because the book is so good, even after five hundred-odd pages it still feels as though there could have been room for a few more cities to really complete the picture. Indian, Brazilian and Japanese cities are noticeably absent, substantially shrinking the book's description of the planet's urban world. The included cities are, to some degree, each representative of trends to be found in other countries and are intended as a sample set. Yet, as the book points out, cities are so geographically, culturally and historically specific that even a book of this size only scratches the surface of uncovering the complex local realities within which global urbanization is actually taking place.
Over the project's two-year period, each city hosted a meeting of minds collectively called the Urban Age Conferences, organized by the London School of Economics and Political Science, and Deutsche Bank's Alfred Herrhausen Society. These international meetings brought together professionals from different disciplines in each city, with the common goal of better understanding the changing conditions of global urbanity on real city ground. The density of information, description and opinion that fills this book feels as though it is the filter for all the thought, discussion and presentation that must have occurred through this rich conference period. Bottling conference energy is rarely achieved so effectively as it is in this publication.
Cities visited by the Urban Age Project occupy sections of the book. Each city is first described by a montage of street photography, then by a residential density map of the urban area with an accompanying page of statistics. These visual descriptors create a quick picture of each city, allowing for instant comparison with others in the book or with earlier time periods in the same city. There is nothing quite like statistical comparison to bring the speed of growth into context, yet statistics of this scale are such huge, unknowable figures that alone they fail to have any lasting impact on the reader. This is where the book's style of blending cold data with evocative photographs of urban decay and renewal becomes a very effective communicator of change.
Each city is described further through a series of short essays detailing particular aspects of each place – its culture, growth, political structuring and financial position. Coeditor Deyan Sudjic writes the opening essay for each of the cities. Sudjic is the director of the Design Museum in London and an established author and editor. His essays are informative reading and give a useful element of consistency to the large book. Further essays by leading thinkers, writers and practitioners build a dense picture of the changing face of global urbanity, investigating the networks of people, opinions, cash flows, politics and agendas that overlap within each metropolis.
Despite their differences, the cities face some common challenges as they rapidly urbanize. Social, economic and increasingly spatial inequality is a repeated theme, with cities such as Johannesburg and Mexico City seriously struggling to find common ground for rich and poor. In both these cities, as in many others worldwide, slums and informal settlements continue to sprawl between gated and secured luxury suburbs. Transport pressures are felt by all growing cities. A city may have redeveloped its system, outgrown its capacity or lost it altogether. A growing reliance on shrinking natural resources is one of the most alarming challenges to be faced worldwide. Mexico, for example, now draws water from its aquifers twice as fast as it is replenished.
The book's power is in making vast quantities of data accessible and interesting to the coffee table browser, while its essays have enough depth to appeal to the professional urbanist. Phaidon Press has demonstrated its mastery of this dual line many times and this book, with its bright orange cover, bold imagery and large word count, again delivers on all accounts. Often as designers we imagine that we are somehow more engaged with the city than others. Yet increasingly, as this book illustrates, most individuals are involved with urbanity to such an extent that the city's potentials, its promise and its failures have become relevant to all.
Living in the Endless City is the companion book to The Endless City and was released in June 2011 by Phaidon Press.
Edited by Ricky Burdett and Deyan Sudjic, Phaidon Press, 2008, paperback, 512 pages. RRP $69.95.
Source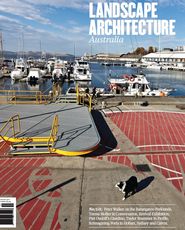 Issue
Landscape Architecture Australia, August 2011
Related topics