Behind the many visions of contested urban growth in Gary Hustwit's 2011 documentary Urbanized, which culminates in confronting protests surrounding the redevelopment of Germany's Stuttgart railway station and its surrounding parkland, lies a single provocation: How do you manage democracy?1
Australian governments at all levels are keen to embrace "design," South Australia arguably most of all with the establishment of the Integrated Design Commission SA and its successor, the Office for Design and Architecture SA.2 Here, unfashionable "planning" is replaced by iterative reinvention and compelling market-appeal graphics that are intended to ignite desire for wideranging change. Yet, through some horrible sleight of its invisible hand, the benevolent market may give us the changes we want, not the changes we may need.
Suburbs were – are – an unrivalled experiment in democracy, a collective dream that is made manifest and, in that realization, often becomes a nightmare. The development of suburbs is linked to the idea that democratic advancement can be demonstrated through economic growth, material wealth and physical urban expansion – a view generally agreed to be no longer possible. The utopian win-win gravy-train investment strategy model has become the dystopia of casually exploitative real estate markets tied to global money markets. The histories of democratic process, design endeavour and economic development unfold in the suburbs. The Global Financial Crisis was caused by residential housing loan default. What role can designers have in this environment?
It is no coincidence that the flourishing of Australian postwar suburbs coincided with the rise of the profession of landscape architecture and the need for a carefully conceived and generously gifted public realm. Now designers develop tactics and strategies to reinvent the Australian dream through ever-cleverer ways to fit ever-more enjoyable programs of healthy activity into ever-smaller parcels of increasingly marginal public open space. Yet is this the measure of good design? That a good place is the result of good design, and good design is evidenced in a good place, is simply self-referential. The most popular of our built environments are those, arguably, not designed at all: suburbs.
The predictable ordinariness of the 'burbs belies their role as the un-homely, terrain-vague setting for a tumultuous postwar epoch of intense achievement and even more luridly catalogued despair.3 Now these postwar locales, once on the outskirts of cities, occupy areas ripe for redevelopment and reinvention. And in north-west Adelaide, Playford is coming alive.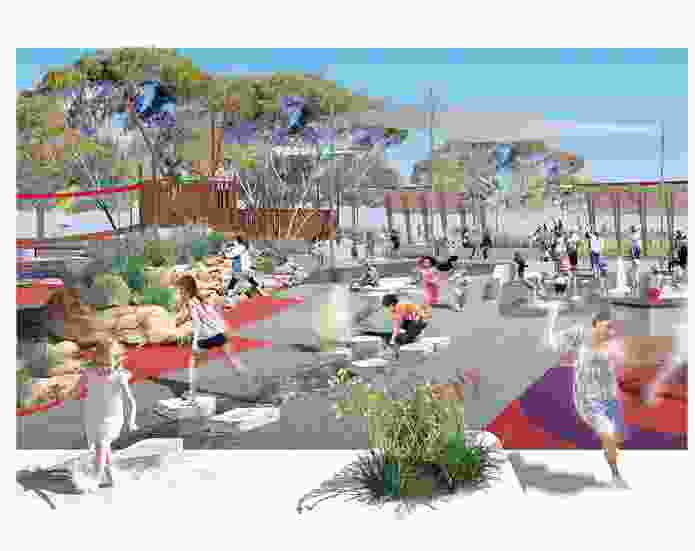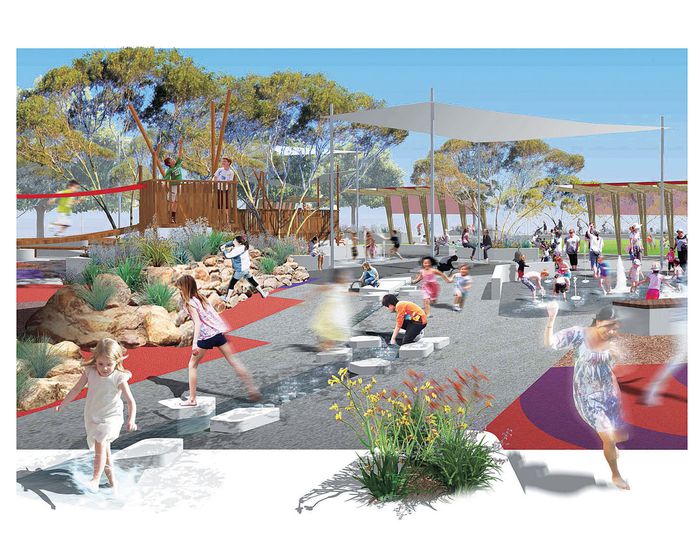 The City of Playford was formed in 1997 with the amalgamation of Munno Para, established in 1853, and Elizabeth, established in 1955. Elizabeth was carefully planned by the South Australian Housing Trust to assist economic development and help with housing shortages. It was "once the city for tomorrow, a place that overseas dignitaries and Australian prime ministers drove through in their big black cars … Elizabeth belonged to other people, not to those who lived in it. Elizabeth was and is used … to teach a lesson about 'that kind of place' or 'those kind of people.'"4
In more recent times the area has become home to "Australia's most innovative residential renewal project," with multi-level government support and a projected $1 billion public and private investment over the next decade.5 As well as the usual attention to more sustainable environmental and energy initiatives, the Playford Alive project is targeting regeneration of the older Smithfield Plains and Davoren Park areas, along with new greenfield housing north of Curtis Road. More than four thousand new homes and a population increase from thirteen thousand to thirty thousand is envisaged. Alongside the state's well-funded attention to revitalizing the city centre, this project marks a commitment to limit and consolidate suburban expansion by revisiting and reinventing a once-satellite model of suburban good life.
Yet while the largely unproblematic logistics of intelligent infill take advantage of the awkward legacy of large tracts of unmanageable open space, this project is also seeking to deal with some trickier issues of public engagement.6 Community consultation for redevelopment of the town park has grappled with expectations and cultures very different from those of the original township, with its Anglocentric vision for mid-twentieth-century immigrants. Today, feedback from Afghani, Sudanese and Congolese immigrants, among many others, along with that from long-time residents, paints a different picture of the need for, and understanding of, the roles of open space, sporting and recreational activities, and public gathering. There are, for example, culturally specific gender issues, such as provision of particular spaces for Muslim women, to consider. Interestingly, there was broad interest in the use of native vegetation for the civic realm.
Housing affordability is a recurring key election issue. The glory days of Australian suburban expansion for the deserving Aussie battler aren't what they used to be – and probably never were. Excusing both potentially rich and potentially deceiving nostalgia, it is hard to critique the sincere efforts and many small achievements of landscape architects who make places better. Yet these improvements – for those who can afford to contribute to a system that marginalizes so many more – may well fill a present need at the expense of postponing the filling of much greater needs.
The efforts we see in Playford to understand changed public expectations, to appreciate diverse pleasures and comforts, overlapping interests and common enjoyments, may be helpful in forming new models for land development. While little has yet hit the ground, there is evidence of a willing, cross-government involvement in reconsidering community infrastructure and local self-determination that seems intent to move beyond the primacy of economy-driven models and toward other measures of project success. Perhaps we see in Adelaide the start of a built idea of suburban living that is evidence of something more than value calculated as future dollar-investment return.
In conceiving future possibilities for our lived environments beyond city centres, it is necessary to address more than the instrumentalist difficulties of triple-bottom-line targets. Designers must face the expanding, fluoro-coloured, LED-lit elephant in the room: How do you manage – and manifest – democracy?
1. Gary Hustwit, Urbanized. A documentary film by Gary Hustwit website, 2011, urbanizedfilm.com/about (accessed 10 September 2013).
2. See Office for Design and Architecture website, www.odasa.sa.gov.au.
3. For example, the Art Gallery of South Australia recently purchased prints from Tracey Moffatt's series Scarred for Life, which chronicles something of suburbia in the 1970s. The work had a major exhibition at the gallery in 2011. See www.artblart.com/2011/03/13/exhibition-tracey-moffatt-narratives-at-gallery-of-south-australia-adelaide.
4. Mark Peel, Good Times Hard Times: The Past and the Future in Elizabeth (Melbourne: Melbourne University Press, 1995), 2.
5. City of Playford, "Playford Alive," www.playford.sa.gov.au/page.aspx?u=1267 (accessed 10 September 2013).
6. Playford Alive, "Community," (2012), www.playfordalive.com.au/community-engagement.php (accessed 10 September 2013).
Source
Discourse
Published online: 26 Mar 2014
Words: Jo Russell-Clarke
Images: Peter Phillips, Truthnoble, CC BY-SA 3.0 AU, courtesy of Aspect Studios
Issue
Landscape Architecture Australia, November 2013
Related topics