Pockets of the Illawarra on the south coast of New South Wales offer some of the most enchanting "where-the-mountains-meet-the-sea" tamed landscapes of the entire eastern seaboard. Almost completely denuded by early settlers for their cedar and vigorously subjugated for dairying, these treeless, seemingly civilized landscapes enticingly curtsy, dip and tumble to greet quaint, rocky coves and the water's edge. Smooth, lush pastures – intensely Irish-green – stretch out uninterrupted from ridgeline to waterline. To all appearances, they represent the dramatically breathtaking, yet well-mannered Australian landscape.
Of course, all is not what it seems, and perceptions belie the reality that these undeniably beautiful, highly sought-after parcels of land can be as ferocious, inhospitable and wild as any you'll find across the continent. Such is the case with The Farm – fifty acres of rolling grassland on an hourglass-shaped block. Stretching east to west while straddling an exposed ridge and headland, the site features 360-degree coastal, pastoral and mountain views. But these captivating views are accompanied by fractious and intemperate conditions, including summer-long full frontal north-easterlies and ferocious southerlies.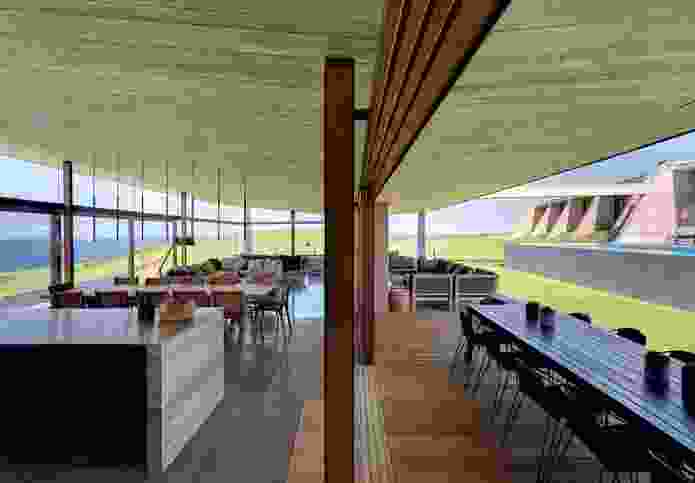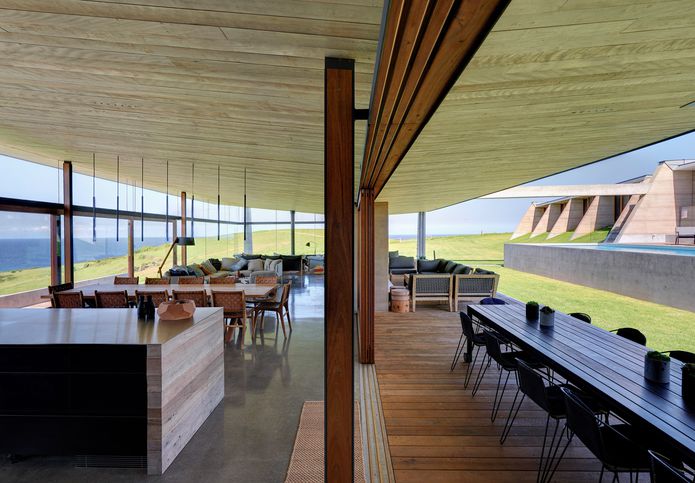 This is where the cleverness and fine balance of architect Fergus Scott's design for a new holiday house for a young Sydney couple come into play. Conceived almost as an erosion or ruin in the landscape, this sensitive insertion offers its occupants the joy of total immersion in their surroundings, while simultaneously providing a robust envelope to protect them from it.
Along with young children, Fergus's clients came with a very large, close-knit circle of family and friends – not just the kind you'd invite for dinner, but those you'd invite to share your house on a regular basis. "The owners are incredibly generous, considerate, hardworking people, who'd been coming to the area for large family holidays since they were kids," Fergus said. "Their intention was to build a house that accommodated them in a generous, communal way – either as a single family or with family and friends." Critical to the brief was their desire to provide retreat for up to thirty people – themselves just a small part of the thirty – in non-hierarchical and egalitarian accommodation. It was important for family and friends to feel comfortable using the space without the owners present, and that this large number be lodged in a home causing minimum disruption to the land on which it sat. "This was programmatically challenging. It had to be a large house, with a domestic scale, that didn't impose itself on the site but was integrated with it."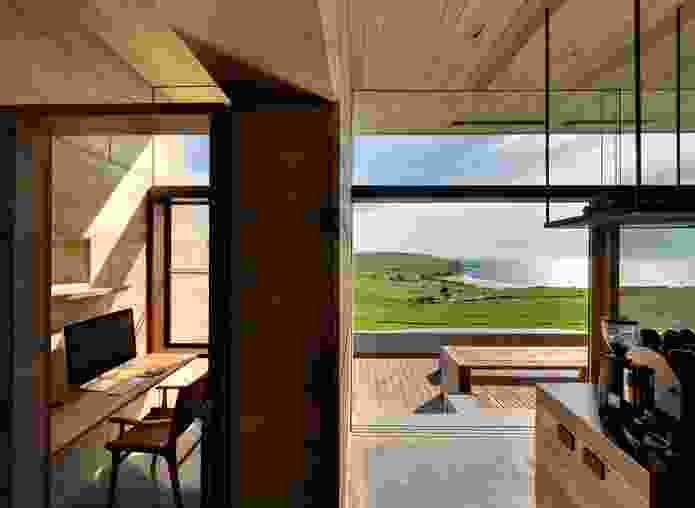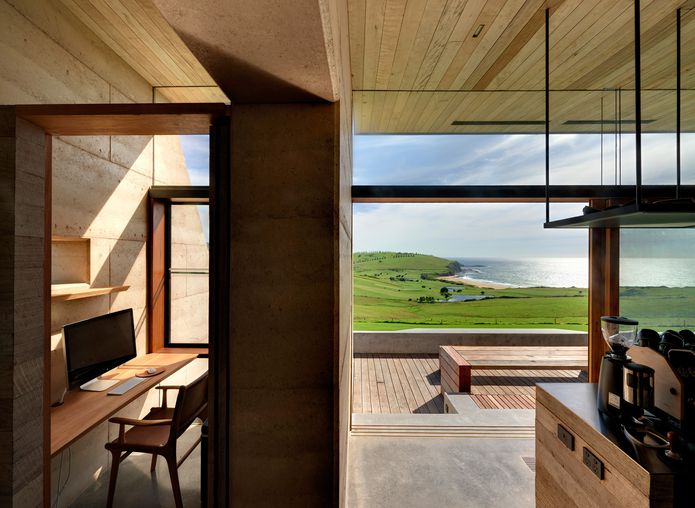 Positioning was critical. Four options were explored before mutual agreement on a mid-block location just under the ridgeline contour. This allowed the structure to burrow into rather than dominate the spur, while maximizing panoramic views and opportunities for headland views through a central courtyard. A second parallel contour was created down-slope, allowing the building to be gently embedded between and along both contours. The ground organically rises up to meet the building spaces, which taper off and dissolve into the earth such that the distinction between the natural and the engineered is softened and blurred at the edges.
The building's striking form gives a powerful first impression. Aiming for "something moulded by the force of nature," Fergus created a simple cluster of low-slung, single-storey, blade-walled pavilions with zinc-capped roofs deflecting the winds. The spaces are oriented north while running east–west to encircle and protect the central grassland courtyard and elevated swimming pool, all linked by a transparent breezeway. Featuring fully retractable glass panels and perforated screens, the latter serves not only to protect and expose occupants and the courtyard as conditions require, but also to allow the landscape to visually, physically and emotionally permeate uninterrupted through the heart of the home.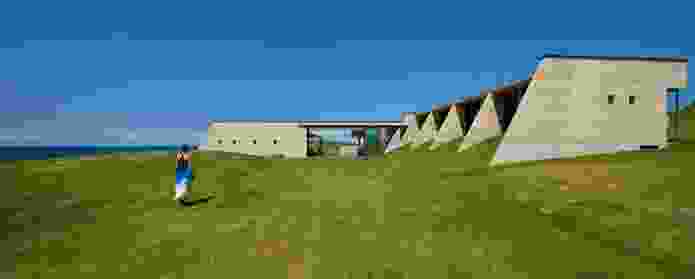 This respect for place is reinforced by Fergus's sophisticated and restrained use of natural materials, encouraging the sense of a building already as one with the land. Rammed earth walls taper to the ground; soft zinc roofing gives protection; off-form concrete floors and fine copper and brass detailing feature throughout. Weathered hardwood (blackbutt, blue gum and red ironbark) is used to offer a quality of robustness to the holiday home.
Pavilions have been clearly divided into public and private to best manage scale and allow compartmentalization as needed. Eight north-facing bedrooms with ensuites, a rumpus room and laundry are housed in two almost symmetrical and contained private pavilions. These spaces open off beautifully monastic, dimly lit, hardwood-lined and concrete-floored south-facing corridors. There is a heady sense of the cloistral in these simple spaces – a pervasive atomosphere of quiet refuge and retreat.
Balancing this is the glass-walled public pavilion on the lower level, designed as the home's communal meeting and gathering place. Under a soaring, timber-lined ceiling tilted north, open-plan living, dining and kitchen spaces enjoy ocean views to the north and east, with a southern outlook to the courtyard. Frameless floor-to-ceiling fixed glass defines the north-eastern edge, with fully operable sliding doors along the northern and southern facades. Protected outdoor areas fringe internal spaces, with an expansive deck or viewing platform to the north, a barbecue pit to the west, and courtyard and pool to the south – breaking down the indoor/outdoor divide. As Fergus said, "This is a house designed to encourage people into the landscape. Not just visually, but physically. To be on the edge – to experience architecture in the landscape."
Products and materials
Roofing

Rheinzink pre-weathered zinc.
External walls

Rammed earth walls by Earth Structures Group.
Internal walls

Pre-aged recycled blue gum from Australian Architectural Hardwoods.
Windows and doors

Seasoned blackbutt windows and doors in Cutek Extreme finish and recycled blue gum doors in Cabothane finish, all by Bakers Joinery; Chant Hardware brass flushbolts from Access Hardware.
Flooring

Honed concrete in salt-and-pepper finish.
Lighting

All lighting from Electrolight Australia.
Kitchen

Sub-Zero fridge; Wolf oven; Brodware Yokato tapware in matt black.
Bathroom

Brodware Yokato tapware in matt black; Earp Bros Lagos Azul hexagonal floor tiles; Maximum porcelain panels in 'Taxos'.
Credits
Architect

Fergus Scott Architects
Sydney, NSW, Australia
Consultants

Builder Join Constructions
Cabinetmaker ITF Cabinet Making and Joinery
Landscape Bates Landscape Services

Site details

Site type Coastal
Site area 220000 m2
Building area 540 m2
Category Residential
Type New house, Residential

Project Details

Status Built
Completion date 2016
Design, documentation 18 months
Construction 19 months

Source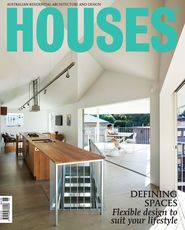 Issue
Houses, December 2016
Related topics