Vibrant and exciting city districts all have a fine grain. To make a diverse and interesting layer of small-scale activities and spaces in a new piece of city is difficult. At Barangaroo, the danger is that it may never eventuate. The debates around a straight or bent edge, and a big hotel on a pier, have distracted us from some much more significant aspects of the future of Sydney's newest, and possibly last, city precinct. The real issues at the start of a complex piece of city making are who owns it, who regulates it and who manages the various parts?
Generally, the more masterplanned and centrally controlled a place, the more it has that creepy Truman Show quality. Twenty-two years on, Darling Harbour still has that plastic feel. Darling Harbour and The Rocks are owned and managed by the Sydney Harbour Foreshore Authority, and both have all the soul of a shopping centre. Functioning cities are like an ecosystem – they rely on competing interests, opposing forces, juxtapositions and contradictions. Centralized planning and control of all activities within an area's boundaries prevent this.
Even where central control no longer exists, an active fine grain is hard to achieve. Walsh Bay is lovely to look at but basically dead – only coming halfway to life during the Sydney Writers' Festival. Circular Quay has limited streetscape retail – in the first block back behind the expressway, two of the four street blocks (AMP and Gateway House) have largely blank street edges and internalized food courts. The new KPMG and Macquarie Bank buildings at King Street Wharf are also disastrous at ground level – set back behind colonnades, they do nothing to activate the street.
In Melbourne it's the same story. Docklands was carved up by the Docklands Authority into large chunks to suit large developers. It hasn't worked to date, and while in the future may improve through it being handed to the City of Melbourne to manage, it is currently a largely windswept, deserted landscape. And yet the rest of Melbourne has got the fine grain so right. Admittedly there was a good underlying structure, but there was also simple legislation, established in the 1980s by state and local governments, ensuring 80 percent of new or changed building frontages were small-scale retail spaces and all buildings were built out to the street edge.
Across the harbour from Barangaroo, Pyrmont is a good model. Here the NSW Government's City West Development Corporation, and then SHFA, managed and sold off land in much smaller pieces, over almost twenty years. As it nears completion it feels real, with a mix of scales, uses, quality and styles of architecture, and is now managed by the City of Sydney.
Do we want to create another piece of waterfront Sydney where the forces that change and shape real parts of a city don't exist? How can we improve things in this, our last shot at Global Sydney waterfront? What lessons have we learnt, and what models should be employed? To make this new waterfront precinct really work, a simple set of principles needs to be followed: diversify the ownership, particularly at ground level; hand over management to the City of Sydney; construct all buildings to the edge of the street, with no colonnades; and ensure 80 percent of all street edges have small-scale, active frontage, with foyers, services and loading bays all within the remaining 20 percent.
The original Hill Thalis scheme had this idea about fine grain and multiple ownership as a core organizing principle. Lend Lease, however, is a sophisticated global company; it should understand the complexities and benefits of getting the fine grain detail right. Lend Lease could strata title and sell off the entire ground level, creating a rich texture of activities, frequented by all Sydneysiders, and, in turn, delivering higher values for their main investment – the high-rise towers – through positioning Barangaroo as a real and exciting part of the city, not just Gucci stores and vast foyers with the odd cafe.
The Barangaroo Authority and Lend Lease should agree to implement the above principles. Given the fine grain failings of much of Sydney's waterfront, Barangaroo could in fact become Sydney's best, most valuable and most popular waterfront location. Beyond the Lend Lease proposal we should rethink the original deal of 50 percent public park, 50 percent development. Do we really need so much park here when there are only around 3,000 people living in this area? (You need around 10,000 to create a sustainable community with a full line supermarket and services.) We could create another vibrant and more mixed-use community in the central part of Barangaroo, providing more Surry-Hills-style live–work buildings in small-scale ownership, which would complement the high-end office district to the south. And while we are at it, perhaps we should fix the Darling Harbour fine grain – subdivide it, return it to the City of Sydney and "Free Truman."
Great cities have no single author. They are the product of multiple authors, regulations, commercial forces and shifts over time. We need to ensure that the debate about Barangaroo goes beyond the aesthetic and solves the real issues, allowing this new part of Sydney to make and remake itself.
Source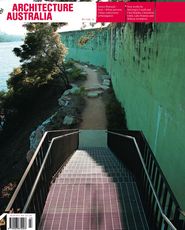 Issue
Architecture Australia, May 2010
Related topics