"As for the future, it is not a question of predicting it, but of making it possible." – Antoine de Saint-Exupéry.
So began the 2018 landmark report from the Intergovernmental Panel on Climate Change, which found that "rapid, far-reaching and unprecedented changes in all aspects of society" were necessary to keep global warming below the all-important 1.5 °C.
Almost a year since that report was approved in Incheon, South Korea – with global emissions continuing to rise and the 1.5 °C target becoming increasingly unattainable – making that future possible is an even more urgent task.
And architects and the built environment are front and centre. Buildings are responsible for around 19 percent of global greenhouse gas emissions, and cities are responsible for up to 70 percent. Designing sustainable buildings and cities is key to reducing emissions, and mitigating the effects of climate change. As the climate changes, bringing about frequent extreme weather events, a rise in sea-levels and increasingly hot days, the built environment will also have to adapt, with architects needing to reckon with changed climactic conditions.
In the lead-up to the UN Climate Action Summit in New York, beginning on 23 September, and with millions expected to hit the streets for the Global Climate Strike on 20 September, ArchitectureAU.com spoke to three of Australia's foremost thinkers working at the intersection of climate change and the built environment. We asked them what is going right, what's going wrong and what needs to happen next.
The Good
Dominique Hes, senior lecturer in sustainable architecture at the Melbourne School of Design, says she is an "optimistic pessimist" about whether we can transform our built environment to be sustainable. "We've got the technology and capacity the creativity and the skill to do it," she said. "What's missing at the moment is partly the will."
"Buildings are one of our greatest opportunities to get the biggest wins… the lowest hanging fruit is our buildings. If we are able to design them well, design them with respect to their climates, if we're able to build them well, if we're able to manage them well, then we really can make huge inroads into the impact that the building industry has."
Hes pointed to improvements in sustainable rating systems, which are shifting from a focus on "energy efficiency" to aiming for carbon-neutral or carbon-positive outcomes, as well as to projects happening around Australia now as examples of what can be done. Among the projects leading the way, she said, are: The Paddock, an "eco-village" of 26 homes designed by Crosby Architects being built in Castlemaine in Victoria, Joost Bakker's Burwood Brickworks project ( "the world's most sustainable shopping centre"), and Nightingale Housing.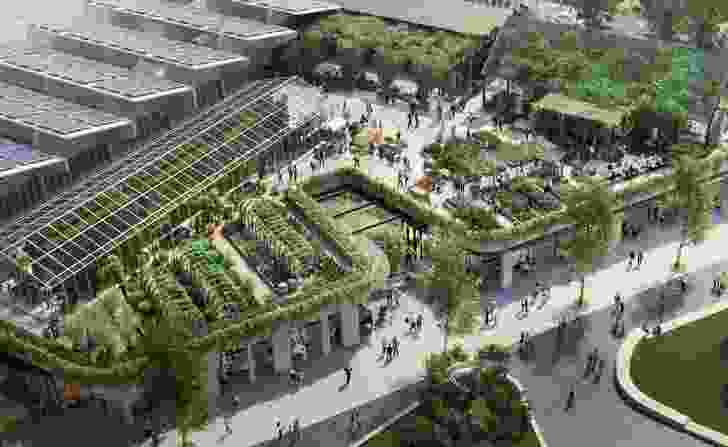 Deo Prasad, CEO of the Co-operative Research Centre for Low Carbon Living, is also cautiously optimistic. "The tools are there, the materials are there now and the word has spread that there are benefits to both comfort and wellbeing as well as carbon and sustainability benefits if we are doing it this way. So most conferences I go to I think we are at that point where things are only looking good in the future."
The Bad
Anna Hurlimann, senior lecturer in urban planning at the University of Melbourne, stressed the twin tasks that built environment professionals are faced with in the climate emergency: there's the need for mitigation – that is the need to radically reduce carbon emissions – and then there's the need for adaptation, to physical adapt buildings and settlements to withstand present and future changes.
In a research paper published in 2018 she and her co-authors noted that "there is limited evidence of significant adaptive action to date", with a lack of regulation, perceived unaffordability of initiatives, lack of awareness of climate change and lack of client demand acting as barriers to uptake. And little has changed in the past year, she told ArchitectureAU.
"In Australia most of our buildings are already built and they have a life cycle that's long. And so there are real challenges in retrofitting our existing building stock – particularly if there are multiple tenants in a building. So that's a big barrier," she said. "And greenhouse gas emissions aren't just created in buildings. It's about how we get between the activities that we're doing. So we also need to think about city-wide design and spatial arrangements of different land uses."
There's also the question of the speculative development model that dictates what kind of buildings get built, and whether it is conducive to creating sustainable cities.
"We need to look at the built environment holistically and look at the key actors in that, because buildings [are] usually built for a particular client that might not be the long-term user of that building.
"So there might not be a financial incentive for them to go beyond the building code and then what happens is in the longer term occupants are the ones dealing with the costs of not having addressed climate change impacts when the build was occurring."
Dominique Hes said it's not about pointing the finger at developers, but about addressing the problems with the wider system. "There are many deficiencies of the current model, not just from an energy perspective, but from a health perspective, from a material selection perspective, from a social issues perspective – but if we have the will to create climate-positive building, we need to look at the model and say 'where are the deficiencies, and how can we create a viable model that addresses those deficiencies.'"
The Urgent
The consensus is clear. Despite significant advances in technology and design capacity, not enough is being done to make our built environment sustainable.
"We've really got the next decade to rapidly reduce our emissions and Australia's really far off not only our own targets but really we need to go beyond that to really make sure we do limit warming to 1.5 °C," said Anna Hurlimann. "At the moment we're on a trajectory of somewhere between 3.2 and 5.5 degrees by 2100, so we need significant action now."
Prasad also agreed that urgent action is needed, and called for greater government intervention. "I think the [political] climate is right for governments to nudge it because the community is now mindful and aware of it, and tomorrow's marches are a good example of it."
Hes similarly pointed to factors that could catalyze real change: "There will have to be something that will make us question how we're doing things now – it might be the million or so people that turn up tomorrow, or it might be another GFC-type event or the increasing impact of the weather we're having shifting how our buildings are able to perform, or it might be a combination of all of those."
Architecture Media also supports the Global Climate Strike. Our staff, including the editorial team of ArchitectureAU, will be attending the march on 20 September in Melbourne.
Related topics