Reflecting on Lawrence Nield's 2012 Australian Institute of Architects Gold Medal, the memorable words of Cyril Connolly come to mind: "All charming people have something to conceal, usually their total dependence on the appreciation of others." It is more than extraordinary that Lawrence, who does not in any sense fit Connolly's definition of "charming people," which according to conventional wisdom should be a quite necessary ingredient for any successful trade, has had a remarkable career in architecture.
In the year following Lawrence's retirement from BVN Architecture, while I was doing a critique with some of the partners in its Sydney office (a rather pedantic venture that involved engaging academics to critique BVN works, which Lawrence forthrightly initiated some years before his departure), I overheard the following tea-break anecdote. At a community consultation meeting for a public project, Lawrence, attempting in vain to give people a historical lesson on the great buildings, was incapable of pleasing the crowd, who were skilfully manipulated by a cunning politician. The BVN partner telling the story exclaimed, "Lawrence was terribly naive and totally hopeless in dealing with this situation."
This, I should like to believe, speaks to the innate character of Lawrence, and one must appreciate it in order to understand his architecture. Lawrence sees no need, and perhaps does not know how, to please with a charming persona or the flaunting appearance of a building. I do not suppose that during his upbringing Lawrence was imbued with a Chinese philosophy of art, which sees the practice of art – including music, poetry, painting and calligraphy – as simply the amateur pursuits of a scholar to cultivate his inner life, rather than as a profession. The desire to please with the beauty of the form would, to a genuine scholar-artist, be a vulgar temptation to seduce, as I have been reminded by the remarkably penetrating work on Chinese art of Professor Pierre Ryckmans. But the supreme art of any culture or age is bound to share this Chinese doctrine: the great image has no form. An Edward Hopper painting still haunts us with the beautifully unsaid. Architecture, though by nature a trade, ought to be elevated to the Pantheon of art. Victor Hugo, while declaring that the birth of the printing press in fifteenth-century Europe had killed architecture, still asserts that he who is born a poet is an architect. The material of stone may have been killed, but not the thought embodied. The search for materiality, which Lawrence claims is the most difficult for an architect, paradoxically is to dissolve into immateriality if one eventually is given a place in the Pantheon of art. Louis Kahn's Kimbell Art Museum in Texas is not about beauty but an enigmatic efficacy: the vaulted concrete ceiling, in the spirit of the Pantheon, soars into translucency and lightness. This perhaps prompted Kahn to conclude: "Did Mozart ask society what he should compose? Of course not. He composed, and society became a different thing."
I have written elsewhere about the work of Lawrence in association with BVN, so I shall not repeat myself here. But I wish to use this happy occasion to suggest a way of reading the architectural work of Lawrence that is devoid of any desire to please, through either the novelty of form or the cuteness of detailing (elsewhere classified as "ingenious tectonics").
Here are three examples. Instead of admiring the metallic curvy swells shimmering among the ironbark trees, the Mt Druitt Hospital, through the use of corridor and its expansion into "streets," should be understood as a didactic parti to enable segregation and to animate meeting. The exquisite brick-and-concrete work of Building L5 at the University of New South Wales, whether much loved by an architect for its austere beauty or mistaken for a 1960s building by a passer-by, is only the camouflage of a magnanimous urbanity: the building, via a grand theatre-like staircase, opens its inner court to a busy road. The not-so-shipshape finish of and the last-minute budget cut affecting the Beijing 2008 Olympic Green Tennis Centre, after all, do not diminish its room-like feel and the theatre-like intimacy rarely achieved at this scale of splendour.
I am very much aware that my way of reading these buildings is hopelessly pedantic, but I should be forgiven since I am an academic. Lawrence occasionally pokes fun at academics by quoting Henry Kissinger: "Academic politics are so vicious precisely because the stakes are so small." But alas, the paradox goes deeper. Lawrence is rather given to academia; he in fact reveals that he is not very stake orientated. His complete lack of interest in pleasing and charming, I suggest, is intrinsically linked to his academic life. He once was professor of architecture at the University of Sydney; now he is professor of architecture at the University of Newcastle. What, then, is there in the ivory tower that is immune to the disease of attempting to please? It is its very nature of insularity; it is a world that refuses to be corrupted by the shitstorm of life. Now the ivory tower no longer exists, not even in a university. But one can always build one for one's internal life and one's art, which in the case of architecture has an impact on others regardless. I cannot imagine a Lawrence without the professorial prefix – that would be wrong, or even phoney.
On this note, I salute Professor Lawrence Nield, the genuine architect.
Source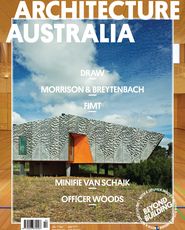 Issue
Architecture Australia, March 2012
Related topics