The Handbook of Contemporary Indigenous Architecture is the single most important contribution to this burgeoning field to date. At more than 1000 pages, it encompasses a wide range of perspectives on Indigenous design across Australia, Aotearoa New Zealand, Canada, the United States, Tonga, Samoa and Finland in a single volume. This work will become the first port of call for those seeking greater understanding of contemporary Indigenous architecture, offering not only a huge amount of knowledge but also comprehensive bibliographies that introduce the reader to a much wider body of literature on the subject.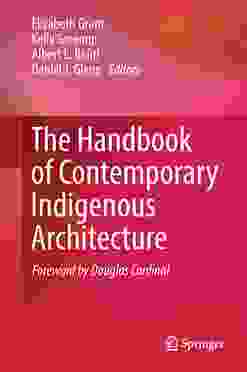 Large anthologies like this have become increasingly popular in recent years in academic publishing, but their high retail price (in this instance, $595) places them out of reach for most. They are also often produced in a standard textbook format, which limits their size, look and feel, and leaves precious little space for high-quality images. In this book, these restrictions have limited the ability of the illustrations to illuminate the text, with some plans and photographs too small or with insufficient contrast to be useful. This is the current reality for much academic publishing in the built environment; there is often a trade-off between pitching to scholarly presses with strong international distribution networks but strict conditions, or other publishing houses that may offer better production values but be unable to consider publishing the volume at all.
The book comprises thirty-four chapters, including the introduction, split into two sections. Part I consists of ten chapters examining placemaking and architecture in various regional contexts, including Australia, Aotearoa New Zealand and North America (extending from the United States through to the Arctic regions of Canada). Part II is a further twenty-three chapters with a tighter focus, examining specific cases of practices, places and peoples, almost a third of which look at Australian situations. The volume is introduced by Douglas Cardinal, one of the world's most prominent Indigenous architects, whose Canadian-based practice has won numerous accolades, including as principal architect for the National Museum of the American Indian in Washington DC. The handbook's editors are equally well-qualified: Elizabeth Grant, who has long researched and consulted on Australian Indigenous architecture, with a particular focus on custodial environments; Kelly Greenop, who is well-established in the field, and whose research focuses on urban Australian Indigenous peoples; Albert Refiti, who is based in Aotearoa New Zealand, where he is well-known for his scholarship of Pacific Island architecture and material culture; and Daniel Glenn, an architect with Crow tribal heritage and principal of the Indigenous-owned 7 Directions Architects/Planners, based in Seattle, USA.
The difficulty of the editors' project is clear from the outset: as they note in the introduction, the comparative lack of available literature and research on Indigenous architecture worldwide demonstrated the need for the collection, but what should and could be included was more problematic. They acknowledge that future publications will extend upon this first volume, and it's likely that these later works will both complicate and challenge this work. The handbook thus represents our understanding of Indigenous architectures at a particular moment in time. The editors have deliberately included a range and diversity of work and approaches, from both Indigenous and non-Indigenous practitioners and scholars. The effect is two-fold: it effectively chronicles the current state of play in the field and enables Indigenous voices to be present, not only through the writing of Indigenous researchers but also in those chapters composed of interviews or dialogues with Indigenous individuals, practitioners or not.
The introductory chapter carefully frames the book, drawing out themes such as shared struggles by Indigenous peoples in the face of colonization, displacements and the loss of traditional lands, and the repression of language and culture.
The chapters in Part I provide a grounding in different regions and places, opening with Timothy O'Rourke's brief history of Indigenous housing in Australia. O'Rourke faced an impossible task to cover the last two centuries of Indigenous housing in such limited space; as such, it is difficult for readers new to the subject to gain a good understanding of the structures he briefly describes. Towards the end of the chapter, however, he offers a more in-depth and useful discussion. This history is followed by Elizabeth Grant and Kelly Greenop's examination of places designed to safeguard or house Indigenous cultures across Australia, which provides an important contribution to our understanding of such structures. Rather than considering the material thematically, both these chapters are typologically framed, inadvertently emphasizing their list-like nature and the sheer number of examples they include. There is a distinct difference between these chapters on Australia and those examining other locations, such as Deidre Brown's graceful chapter on contemporary Maori architecture, which draws the reader through different phases of its development; or Refiti's most interesting chapter examining Polynesian architecture in Aotearoa New Zealand, from cultural appropriation to cross-cultural hybrids.
The chapters considering North America offer different ways of understanding Indigenous architecture: Carol Herselle Krinsky uses the lens of traditional building types and motifs to examine contemporary Indigenous architecture across the United States; Joy Monice Malnar and Frank Vodvarka also examine Indigenous places in the USA from a planning and design strategy perspective; Wanda Dalla Costa interrogates the role of Indigenous architecture in Canada through four catalysts (place, kinship, transformation and sovereignty); Sarem Nejad and Ryan Walker look at placemaking for urban Indigenous communities in Canada; and David Fortin discusses the Métis in Canada, a mixed-race Indigenous identity that has evolved its own particular design space. This wide range of perspectives has allowed the authors, collectively, to present the complexity of Indigenous architecture across Native American/First Nations, Métis and Inuit peoples, while still allowing strong themes to emerge in their arguments.
The chapters in Part II have benefited from the opportunity for sharper focus. For instance, O'Rourke's second chapter in the volume, which examines the contemporary use of traditional building techniques, is an important and highly readable contribution; it is nicely complemented by Charmaine 'Ilaiu Talei's analysis of the changing nature and adaptation of the fale in Tonga. The reflections on the reality of practice in, for and by Indigenous designers is explored across a number of Australian-focused chapters: there's the discussion between Francoise Lane, Andrew Lane and Kelly Greenop about the Lanes' practice Indij Design; Andrew Broffman's discussion of Tangentyere Design; the dialogue between Shaneen Fantin and Gudju Gudju Fourmile considering ideas of intercultural design practice; and Janet McGaw and Aunty Margaret Gardiner's reflections on placemaking in urban Melbourne. We gain insight into the consequences of Indigenous architecture through these discussions, which balance and extend the surrounding chapters. While readers may be tempted to concentrate on the chapters relating to their own region, there is much to learn from the sophistication of Indigenous architecture in other places.
In Australia, the actions being driven by the reconciliation movement are prompting institutions to rethink and take responsibility for supporting Indigenous communities and individuals; this is underscored by a new generation of architects whose education has been imbued with stronger Indigenous histories and voices. Increasingly, architecture in this country will be expected – by both clients and practitioners – to consider and acknowledge Indigenous Australia in sophisticated ways. The Handbook of Contemporary Indigenous Architecture demonstrates emphatically that we, as designers, must engage in conversation with Indigenous peoples about spaces and places, and that greater cross-cultural understanding will bring significant benefits to us all.
Source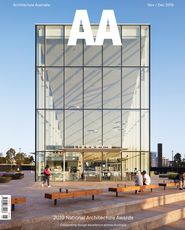 Discussion
Published online: 4 Feb 2020
Words: Julie Willis
Images: Peter Eve for the Yothu Yindi Foundation
Issue
Architecture Australia, November 2019