Located in a field on the edge of a country airstrip, the Hangar provides a robust first image when seen on arrival from the air. The strong, unusual shed form then transforms on closer approach into a confident, highly articulated sculptural presence which somehow references the hand-built planes of old. Hangar, museum, gallery, entertainment and a beautiful collection of vintage aircraft combine to form a memorable aeronautical experience.
This large-span country shed is ingeniously structured to create an industrial wing-like aesthetic, totally at home in its rural airport landscape. With fifteen-metre spans of self-supporting Aramax steel sheeting over four primary trusses, the self-braced building easily shapes to its curvaceous profile, with a net steel tonnage reduction of 30 percent over standard hangar construction.
Two-storey administration and entertainment pods, located internally at each end of the hangar, are connected by a light steel bridge suspended within the cylindrical section of the hangar to cleverly provide an elevated viewing platform along the length of the building.
The Hangar celebrates a passion for flying and aircraft with a design that fuses steel, structure and innovative design to enrich the cultural life of an otherwise potentially unremarkable regional airport experience.
– Jury citation
The proposition at the "shed" end of architecture is to compete with the prefabricated market; issues such as aesthetics and sustainability became fundamental tools of explanation – invariably the challenge is to first prove value whilst maintaining a level of architecture. With this in mind the Hangar is a streamline aesthetic, wind tunnel tested, we were able to reduce components to the bare essentials, working off the back of developing the application of a deep corrugated cladding material with minimal material, with minimal supporting structure and maximum spans.
– Peter Stutchbury Architecture
For a full list of awarded projects see 2011 National Architecture Awards – the winners and for more awards discussion see Rachel Hurst and Rory Hyde's responses to the awards and the jury overview by Karl Fender.
Source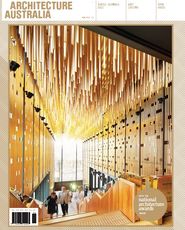 Issue
Architecture Australia, November 2011
Related topics