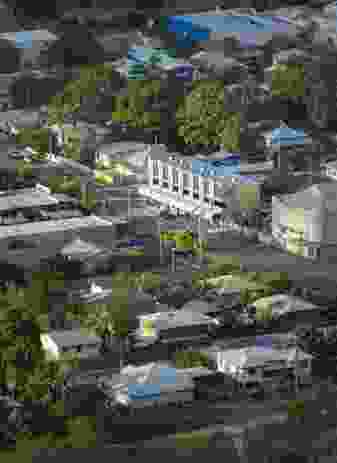 Affordable mixed-use developments in Australian regional towns usually sit in the realm of developers, not architects. The real estate market in regional towns is inconsistent compared with the steady growth of Brisbane or Sydney, and profits for developers are often marginal. To be a successful business proposition, mixed-use developments are mostly situated near the centre of the CBD and prioritize lettable area over architectural language, fine detailing or response to place or climate. The Hub on Echlin by Architects North is both surprising and exceptional, because it is a successful mixed-use development in Townsville that is not in the CBD, created by an architect in a regional town with a real estate market that has shown limited growth since 2010.1 When you travel past The Hub on Echlin, it prompts you to stop and ask: What is this curious and elegant development and why is it here?
The Hub occupies a long site on the corner of Echlin and Plant Streets in the quiet, inner-city Townsville suburb of West End. It consists of seven retail tenancies with the same number of two-bedroom units above. Each tenancy is pressed hard on the street and arranged in a stepping, terrace house configuration that responds to the topography of the lot. It is a tough but playful development bringing a delightful geometric rhythm to the street. The Hub is quite unexpected in its context and gives one hope that good mixed-use design in regional towns is not impossible. Across the road are a motel, other multiresidential developments, two small commercial offices and a takeaway shop. Adjacent is a St Vincent De Paul distribution centre in a repurposed, early-twentieth-century theatre building. The Hub on Echlin responds to the scale of the theatre building appropriately and respectfully. This is not James or Boundary Street in Brisbane; it is a tired, minor commercial hub three kilometres from Townsville CBD. To encounter The Hub in such a location is refreshing and suggests a vision from Architects North about the future of Townsville.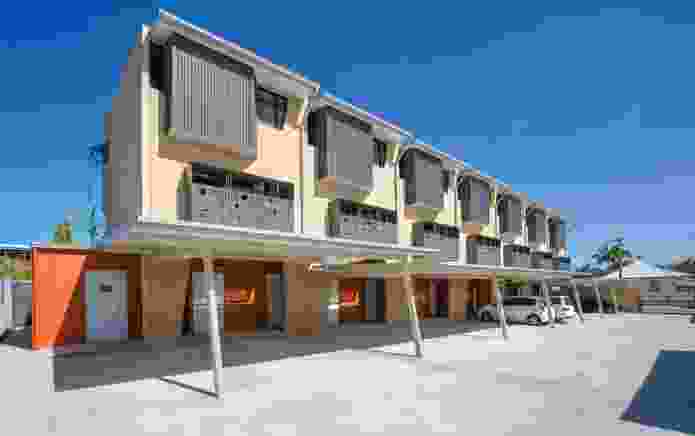 David Stefanovic of Architects North is the designer, builder and developer of the project and has saved a small slice of Townsville from a less dignified future. With The Hub, he has made a proposition about commercial architecture in Townsville that ignites the imagination of people who drive or walk past the building. The structure consists of a series of concrete precast panels in a variety of angular forms, used cleverly to create corner windows and to reference the geomorphology of Castle Hill. The joins between units are carefully concealed with laser-cut metal screens that also provide climate control and mediate the visual brutality of the concrete. The structural design is based on prefabrication of thirty in situ face concrete panels. These created a substantial cost saving for the building, particularly in relation to scaffolding, rendering and painting. The resulting development has low maintenance costs and uses the concrete's embodied energy as a thermal sink for cooling the interiors.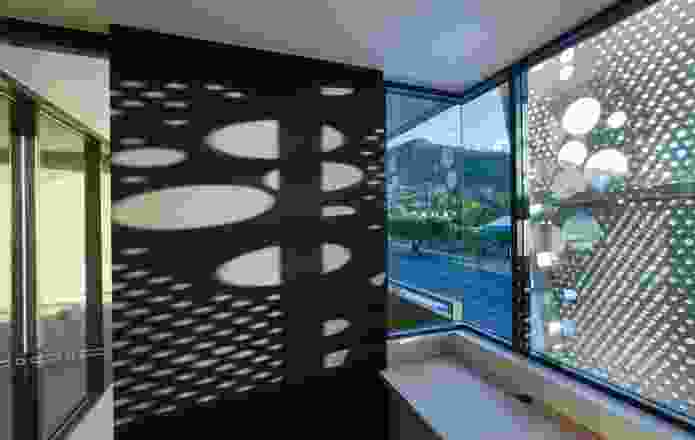 Geometric cut-outs in the concrete panels have been made on corners and at the edges of built components and this visual trick makes internal spaces feel more expansive. The careful composition of elements and a reduced palette of materials combine for an elegant aesthetic that is both sophisticated and appropriate to the context. Interiors are efficient and warm, with clear-finished plywood laser-cut in the same pattern as the external screens and a well-integrated use of lighting.
The street awning of unpainted fibre cement steps down the site to follow the pattern of the tenancies. The layering of the cement sheet allows air and light through as it responds to the slope of the site. It also provides essential street-level shade, so often lacking in contemporary tropical developments. The Hub is brutal and honest but softened with a touch of folly and decoration through its unusual window forms and the circle patterns in the laser-cut external screens. Architects North conceived the The Hub as a "breath of fresh air" and perhaps the bubbles in the external screens reinforce this notion.
Creating a successful architectural practice in regional Queensland has a different set of conditions from doing so in capital cities. Regional populations are smaller, real estate markets are tighter, growth is variable and even though we operate in a global world of business and technology, professional services are still grown by word of mouth and by local and regional media. In this environment, regional practices must be nimble and adaptable to survive and flourish. The pond is small and opportunities are competitively won. For those with sufficient courage, self-generated developments provide an opportunity to remould the place where we live with a vision that we decide. Architects North has been courageous and provided an alternative model for mixed-use development in Townsville, and in turn has reminded the mainstream population of the value of architectural design.
1. Simon Presley, "Townsville property market rundown," Australian Property Investor, 4 March 2016, apimagazine.com.au/2016/03/townsville-property-market-rundown/ (accessed 6 December 2016).
Credits
Architect

Architects North
Townsville, Qld, Australia
Project Team

David Stefanovic, Amanda Kempthorne
Consultants

Certifier All Construction Approvals
Civil and structural engineer SMCE
Construction manager Rick Jamieson
Contractor DPR Property Group
Cost consultant Rider Levett Bucknall – Melbourne
Design manager David Stefanovic
Legal consultant RNM Lawyers
Project finances Suncorp Bank
Social media marketing The Sweatshop
Surveyor Colin Richards

Site details

Location Townsville, Qld, Australia
Site type Suburban
Category Public / commercial
Type Apartments, Residential, Retail

Project Details

Status Built
Completion date 2015

Client

Client DPR Property Group

Source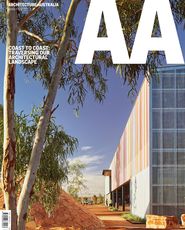 Project
Published online: 24 May 2017
Words: Shaneen Fantin
Images: Grail Films
Issue
Architecture Australia, January 2017