The humour of 'aluminium and concrete': Short film satirizes Perth's 'sub-par' bridges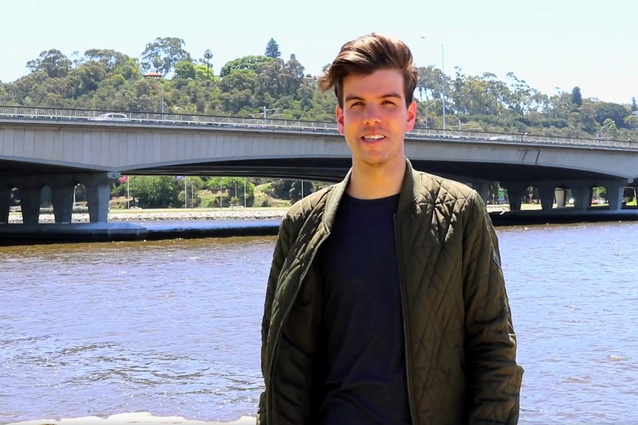 "Who needs fancy when you've got aluminium and concrete barriers?" asks the presenter of The Bridges of Perth, gesturing toward the stark grey grandeur of Narrows Bridge in central Perth, as images of the Golden Gate, Tower and Sydney Harbour bridges fly past.
Framed as a public service announcement on behalf of the fictitious "WA Architects' Society," The Bridges of Perth pokes fun at the bridges crossing the Swan river, and suggests that the city deserves better. 
"When the city wants a new one, they build a footbridge, for a population that doesn't walk anywhere," says presenter and landscape architect Nicholas Monisse in the video, referring to the Denton Corker Marshall-designed Swan River Pedestrian Bridge, due to open in March 2018.
The video's writer and director, Ronan Freeburn, who also manages comedy agency Vulture Culture, said "The concept behind the video was really just to do a one-off that smashed home the fact that Perth's bridges are sub-par and open that conversation up to the general public to have their say."
While none of the team behind the video are architects, Freeburn said that the video had caused a stir among some local architects. "We have had a number of enthusiastic architects private message us and thank us for shedding light on the topic. I think it's a known thing in Perth architecture circles but this is the first time it's been brought to the attention of the general public. 
"We don't believe you need to be an architect to realize Perth's bridges are not up to scratch and the city has a poor track record with designing and building structures that complement the beautiful Swan River that the city is built upon.
"It's really resonating with people, because behind all the joking around is a legitimate truth." 
Correction (5/12/17): This article incorrectly referred to the Canning Bridge in Perth's Applecross. It is the Narrows Bridge in the central city.