"All great thoughts are conceived while walking," said Friedrich Nietzsche, who wasn't short on great thoughts. Walking is not only handy for thinking – it is crucial to a vibrant public realm around institutions that have been co-located specifically to encourage collaborative partnerships. But is simply co-locating hospitals and universities enough to generate the innovation expected of these institutions? And what effect do these growing clusters have on their surrounding communities?
In 2014, I was awarded the National Association of Women in Construction (NAWIC) International Women's Day Scholarship. The award allowed me to investigate urban design issues in hospital knowledge precincts in the USA, the UK, Europe and Australia, and resulted in a report entitled Walk, Talk, Work: The Importance of Pedestrians and Public Space for Collaboration in Hospital Knowledge Precincts.
High-quality public spaces and pedestrian networks in hospital precincts encourage people to walk around, through and beyond the sites. These networks enable valuable connections to be made between organizations and individuals that can lead to collaboration and innovation.
As governments increasingly seek to anchor a city's development in knowledge and innovation, they have turned their attention to tertiary hospital precincts to deliver economic dividends. Melbourne's current metropolitan planning strategy, Plan Melbourne, identifies six "national employment clusters": concentrations of businesses and institutions around which the city's spatial and economic fortunes revolve. Each of these is centred on a hospital, a university or both. Similar strategies can be seen in other Australian and international metropolitan plans.
Translational research facilities that develop basic scientific knowledge into clinical treatments in quick time are a major component of this strategy. This "bench to bedside" model is attracting significant government and industry funding. As healthcare grows to be the largest industry in the world, and translational research moves to the centre of the medical landscape, the form and function of hospital precincts are changing radically.
The co-location of health and research institutions has long been recognized as a means to achieve biomedical innovation, but the idea is intensifying. A quick glance at the footprints and skylines of precincts around the world shows that buildings are getting larger and taller as the quest for collaboration dictates that more and more departments – and even separate organizations – be located within the same building.
Many of the institutions explored in Walk, Talk, Work have recently invested in translational research facilities, either within their precinct (co-location) or, in many cases, within a clinical building (cohabitation). The new Victorian Comprehensive Cancer Centre in Melbourne will bring a number of cancer treatment and research bodies together; the Laennec mother and child unit at the Necker Hospital in Paris and the Royal Manchester Children's Hospital do the same.
This cohabitation model for translational research borrows directly from the commercial workplace idea of "bump space," where innovation is driven by face-to-face conversations between individuals. The buildings housing these larger multidisciplinary teams provide spaces to congregate and exchange ideas, to meet, greet, talk and eat. The innovation towers in the MaRS Discovery District of Toronto are home to many organizations working to commercialize biomedical research. Located between them is a large atrium that seeks to bring people together to amplify their collective potential. But spaces like these lessen the likelihood for outdoor excursion, which can in turn limit retail, food and other small business opportunities in the area. This leads to an increased focus on health-related land use and diminished mixed-use activity.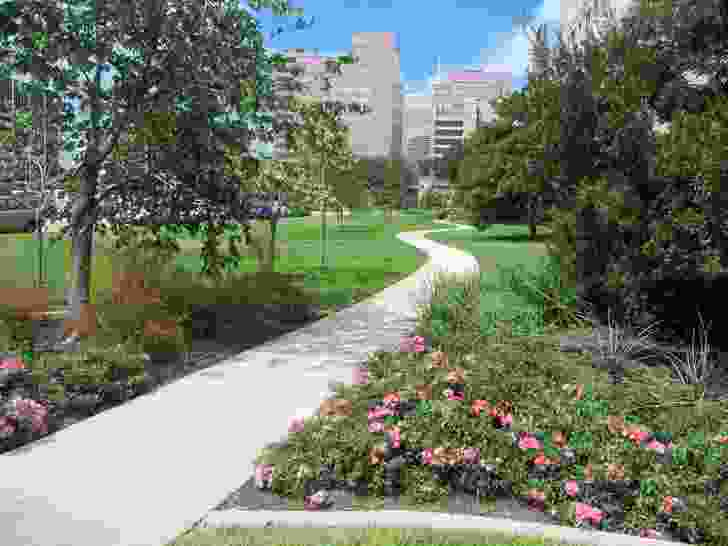 Important connections between researchers and clinicians are being considered predominantly within the building. Internal common areas, raised walkways between buildings and the ubiquitous, often ugly, sky bridges across roads are encouraging efficient circulation inside. According to the masterplan of the Texas Medical Center in Houston, hospitals are required to integrate with the site's comprehensive skywalk system, while at The Brigham and Women's Hospital in Boston, eleven storeys of clinical and laboratory space will soon connect to the existing hospital via "The Pike," a 400-metre-long internal circulation network.
As efficient as these systems may be for the hospitals, there are major implications for the ground plane. Both the Boston and Houston precincts struggle to generate enough transactions to support more than a handful of restaurants and retail in locations with a daily influx of people the size of a small city. And with the loss of small-scale street-level business, the goals of deinstitutionalization and mixed-use activity become much harder to achieve.
In the meticulously landscaped public spaces of the enormous Texas Medical Center, people are few and far between. The combination of a skywalk system, a car-dependent location and almost exclusive healthcare land use depopulates the streets and footpaths. At the other extreme, the dense, inner-urban Longwood Medical and Academic Area (LMA) in Boston is developing an internal pedestrian network in response to safety and congestion issues at street level. It seems to be a diabolical conundrum: too many pedestrians or not enough. Either way, a lack of diverse activity is causing headaches for the precinct planners.
The sweet spot, as always, is somewhere in between the expansive public spaces of Houston and the congested footpaths of Boston. By comparing the size of the precincts in the study, their "Walk Scores" (an online tool to measure access to everyday services) and the intersection density of footpaths, a telling picture emerges: the larger the precinct (with the exception of the LMA), the more difficult it is to achieve good walkability. In other words, large clusters of healthcare buildings with not much else going on around them discourage people from walking around.
In bad news for newer hospital precincts, good walkability is also harder to achieve in postwar developments. Those hospitals located on large greenfield or parkland sites – Karolinska University Hospital in Stockholm (1940s), the Texas Medical Center in Houston (1940s) and the Gold Coast Health and Knowledge Precinct in Gold Coast (2013) – all score poorly on Walk Score. And while the centuries-old Necker Hospital in Paris scores well for walkability, its tiny scale limits the potential for collaboration.
Those precincts in the mid range of size and walkability – Manchester and Toronto – appear best placed to co-locate a sufficient number of institutions to maximize collaboration and provide adequate pedestrian networks to support mixed-use activity.
If the largest hospital knowledge precinct in the world, the Texas Medical Center, is, by its own admission, achieving no meaningful collaboration between its fifty-plus organizations, then co-location is not an answer in itself, and precinct size is no indicator of success. The clustering of facilities must be accompanied by a vibrant public realm in the interstitial spaces of a precinct to enable not only interaction and activity on site, but also connection to the surrounding community.
The institutions in the precincts I visited are striving for built environments that support collaborative research models. But it isn't easy to translate the small-scale, inspiration-rich concept of "bump space" into something as vast as a hospital precinct. There are obstacles: complex land ownership, stakeholder relationships, cost and the sheer speed and scale of growth. Thoughtful urban planning that encourages diverse activity within a precinct is the key to providing great public spaces for healthcare professionals in which to walk, talk, think and work.
The full report, Walk, Talk, Work, which includes detailed case studies of the eight precincts, can be found at nawic.com.au/app/nawic/documents/20141215_NAWIC_WalkTalkWork.pdf
Credits
Site Details
Project Details
Source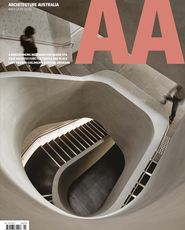 Issue
Architecture Australia, May 2015
Related topics