Melbourne Docklands' newest public building, The Library at the Dock, was officially opened on Saturday 31 May 2014 by Victorian Premier Denis Napthine and Melbourne Lord Mayor, Robert Doyle, attended by planning minister Matthew Guy and Lend Lease chairman David Crawford.
Developed in a three-way partnership between the City of Melbourne, Places Victoria and Lend Lease, the $23 million library occupies a prominent site on the intersection of Collins and Bourke streets in Victoria Harbour and enjoys wide open views towards Central Pier, Waterfront City and the Southern Star observation wheel.
The City of Melbourne engaged Clare Design as design architects on the project with Hayball as the architects of record. The library was the result of a series of esquisses done by Clare Design to investigate how ways of breaking down the monolithic bulk of Docklands, and integrate it more into the fine-grain fabric of Melbourne's CBD.
"The first decade of Docklands was about buildings. The focus has now shifted to delivering the facilities that are the building blocks of a thriving community," said Gregory Anderson, CEO of Places Victoria.
"Docklands has about sixty percent open space which is far too much for people to really appreciate," explained Kerry Clare, director of Clare Design. The new library mitigates the scale of Docklands and introduces an appropriately sized park and playground as well.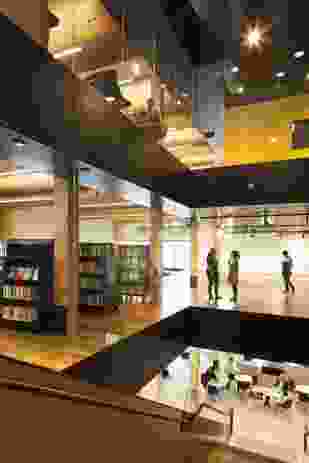 The Library is a modestly scaled building, just three storeys, and a simple timber frame construction made predominantly from Cross Laminated Timber (CLT), the first public building in Australia made with the material. The use of CLT significantly reduces the carbon footprint of the building. Together with passive ventilation design, optimized natural lighting, solar power and water collection from the roof, the building achieves a six-star Green Star rating making it Australia's most sustainable community building. In addition, using CLT as the primary structural material reduces the weight of the building by thirty percent, which has worked favourably as the building sits on a seventy-five year old wharf.
Facing north towards the harbour, the building takes full advantage of its waterfront location with windows opening out to the views along its length. Its also simultaneously as wind break, protecting a pocket park at the entrance to the building. Offering multi-purpose meeting spaces, a 120-seat performance venue, a recording studio, interactive learning spaces, digital collections and well as a traditional collection, the library is a mixed use space for the community to meet, learn and play.
Related topics