Set adjacent to the Yarra River and adjoining the existing Melbourne Exhibition Centre, the new Melbourne Convention Centre establishes a critical link with the inner city's fabric. The project brings order to a complex brief, organizing planning to enable flexibility and delineated functional movement throughout the building.
The entry foyer is a mighty space that manages scale with merit and ease; the sculpturally articulated auditorium wall contributes a sense of art and the glazed wall to the city provides a tough, definite edge to adjacent land and river. The elaborate array of internal finishes is a constant source of stimulation and decoration throughout the building. They offer a unique artistic licence rarely found to this extent within the fitout of a large public building.
The plenary hall is a magnificent room. Reminiscent of Aalto's lecture halls, it can be subdivided to make three smaller, fully sound-isolated auditoriums. Flexibility is increased further with the installation of fully automated gala seating and staging that can be lowered to extend the flat performance space. This building speculates on the future of convention centres, integrating art, sustainable systems and operational flexibility as key considerations.
Unquestionably a building of urban presence, the Convention Centre builds upon Melbourne's knowledge of artistically infused, sculptured buildings.
– Jury citation
Credits
Architect

Woods Bagot Melbourne
Melbourne, Vic, Australia
Project Team

Lyndon Hayward, Andy Gentry, Hamish Lyon, Paul Evans, Roger Dalling, Nik Karalis, Jeff Arnold, Peter Korkolis, Mieke Vinju, Lucinda Mason,
Architect
Consultants

Acoustic consultant Marshall Day Acoustics
Builder Brookfield Multiplex
Building surveyor PLP Building Surveyors & Consultants
DDA Davis Langdon
Environmental consultant Advanced Environmental Concepts
Heritage consultant Trethowan Architecture
Landscape consultant ASPECT Studios
Operable auditorium seating Gala Systems Inc
Services consultant WSP Lincolne Scott
Structural consultant WSP
Traffic engineers GTA Consultants

Site Details

Location 2 Clarendon Street, South Wharf, Melbourne, Vic, Australia
Site type Urban

Project Details

Status Built
Website http://www.mcec.com.au/
Category Public / commercial
Type Culture / arts

Source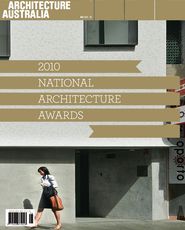 Issue
Architecture Australia, November 2010
Related topics