The Met in Bangkok, Thailand, represents major advances towards a possible future vision of ecologically responsible, highly dense urban housing. It is often claimed that high-rise buildings, particularly in hot climates, cannot be naturally ventilated, and that if we are to intensify urban density we are therefore doomed to inhabit closed, airconditioned glass boxes. The Met proves that claim wrong by creating tropical houses in the sky, with breezeways, outdoor living areas, planters, gardens and communal facilities on open-air terraces.
Innovation and brilliant architectural strategic thinking answer extremely challenging climatic questions. In tropical and subtropical cities and many other urban conditions, high elevation offers more privacy, better views, lower humidity, stronger breezes and less noise and dust than street-level living. In The Met, WOHA has created enjoyable living conditions within an extremely high residential density – a plot ratio of 10:1 – by cleverly staggering the block arrangement to allow all apartments access to light and air on all four sides, enabling living without airconditioning.
The 66 storey form, of towers linked by sky terraces at every five storeys, creates a slender, light and porous lattice. Vertical facades are shaded by creeper screens rising up the full height, protecting the apartments and the dramatic yet human-scaled external spaces in the sky. Originality and beauty come together in The Met – a great solution to the issues of density in tropical Asian cities and, excitingly, a model directly translatable to many Australian cities.
– Jury citation
Credits
Architect

WOHA
Singapore
Project Team

Wong Mun Summ, Richard Hassell, Sim Choon Heok, Punpong Wiwatkul, Puiphai Khunawat, Jose Nixon Sicat, Alina Yeo, Techit Romraruk, Cheah Boon Kwan
Consultants

Builder Bouygues Thai
Civil and structural consultant WorleyParsons
Cost consultant KPK Quantity Surveyors
Developer Pebble Bay (Thailand)
Environmental consultant Environmental Resources Management Siam
Facade consultant Meinhardt Facade Technology
Landscape consultant Cicada Private Limited
Local architect Tandem Architects
Marketing consultant CBRE CB Richard Ellis (Thailand)
Mechanical and electrical consultant Lincolne Scott Ng

Site details

Location 129 South Sathorn Road, Bangkok , Thailand
Site type Urban
Category Residential
Type Apartments, Multi-residential, Residential

Project Details

Status Built
Website http://www.met-bangkok.com/

Client

Client Hotel Properties Limited

Source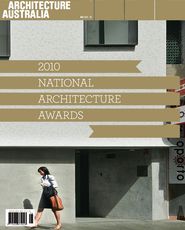 Issue
Architecture Australia, November 2010
Related topics