There's something pleasantly understated about the facade of this house in Melbourne's Brunswick West. Should you be passing by, there's a fair chance you mightn't even notice it; not because there's anything wrong with it – quite the opposite, in fact. It's a practical and decent-looking derivative of the Californian bungalow. Its exterior style might not change the world, but it has held up well to seventy-odd years of habitation.
It's this same stoicism that endeared the house to Zen Architects. It offered good bones: nicely sized rooms, sturdy construction and a workable floor plan. It would have been churlish to knock it down. Fortunately, making the most of the existing residence aligns pretty well with the Zen approach. Ideas of practicality, efficiency and eking the most out the existing fabric are threaded through this project.
The client's brief was for a family-centric home that would allow clear connections between each room, with the kitchen as a hub for daily activity. "They actually had the perfect type of brief for us," says project architect Penny Guild. "They didn't have many must-haves; it was more an emotive brief – how they wanted spaces to feel. We find that much easier to design for – you get to understand where they're coming from."
The first step was to address connection (or lack of) between the spaces. In its original form, the rear of the house ended a metre or so above ground level, with no easy access to the garden beyond. To fix this, the rear of the house was sliced off to make way for a new rear volume that would step down to better address the outdoor spaces.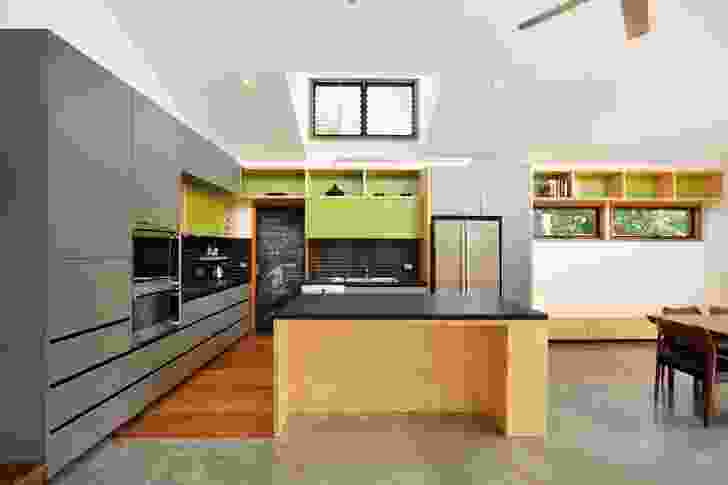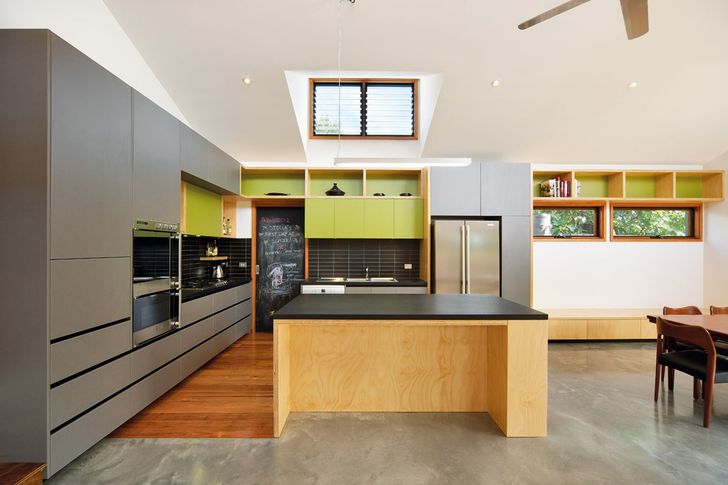 The architects retained three original bedrooms, a central bathroom and a lounge room in the front part of the house. The bedrooms didn't need a lot of work, but certainly benefited from the removal of mismatched cornices, the styles of which are from different decades, from room to room. The central bathroom was reworked with new fixtures and slick white tiles, and a compact ensuite, decked out in black tiles and ply, was squeezed into the space between the main bedroom and the boundary fence.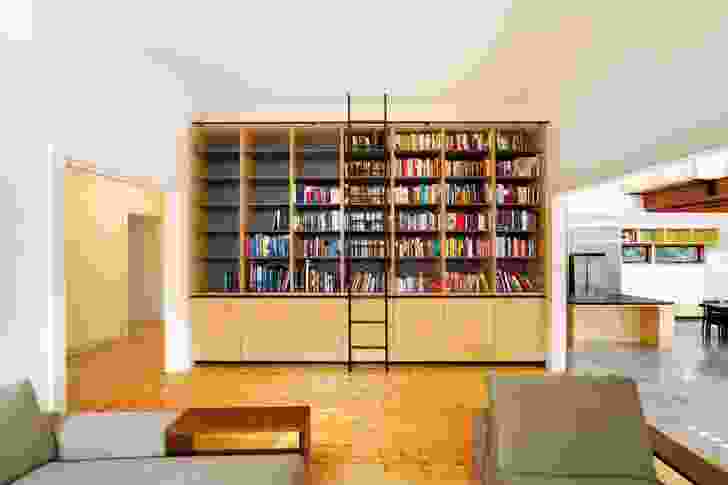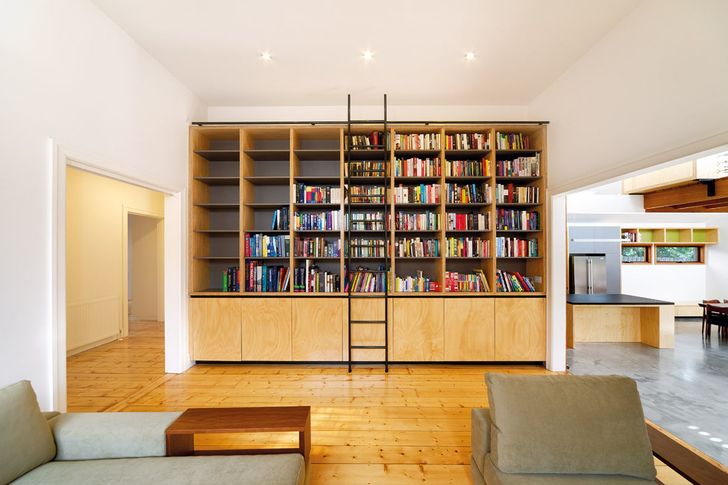 The sitting room received the most substantial update, with an envy-inducing wall-sized bookshelf, replete with sliding ladder, installed along the southern wall. A large window was added to the northern wall and immense sliders were installed in the eastern and western walls, to create a clear flow from the entry hall to the living spaces. It works – there is no hint of the warren-like circulation that sometimes afflicts houses of this era.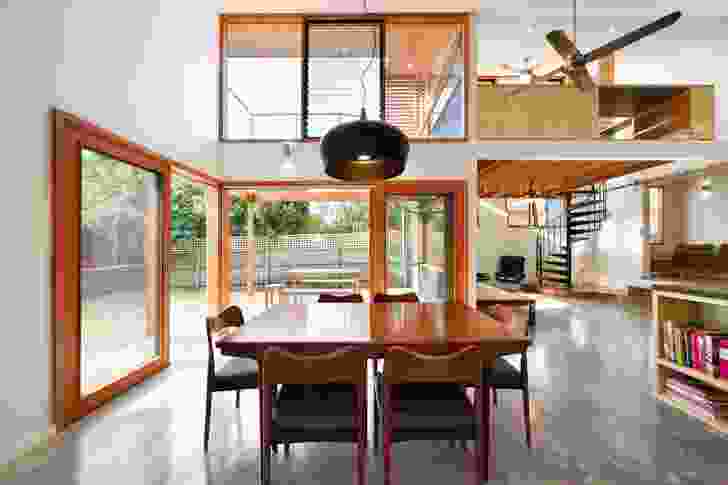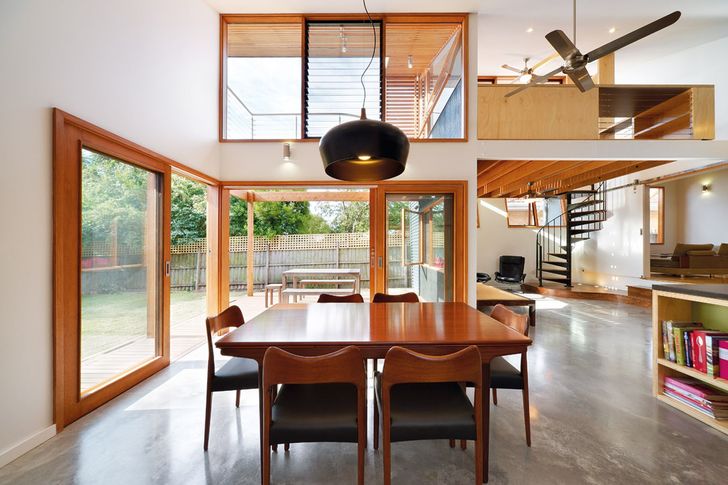 This idea of connection came into play in the new volume, too. Stepping down from the original rooms, the new volume is a carefully proportioned L-shaped space that accommodates a dining zone at the western end, a cosy living room at the northern end and an open-plan kitchen in the middle. Perched above the living room is an eyrie-like study mezzanine. It is an ideal way to keep all these functions in the same volume while allowing a clear separation of activities.
In line with the brief, the kitchen is the hub of the home. A central bench in reconstituted stone faces the living space. It has an unusual, almost textile-like finish, a pleasant change from the high-gloss surfaces of many new kitchens. A bank of appliances occupies the eastern wall, while joinery in muted greys and greens provides plenty of storage, with rows of open cupboards up high for favourite wares. Underfoot, timber floorboards add warmth and help define the zone. Their use is entirely practical. "We use a lot of concrete floors, for mass, but we have a lot of clients who prefer a timber floor in the kitchen," Penny explains. "It really makes it a lot more practical, a lot nicer to use."
Behind the kitchen, a walk-through pantry leads into a linear laundry. To eliminate the need for a clothes dryer, heat panels that allow the laundry to double as a drying room have been installed. The laundry-cum-drying-room is just one of the sustainable ideas that Zen Architects has employed for the project. There's the concrete floor, of course, for thermal mass. Windows on the northern wall have been carefully sized and configured to allow enough wall space between them for plenty of insulation.
The roof rakes steeply from north to south, admitting plenty of northern sun but limiting overshadowing to the southern neighbour. Above the kitchen, a louvred dormer window pushes through the raked ceiling. "We've done these south-facing pop-ups a few times," Penny says. "They are the most effective thing we've ever done! It's like putting on the airconditioner on a hot day – that little bit of high south glazing seems to create these amazing breezes."
The rear volume opens to a timber deck and out to a productive raised vegetable garden. A wire trellis crisscrosses the deck, ready for vines to create a shady canopy overhead. It's the perfect spot to while away a lazy afternoon in the shade of the neighbour's fig trees.
Products and materials
Roofing

Lysaght Zincalume; Foilboard Insulation Panel and CSR insulation.
External walls

Boral plywood; Lysaght Spandek with Colorbond Metallic Facade finish.
Internal walls

Painted plasterboard.
Windows and doors

Saxon Windows and Joinery windows and doors; Grimes and Sons stain to windows.
Flooring

Radial Timber decking; Urban Salvage blackbutt flooring; burnished concrete.
Lighting

Beacon Lighting lights; Tongue and Groove Interiors pendant light.
Kitchen

Stone Italiana Jaipur Pepper benchtops; Laminex cupboards in 'Sassi' and 'Moose'; Abey chrome mixer; Franke stainless steel sink; Ital Ceramics black tile splashback.
Bathroom

Abey chrome mixers; Methven chrome showers; Porcher Studio toilets; Reece White Stone basins; Ital Ceramics green, black and white tiles; Laminex cupboards in 'Moose' and 'Parchment'.
External elements

Radial Timber decking and eave lining.
Credits
Architect

Zen Architects
Melbourne, Vic, Australia
Project Team

Penny Guild, Ric Zen
Consultants

Builder Truewood Constructions
Engineer Keith Patrick and Associates

Site Details

Location Brunswick, Melbourne, Vic, Australia
Site type Suburban
Site area 446 m2
Building area 180 m2

Project Details

Status Built
Design, documentation 12 months
Construction 10 months
Category Residential
Type New houses

Source
Issue
Houses, February 2013
Related topics