At a time when typical nuclear families are less common than empty-nest baby boomers, single parents and those living alone, according to the 2016 Census, the suitability and affordability of the most common housing configuration in Australia – the three-bedroom detached dwelling – is diminishing. Increasingly, such smaller households are opting to live in apartments to reduce housing-related costs. But what happens when adult children can't afford to live alone, a parent requiring care becomes widowed, or a newly wed couple start a family of their own?
A possible solution is choosing "right-sized" housing. Unlike downsizing, right-sized housing is of a scale and cost that will suit the needs and circumstances of the household over time. One way to create a right-sized home is by constructing a new adaptable dwelling. An alternative is to increase the capacity of an existing property through renovations, extensions, or by adding a granny flat. Common in backyards around Australia, granny flats have transformed from a place to house war-widowed mothers to highly functional and site-responsive secondary dwellings that are helping to meet our changing housing needs.
Three recent Australian projects cleverly demonstrate the potential of the granny flat model for modern families: Erskineville Creature in Sydney by Retallak Thompson, The Garden Bunkie in Brisbane by Reddog Architects, and (Gr)ancillary Dwelling in Hobart by Crump Architects, all completed in 2018.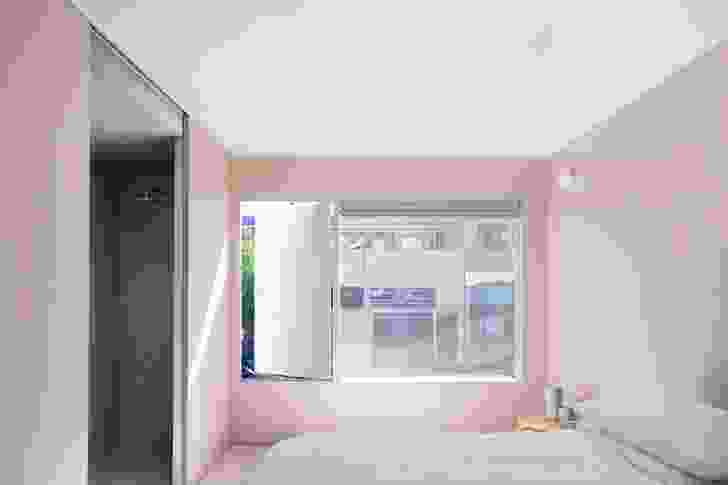 Erskineville Creature was commissioned by the owner of a Victorian terrace who sought to add a study, undertake home improvements and accommodate the shifting spatial needs of her young adult children. Rather than add a third level to the terrace, which would overshadow the small courtyard and neighbouring plots and involve costly yet largely invisible alterations, the architects added a detached ancillary dwelling. By replacing an existing substandard garage off a rear laneway with a small granny flat over a semi-enclosed carport, and reconfiguring the internal functions of the main dwelling, the initial brief was met and additional outcomes achieved, such as improving the quality of the existing courtyard and its relationship to the main dwelling.
Similarly, Reddog Architects replaced a dilapidated gazebo with a new backyard dwelling in a way that activated the underused "great abyss" of the backyard on a suburban Brisbane ten-by-forty-metre block. The Garden Bunkie, named after the Canadian granny flat typology that the expat client sought to replicate, provides extra space that can be transformed into a guest house for visiting relatives or short-stay leasing.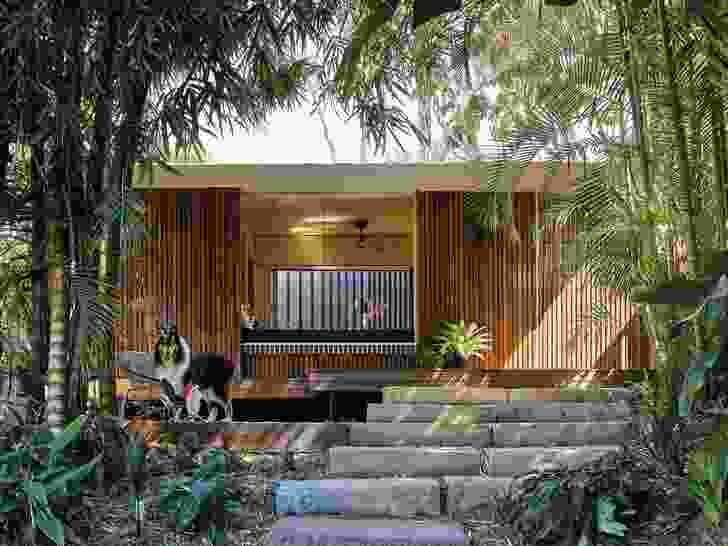 The brief for (Gr)ancillary Dwelling was also driven by the needs of a multi-generational family whose grandmother had moved in with her children and grandkids. The existing dwelling, a prominent ten-year-old modernist glass box perched on the side of Mount Nelson in the Hobart suburb of Dynnyrne, was preserved, while an existing detached carport was converted into a three-level granny flat. Located at the front of the block, the granny flat has a presence on, and direct access to, the street.
While small, independent houses can be added to the plots of existing dwellings via strata titling or subdivision, the critical distinction of the granny flat typology is its engagement with an existing house and consequently its ability to give a larger or multi-generation family opportunities for both communal and independent living. In all three projects, the ancillary nature is further emphasized by keeping the provision of kitchen amenities to a bare minimum and the laundry in the main dwelling. For Erskineville Creature, the shifting of the access stairway from the laneway edge and along the side of the property boundary to the courtyard behind makes the flat feel like a wing of the main dwelling. Similarly, The Garden Bunkie opens onto the shared backyard and its deck and sandstone landscaping provide new opportunities for outdoor living for the whole family. The (Gr)ancillary Dwelling takes a slightly different approach by distributing spaces vertically, enabling them to be physically connected while visually disconnected, and allowing the family to come together yet live independently.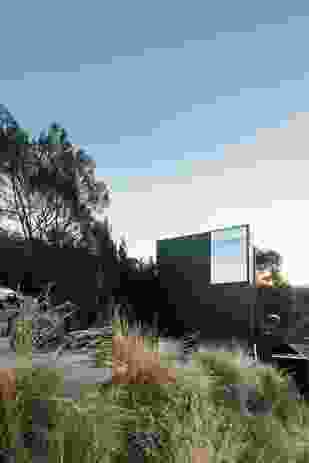 These projects also demonstrate that through strategic site design, an addition can operate as an autonomous dwelling with discrete access from the street. This separation of spaces allows homeowners to sublease the flat or use it for short- term rental accommodation to assist with costs such as mortgage payments.
Right-sized housing's ability to accommodate multiple independent households can also make a great contribution to addressing the shortage of diverse and affordable housing in established suburbs close to public transport, hospitals and schools. But investing in design advice and using high-quality finishes is key. When designed poorly, infill housing (such as the granny flat) can result in the reduction of established tree canopies, impact the quality of private outdoor space and have negative consequences related to privacy, noise and traffic congestion for neighbours.
Through considered, site-responsive design, the granny flat can provide a means to transform Australian suburbs through more socially, economically and environmentally sustainable housing.
Credits
Architect

Retallack Thompson
Sydney, NSW, Australia
Project Team

Jemima Retallack, Mitchell Thompson
Consultants

Builder Zenovations
Engineer Cantilever Consulting Engineers

Site Details

Location Sydney, NSW, Australia
Site type Suburban
Site area 116 m2
Building area 17 m2

Project Details

Status Built
Completion date 2019
Design, documentation 7 months
Construction 11 months
Category Residential
Type New houses

Credits
Architect

Reddog Architects
Brisbane, Qld, Australia
Project Team

Paul Worroll, Brodie Fernance
Consultants

Builder Charles Warren Constructions
Engineer Bligh Tanner

Site Details

Location Brisbane, Qld, Australia
Site type Suburban
Site area 405 m2
Building area 27 m2

Project Details

Status Built
Completion date 2019
Design, documentation 6 months
Construction 6 months
Category Residential
Type New houses

Credits
Architect

Crump Architects

Project Team

Nathan Crump, Ryan Cawthorn, Paul Kaiser
Consultants

Builder Elevate Building Tasmania
Engineer JSA Consulting Engineers
Lighting Casa Mondé

Site Details

Location Hobart, Tas, Australia
Site type Suburban
Site area 2292 m2
Building area 81 m2

Project Details

Status Built
Completion date 2019
Design, documentation 4 months
Construction 8 months
Category Residential
Type New houses

Source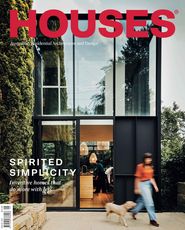 Issue
Houses, October 2019