From a golden era: The Old Clare Hotel
Designed by Tonkin Zulaikha Greer, Sydney's newest boutique hotel revitalizes Chippendale's Kensington Street precinct while paying homage to the site's history with beer and brewing.
If your visits to Chippendale in Sydney have been few and far between in recent years, you'd be excused if you didn't recognize the place. What was once a grungy (real estate speak for "dodgy") quarter girt by peak-hour traffic and train lines now has bona fide dining spots, art galleries, a Jean Nouvel highrise and a really good bakery. The (new) Old Clare Hotel sits right in the midst of these nascent hotspots, on the corner of Broadway and Kensington Street, on the former site of the Carlton and United Breweries (C.U.B.) administration building and The County Clare hotel, a pub designed by architect Sidney Warden in 1940. There's a lot of nostalgia for both these old beer shrines, from locals and those behind the new hotel, and that has played a big part in the design by Tonkin Zulaikha Greer Architects (TZG).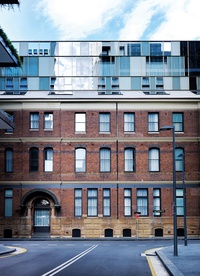 The Old Clare Hotel is the first Sydney hotel by international group Unlisted Collection. Unlisted Collection's founder, Singaporean Loh Lik Peng, is drawn to heritage buildings and each of his seven hotels across the world is housed in a historic property that has been sensitively restored. With The Old Clare Hotel, Peng's brief to the architects was, according to TZG director Tim Greer, "more inspirational than functional. Peng was really fantastic because he's just interested in interesting things. The brief really was to challenge him. He was never scared of some really off-the-wall ideas – he would engage with them."
The first puzzle TZG had to solve, and perhaps the trickiest, was how to connect two independent historic buildings and make them feel as one. The masterstroke solution was to create a linkway, a shimmering four-storey glass atrium that clads the empty space between the two buildings. This atrium provides two entry points to the hotel and feels apt and inviting. It is so inviting, in fact, that local students and residents use it as a pedestrian shortcut. Greer describes this internalized laneway as "anti-hotelism" – this is no grand lobby where everything flows from one space to the next. Instead it is two buildings "having a conversation together," as Greer says. "The gesture looks so simple and obvious now, but it was quite difficult to get there."
In this entry space, the design team has afforded guests tidbits of the site's past. There's a portal where kegs were once delivered into the basement. Hefty safes have been recovered and put on show, once security guards of classified documents and perhaps the recipe for VB. There's the old fire escape. They've even kept the graffiti and remnants of paste-up gig posters. Make no mistake, The Old Clare Hotel is proud of its beery history. The ground floor also hosts the reception desk and reborn Clare Bar. Once a pokies room, the reception area is punctuated by a sweeping dropped ceiling, vintage chairs (Peng is a notorious chair collector; mid-century and barber chairs are his weakness) and the reception desk, made from illuminated amber-coloured panes of glass.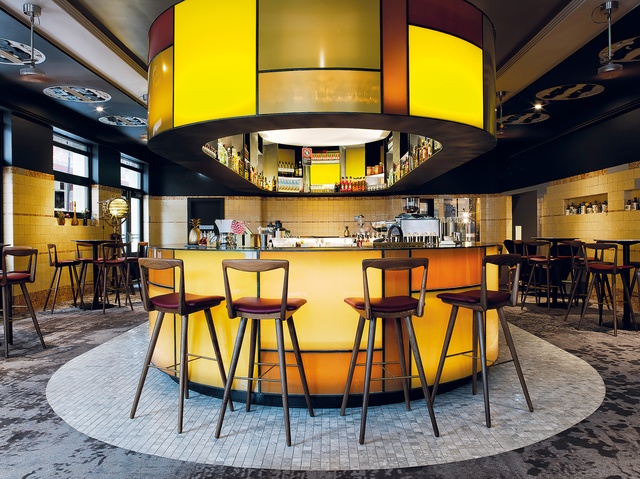 The coloured glass appears again in the bar, wrapping around the central service area. The bar sits right on the edge of busy Broadway and, with its amber glow, must act like a beacon to thirsty university students. The bar has been fitted with new carpet (the pattern was chosen because it looked like beer stains) and furniture, but the charm remains – broken tiles have been kept and vintage beer pitches line the walls. The bar's old phone booth is now a site-specific art installation by Corinne Felgate called Ode Blower . Inside, a 1930s candlestick telephone plays ten poems written by the artist and read out by various Australian actors.
The sixty-two hotel rooms are spread across four levels and come in seven different types. "It was never like, 'We need this number of rooms that will be this big.' Peng doesn't work like that," Greer says. "Ultimately he's interested in the diversity of room types. He wanted everything to be different, so when people come back and stay the third and fourth time they can actually stay in a room that is totally different from [the ones they stayed in] the other three times."
With high ceilings and original framed windows, the rooms range from twenty-five square metres for the standard Connell Room to 106 square metres for the swanky C.U.B. Suite. In the Abercrombie Room, distinctive custom-made joinery units extend along opposite walls. One houses the suitcase landing pad, wardrobe and desk, while the other provides bathroom storage and a vanity. The bathrooms are contemporary and open, with a freestanding tub.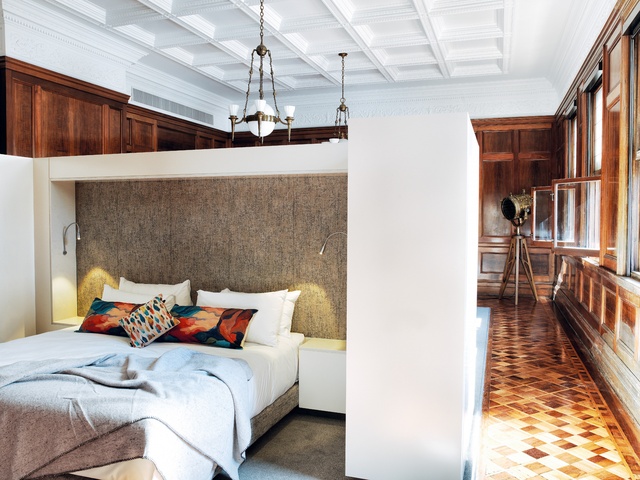 The C.U.B. Suite, or "the fancy one" as The Old Clare Hotel team call it themselves, is in the former boardroom of Carlton and United Breweries. An antechamber library leads to an open-plan dining, meeting and entertaining zone, with the bed tucked between this zone and the bathroom. The room's original flooring, heritage timber panelling, ceiling and chandeliers have been kept. The C.U.B. Suite's bathroom is the original one that served the male executives who once worked here. Greer chose to keep the original and working porcelain urinal "as a fascinating artefact that we can look at now as socially grim." In stark contrast, this chamber opens up via a slender doorway to a modern and glamorous bathroom, ticking all the boxes required for a suite like this.
As one would expect with a design hotel, the penchant for those novel little details has been met in each room, with poetic photographs of the hotel in construction, industrial desk lamps made from car jacks, sixpacks of Melbourne Bitter in the minibar, and more specimens from Peng's chair collection. To top it all off (quite literally), the rooftop deck provides panoramic views of Sydney city to the north-east and Nouvel's vertical garden to the west.
On my way out, I stop to study that glass atrium one more time. It sums up The Old Clare Hotel so well – a place where old becomes new, and past and present meet in the middle for a conversation and a cold one.