Everybody wants to kill their father. The Greeks wrote a play about it. Freud named a complex for it. And architecture is certainly not immune to it. Throughout history, as mentor accedes to pupil and as styles, moods and tastes metamorphose, the new generation creates room for its own practice, and ego, moving discourse in fast forward.
This is evident in the number of architects who are reared in one practice, only to leave and set up their own office, taking clients with them and creating competition. There are several baby Itos, Rems and Sejimas circumambulating the ether. In Australia, Ashton Raggatt McDougall has seen Roland Snooks (Kokkugia), Robert McBride (McBride Charles Ryan) and Jan van Schaik (Minifie van Schaik Architects), among others, emerge from its doors.
The work of all these offshoots cannot escape the shadow of their predecessor. MCR's Penleigh and Essendon Grammar School (PEGS) Junior Boys building embodies a candour and wit about suburbia; the silhouette and spirit of Edmond and Corrigan via ARM is evident in its dark, glazed-brick street facade. However, rather than being a mere simulacrum, the project highlights the potential to mature and reframe the architectural conversation. It coolly blows up, on the eastern elevation, the street's heritage character without using the brash palette that Australia so often brushes up.
With a change in editor at Architecture Australia there is a significant opportunity to transform the way one views and debates architecture in Australia, especially in an era where the role of the architect can be pivotal in lifting us from the immobilizing swamp of the political climate. Despite being the thirteenth-largest economy and the seventh-richest nation, and having the fifth most traded currency globally, despite the fact that this is our golden age, Australia stands at a political impasse. There is little room for risk-taking. Vision is not easily delivered, and we have a phalanx of reminders: the debacle of Barangaroo, slow internet speeds, the lack of a fast train (in a time of volcanic ash), unaffordable housing, and the ongoing debate about the Australian pavilion at the Venice Biennale.
Without the immediate hope of transforming the political system, there is a role for the architect in delivering such vision. And it is not about building more swinging signifiers. As The Economist recently wrote, "Though the country's best-known building is an opera house … the arts have yet to receive as much official patronage as they deserve." It is, instead, about transforming culture through strategic design thinking, and to do this, we need a greater belief in our own savoir faire.
This know-how, evident in the complexity that an architect handles on a daily basis, is sorely needed in the public arena, and not only on matters of the built environment but in the multitude of trajectories that cross over space. Architects have the ability to visualize a narrative of dreams, to conjure up a collective mythology, to inspire people to change their behaviour, to embrace different modes of mobility and dwelling and, overall, to get things done.
Architecture Australia, the grande dame of architectural record, is over one hundred years young and will also get things done, by continuing to inspire and to deliver architecture with a capital A. However, AA must not only act as a journal of record and critique of the past and today, it must also lead the debate on what our possible futures can be.
So, good people, stand by: rather than "kill my father," I look forward to building on the solid base that Justine Clark has established. But expect many changes, not all at once, but into the new year. (For this issue, the format of multiple voices dissecting the annual conference is extended to a building review; the theme of post-occupancy evaluation – commissioned wittingly before my arrival – is condensed to a dossier.) With this, Architecture Australia will move beyond the public presentation and review of the architecture du jour to encompass an approach that supports new ways of thinking about relational and issues-based problems, projecting architectural research and design into the future.
This is an abridged version that appeared in the magazine. You can read the longer version here.
Source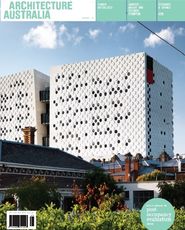 Issue
Architecture Australia, September 2011