While it is not always possible to trace the evolution of a design concept with precision, the associations and creative sparks that led to The Penny Drop cafe's look and feel are as vivid and charming as its ultimate design.
The cafe's location at the base of the Australian Taxation Office (ATO) building in Box Hill, Melbourne inspired an image of coins slipping from the ATO coffers, through the cracks and floors of the modern high-rise, to land in what would become the new cafe-bar-restaurant. Coins lead to the idea of pennies and soon conjured the clean lines and optimism of the art deco style. We Are Huntly designed the interiors based on this concept and collaborated on the brand identity with graphic design studio Pop & Pac.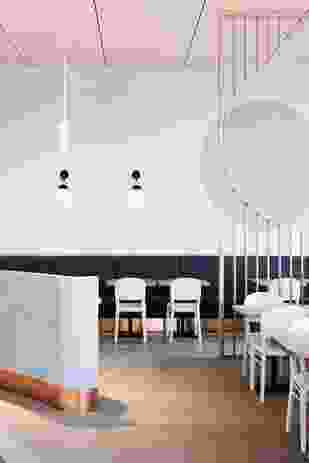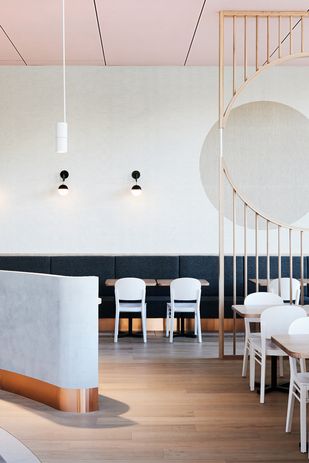 Defining a large 350-square-metre shell and integrating it into a twenty-first century corporate building were the initial challenges faced by We Are Huntly directors Kylie Dorotic and Alicia McKimm. In addition to enticing locals and the two thousand workers in the offices above to adopt it as their own, the cafe also needed to be special enough to inspire "penny dropping" further afield, and motivate people to travel there; the central bar and coffee cart have generous cruise-liner curves that, as well as zoning the space and expressing the art deco aesthetic, draw the eyes of passers-by, helping to establish The Penny Drop as an iconic venue.
The design contains many other overt and subtle art deco references: a playful graphic on the takeaway coffee cups depicts people in 1920s attire tumbling through the air; one side of a communal table conjures the tip of a two-tone spectator shoe; curves, circles and half-circles are comfortingly omnipresent – on the bar, coffee bay, door handles or a sweep of tiles; a half-cut dowel dado – again curved – warms and breaks up the scale of a feature wall; and wide and fine copper ribbons sharpen, define and inject a dash of luxury, with a large, copper-dipped mirror being a particularly striking example of this.
Pink and grey, in pulled back tones, colour the work bay and the cafe's dropped acoustic ceiling, respectively. "We wanted to make an impact without being in your face," says Dorotic. "We didn't want the effect to be candied or kitsch in any way," says McKimm.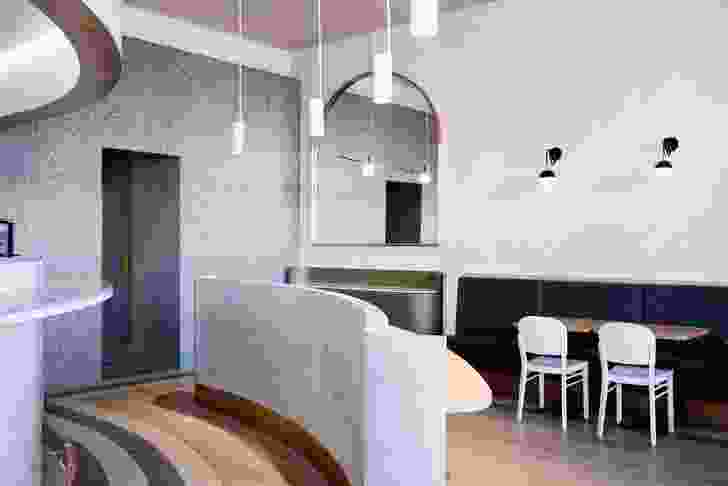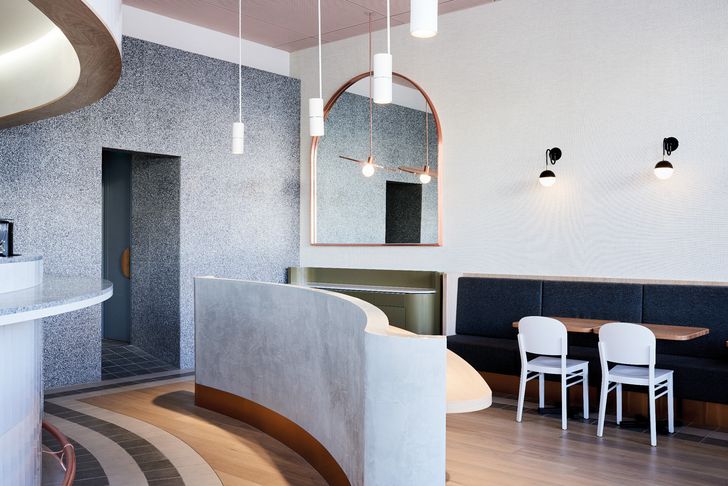 Material choices were based on a similar rationale: vinyl flooring was used to cover the largest wall, featuring a large, contrasting circle in the same material. Again, the pair wanted to create a strong element without it being obvious or splashy, so opted for contrasts in tone, texture and form. The circle mirrors two round timber frames that, together with a banquette, zone the central eating area. Similarly, terrazzo tiles cover most of a back wall and are another unexpected material choice; their charcoal hues connect with those in the banquette upholstery. While one might expect this to be a budget-killer, Dorotic says "the cost was actually similar to that of wood veneer."
The cafe has a series of pendant light clusters – some are copper, like elegantly angled women's hats modelled on shiny coins, some are glossy, two-toned, black-and-white balls, and others are more neutral, white tubes. Each plays a role in sectioning the large space while expressing the contemporized art deco aesthetic. "Done right, lights create intimacy and connectivity between spaces and details," says Dorotic. "There is nothing worse than pendants hanging too high."
The smallest zone, the bathroom, is a particular delight. "If there is money left in the budget, you can really have fun in the bathroom as it's one area you don't have to pull back in," says McKimm. The female toilets are comprised of stone, copper and peach-studded terrazzo, which marries with the toned-down peach colour of the tiles. The fine, black-framed, circular mirrors – like 1920s spectacles – and the basin's sparkling, copper base contribute a sharpness to this lovely orchestration of texture, colour and tone in semi and high gloss.
Overall, The Penny Drop's layered, contemporary-vintage aesthetic is a study in earthed glamour, fine functionality and connected spaces, with just the right amount of golden trim.
Products and materials
Walls and ceilings

Rods to back wall painted in Dulux 'Natural White.' Bathroom doors painted in Taubmans 'Private Jet.' Monte Carlo tiles to wall from Signorino. American oak veneer wall finish. Artisan Range wall covering from Bolon. Wall tiles in bathrooms from Classic Ceramics. Ceiling painted in Porters Paints 'Eggshell' and Dulux 'Natural White.'
Doors

Custom-designed entry door handle, bathroom door profile and handle, and branding to bathroom door.
Flooring

Engineered timber flooring from Woodcut. Porcelain floor tiles used around border in 'Polar White' and 'Ash Grey' from Bespoke Tile and Stone. Monte Carlo floor tiles in bathrooms from Signorino.
Lighting

Balise wall sconce from Atelier De Troupe to dining room wall. Dioscuri wall light from Artemide in bathroom. Custom-designed copper disk pendant, dining room pendant and timber wall light, all from Brett Coelho. SlimKat LED spotlight and Kit Mini downlight, both from Ambience.
Furniture

Aloe dining chair from Cafe Culture + Insitu. High and Low stools from Christopher Blank Furniture. Billiani Load communal table stools from Cafe Culture + Insitu. Custom-designed communal table from Osiris Furniture. Tabletops and bases from Cafe Culture + Insitu. Waiters station tabletop uses Carrara marble from CDK Stone. Bartop, bar shelving and coffee station tabletops use natural stone in 'Silver Cloud' from Corsi and Nicolai.
Bathroom

Custom-designed vanity stands and mirror.
Credits
Design practice

We Are Huntly
Melbourne, Vic, Australia
Project Team

Kylie Dorotic, Alicia McKimm, Charlotte Dethick
Consultants

Builder and project manager S & K Group
Building surveyor Smitcon Consulting Building Surveyors
Graphics and branding Pop & Pac
Joinery Planera
Lighting Ambience Lighting
Services engineer ECM Group

Site Details

Location Melbourne, Vic, Australia
Site type Urban

Project Details

Status Built
Completion date 2016
Design, documentation 6 months
Construction 6 months
Category Hospitality, Interiors
Type Bars and cafes

Source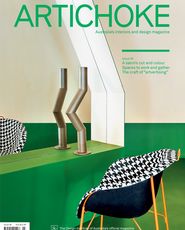 Issue
Artichoke, September 2016