It's been only six years since George Calombaris and The Press Club won Chef of the Year and Best New Restaurant at The Age Good Food Guide Awards, which not only shows how quickly Calombaris shot to national prominence as judge and host on MasterChef, but also how quickly things have changed in the Australian restaurant scene. Back in 2008, The Press Club was one of a handful of great Melbourne restaurants making modern Greek the hottest cuisine in town. But as progressive as some of the food might have been, the restaurant itself, with its dark, sober dining room hidden behind the heritage-listed neoclassical facade of the old Herald and Weekly Times Building, screamed "fine dining!"
Track forward to 2014, and apparently "fine dining is dead!" It's an exaggeration, to be sure, but there's no questioning the shift in Australian hospitality from posh nosh for a select few to foodie fare on every corner. Perhaps it's the democratizing effect of the wildly popular MasterChef, or perhaps it's a product of the economic times. Either way, Made Establishment, the business behind this and several other leading restaurants in Melbourne, has responded. In place of the old eighty-four-seat fine diner, we have Gazi, selling slinky Greek street food and accommodating one hundred and thirty. And in place of Little Press, the bar formerly adjacent to The Press Club, we have the flagship restaurant itself.
It's not a demotion for the premium food offering, but rather reflects the changing commercial balance between "exclusive" and "accessible." None of the thirty-two diners enveloped in March Studio's intimate, luxurious, lustrous interior seem too concerned, of course – all they care about is that The Press Club is back, and the golden glow within tells them that, if anything, the place is even more special than before.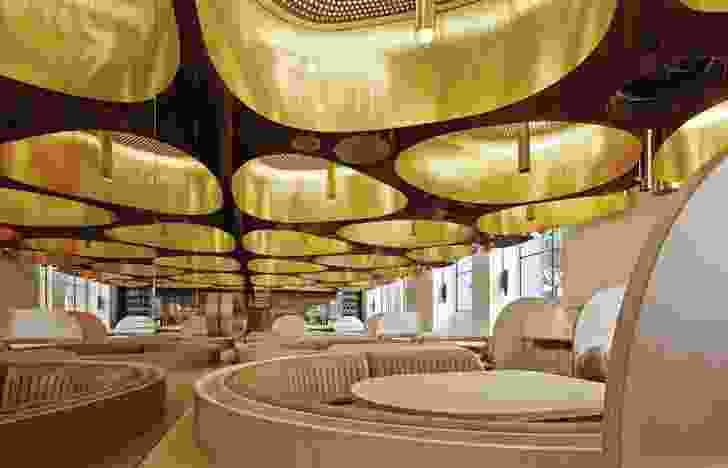 March's material specifications play a key role in the ambience of the space. Fantastic custom-designed light fittings made from 0.8-millimetre-thick brass cast a warm wash of light onto blond rock maple tabletops and beautifully upholstered natural leather banquettes. If the wood had been varnished, the leather tanned and the brass highly polished, the curved booths and oversized light fittings might have edged the interior into American Hustle territory. Instead, they imbue the space with a sense of luxury that is tactile, honest and (you know this before you sit down) very comfortable. March Studio director Rodney Eggleston describes the upholstery
as being "almost like an FJ Holden" and behind the joke there's something to it – an expression of attention to detail, quality construction and comfort.
The light fittings play multiple roles in the fitout. From the entry, they create the impression of a low ceiling over the entire dining room but, when viewed from the banquettes, they extend the space above each table vertically. They also work as acoustic baffles, like some glamorous take on Maxwell Smart's cone of silence, trapping sound and keeping noise to a minimum – essential in such a small restaurant. And they reference the front door's cheeky image of Saint George, who is commonly depicted beneath a gold halo.
The sense of intimacy is heightened by adjustable screens between each booth. From a couple of tables, diners can see through a low-profile window down into the cellar kitchen in one direction, and out through the original windows to Flinders Street in the other. But it's hard to imagine many diners being distracted by much outside of their cosseting culinary pods.
At the same time as The Press Club was being reborn, a small shopfront a couple of doors down the street was also brought into the fold. The Press Club Projects test kitchen, also designed by March Studio, gives Calombaris's team a place to experiment with new techniques and new dishes, before they qualify for the main restaurant's menu.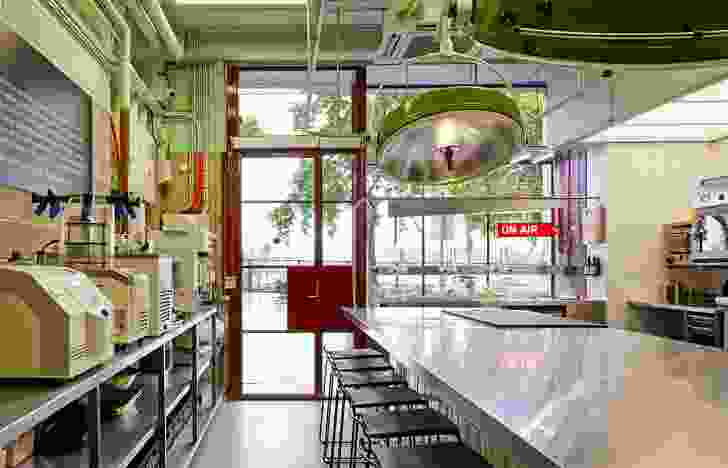 It's another sign of the changed culinary landscape – where molecular gastronomy is now a household term – that the emphasis here is as much on science as it is on cooking. The interior offers a direct response to the fascinating array of appliances in use, which look much more forensic than food-oriented. Pale green walls, exposed pipes, white tiles and, above a large stainless steel island bench, two huge, green, circular light fittings salvaged from an old operating theatre, evoke the kind of retro hospital chic evident in graphic designer Mark Farrow's work for British space rockers Spiritualized, and perhaps even Damien Hirst's Pharmacy Restaurant and Bar.
The comparison between the main restaurant and the test kitchen is interesting. Both spaces offer exclusive and intimate, yet completely different, food experiences. Whether you prefer the clearly expressed luxury of The Press Club, or the thematic irony and experimentation of The Press Club Projects, both make it clear that fine dining definitely hasn't died. In places like these, it seems to be getting finer.
Products and materials
Walls and ceilings

Brass ceiling by Specialized Roofing Services. Brass entrance wall by Rock Martin. Tiles in 'White Gloss' from Metz Tile. Exposed brick, painted. DécorMirror in 'Bronze' from Viridian. Halved brass tubes.
Doors

Brass entrance door by Rock Martin.
Joinery

Joinery units by Deadwood Designer Interiors with finishes including brass lining, leather, plywood, steel dipped in yellow zinc, and stone composite.
Kitchen

Refrigeration and stainless steel benches from Trent Refrigeration. Kitchen equipment from Moffat.
Flooring

Polished concrete. Sikafloor epoxy resin flooring in 'Sky Blue' from Sikafloor. Tiles in 'Graphite Mix' from Metz Tiles.
Lighting

Brass light fittings custom designed and made by March Studio. Master LED LV lamp from Philips.
Furniture

Booths and leather banquettes custom designed and made by March Studio.
Credits
Design practice

March Studio
Melbourne, Vic, Australia
Project Team

Rodney Eggleston, Sam Rice, Julian Canterbury, Jack Crocker, Patrick Macasaet, Jono Ware, Anne-Laure Cavigneaux
Consultants

Air conditioning Allstaff Airconditioning
Builder CBD Contracting
Engineer Co-Struct
Joinery Deadwood Designer Interiors

Site Details

Location Melbourne, Vic, Australia

Project Details

Status Built
Design, documentation 5 months
Construction 5 months
Category Hospitality, Interiors
Type Restaurants

Source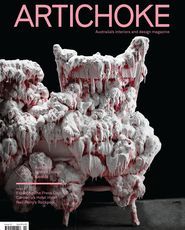 Issue
Artichoke, June 2014
Related topics