In her keynote address at the Right to the City symposium, Margaret Crawford, Professor in the Department of Urban Planning and Design at the Harvard Graduate School of Design, made an unusual plea. She asked that the urge towards a "hypercritical" response be quelled to enable a different approach to exploring and theorizing grassroots urbanism. This request, which became a running topic of conversation during the symposium, arose from a desire to speak without constraint so as to trace some contours of possibility and promise. Crawford's plea was equally embraced and rejected, praised and criticized. Is it really a symposium if critical response is sidelined? Consequently, Crawford's call drew attention to considerations of the role and purpose – even responsibility – of critical response in the face of emerging and changing urban phenomena and practice. To observe diverse grassroots and DIY urban practices attentive to remaking the city, and in which so many design- and community-oriented practices are implicated, seemed to warrant a more reflexive, nimble and open-ended conversation. Such an approach, she argued, was underpinned by Henri Lefebvre's theoretical framing of the right to the city, which expresses a challenge to existing power relations by wresting or asserting a right of participation in the production of the city. To claim a right is to express citizenship.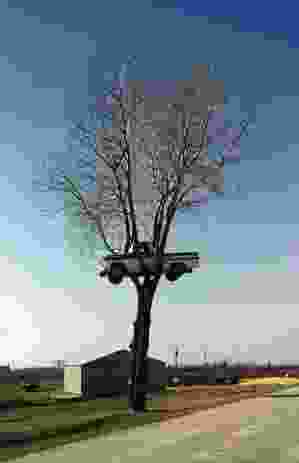 Presented at the University of Sydney, The Right to the City was a multi-platform event. The symposium was accompanied by an exhibition and publication, produced by Lee Stickells and Zanny Begg. Seeking connections between art, architecture, philosophy and action, the project homed in on the ways practitioners endeavour to "remake" the city in more socially connected and sustainable ways, with specific attention to Sydney. An oeuvre in the Lefebvrian sense is in development here; both assertive and tentative, the works in the exhibition put forward evocative propositions and provocative questions. The packed program for the one-day symposium – featuring Australian and international speakers, including critic Mimi Zeiger, architect Rory Hyde, academic Kurt Iveson and artist/architect Jonathan Mosley – recalled tensions from the pressure points of urban politics and theory. Such pressure points were the subject of the primarily speculative projects assembled for DIY Urbanism, curated by Joni Taylor and included as part of the exhibition at the Tin Sheds Gallery. Those projects all demonstrated a desire to reconsider Sydney and its peppering of urban scuffles over large-scale development such as Barangaroo and the Carlton and United Breweries site. In the highly regulated inner city, the dynamics of urban development are hitting people literally where and how they live, with a predictably circular narrative of resistance, cooption, displacement and erasure.
The ideas presented in DIY Urbanism not only make a claim on the city, they also hint, in part, at how the city could be (if only). Even though it seems that the city is slipping out of the hands of communities, for brief moments it can be the product of collective imagining and making. Projects like Jason Workman's Mobile Tea House, a portable project erected under a shady tree to share cups of tea, offer a reminder that social gestures are constitutive of social space. In Untitled 2011, Josephine Starrs and Leon Cmielewski present a scenario for rehabilitating Sydney Harbour, which is highly toxic and unsuitable for fishing as a result of industrial activity. They propose the removal and remediation of polluted soil to create an artificial island offshore so that organic filtering systems, such as mangroves, can be reintroduced into the urban ecology. As Taylor notes in her essay, such projects offer modes of participation where none existed previously and, more simply, constitute the city as a better place to live. This requires untangling the ideologies that conflate "better," "growth" and "development." In a nod to the urgency of social and environmental equity, these projects also act as platforms for exposing the neglect and voids in the city – tilting at the smooth platitudes of planning and design hierarchies that soothe corporate, consumer and bureaucratic hegemony.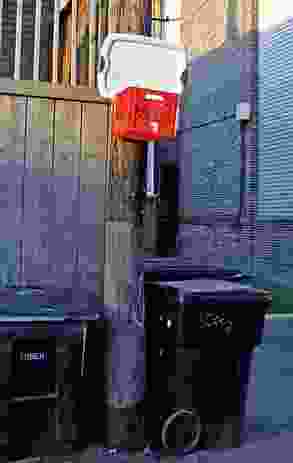 The Right to the City exhibition included works by Claire Healy and Sean Cordeiro, atelier d'architecture autogérée, D. V. Rogers, Makeshift, SquatSpace, Milkcrate Urbanism, Temporary Services, Sophie Warren and Jonathan Mosley, Marjetica Potrc, and Bababa International. These reinventions of and interventions in public space are both actual and imagined. They celebrate everyday practice – the informality, ephemerality and ingenuity that is grounded in community and place. The projects also chart the flows between material and social space: squatting in disused buildings in response to housing shortages and documentation of "public phenomena" such as roadside memorials and makeshift playspace. As with D. V. Rogers' Disastr Hotel, featuring a demonstration of the disaster shelter system developed by Vinay Gupta, participating artists also have an eye on other system dynamics, promoting readiness and resilience in the face of looming devastation. As many of the projects were site-specific, the exhibition presented documentation and other artefacts highlighting place-based approaches to participatory practice. In The Cook, The Farmer, His Wife and Their Neighbour, Potrc worked with the community in Amsterdam's Nieuw-West neighbourhood to develop a community garden and kitchen. The drawings and publication exhibited illustrated how visual art and social architecture combined to redefine the village green in the failed modernist residential development. As a Sydney-based collective of artists, architects and urban practitioners, Milkcrate Urbanism presented The North Eveleigh Propositional, an open platform inviting residents to offer their own ideas about redevelopment. In working towards a people's urbanism, the Propositional exposes the biases and exclusions embedded in the approved planning scheme.
To plan a city is one thing, but to make or remake a city is quite a different proposition. The symposium speakers and exhibiting artists explored this difference through nuance, tactic and agency. Noting activities like street vending, community gardens and garage sales, Crawford charted a series of tendencies in grassroots practices with the objective of interrogating how such acts and activism might shift from the tactical or insurgent to the strategic to produce more permanent results. Otherwise, it seems like throwing stones and words at bulldozers. At the final "open space" session to explore "the way forward," there was a heartfelt appeal to expand the dialogue to address broader publics. With architects, planners, designers, academics and artists as the focus of The Right to the City, there is a sense of talking in a small circle. There are others – like community development officers, cultural planners and social workers – who perhaps could be drawn into a broadly collaborative interdisciplinary ethos of practice. While design and planning can regulate people and things in and out of place and space, community development workers, for example, also shape social webs, minor practices and power relations.
There are cues in the projects, politics and processes presented in the Right to the City symposium, publication and exhibition that indicate that a myriad of conversations are well underway. While it is parroted that artists are the storm-troopers of gentrification, there are clear signals that artists can unsettle singular visions of the city and that communities can take matters into their own hands. Disrupting the normative narrative, through poetic interventions, new scripts and grassroots action, as though it can never be a fait accompli, is to claim a right to the city as only citizens can.
Source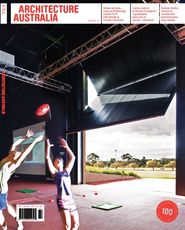 Issue
Architecture Australia, July 2011
Related topics