One of the more enjoyable experiences of my early career as an architect was time spent in the office of Williams Boag, working on projects for the Ministry of Housing in the early eighties. Williams Boag had already established itself as an emerging design practice with good credentials. The two projects I remember were in Cole Street, Williamstown, and in South Melbourne, the latter one being part of a re-evaluation of built heritage in the historic Emerald Hill precinct owned by the Ministry of Housing. Other talented architects were also practising in this area – Greg Burgess, Cocks Carmichael, Peter Crone, Edmond and Corrigan, Norman Day, Denton Corker Marshall and Peter Elliott. These design practices and many others that were to follow (such as Ashton Raggatt McDougall, Lindsay Holland, MMH Partnership and Newton Hutson) were working on social housing projects of a type that both socially and formally contrasted with the tower blocks typical of inner-city housing estates and looked instead to new forms of contemporary row housing, terraces and medium-rise residential typologies.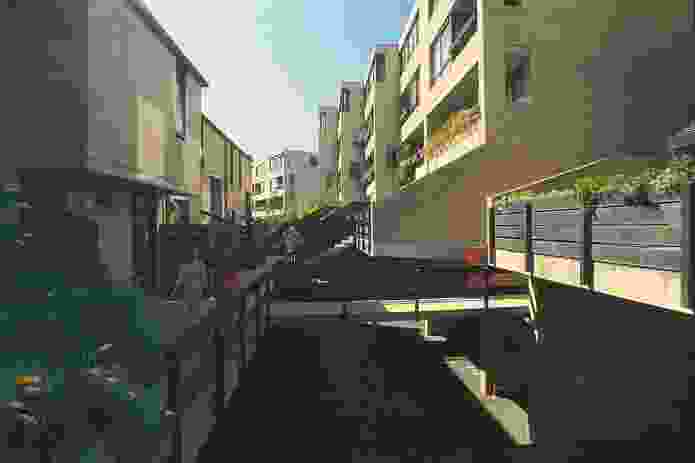 Apart from these experiments, architects in the early eighties were still working with a restricted range of housing typologies and low levels of construction innovation, whether in the delivery of better social housing or on nursing homes, single private houses or occasionally boarding houses. A decade earlier Daryl Jackson Evan Walker had developed an idea of high-density/low-rise residential buildings for City Edge housing in South Melbourne, but this was an isolated, albeit interesting model. Following the six-pack flat developments in the sixties and the earlier interwar or postwar flats, apartment development was almost at a standstill, with only a few notable exceptions such as the Ormond Road apartments on the corner of Toorak Road and projects in isolated locations such as along the waterfront in Middle Park and St Kilda. Affordability was to be had in the suburbs in the form of mostly single-storey brick-veneer villas.
I don't remember a big debate on housing, outside of the cost of escalating interest rates and a discussion about the form and the mix that the provision of social housing should follow. The inner-city suburbs were being rediscovered by the middle classes but there was still plenty of stock in original condition, with dunnies out the back and other delights to keep rental down for students and the young, and to make purchase by first-home buyers affordable. Ageing in place was happening in the middle ring of well-established suburbs and in the original Victorian housing stock, where a mostly older migrant or blue-collar population had stayed put. However, by the mid eighties things were beginning to stir. In St Kilda the "Turn the Tide" political group was vowing to restore affordability for the traditional residents displaced by gentrification. The first community housing groups, such as the St Kilda Housing Association, formed to tackle the problem.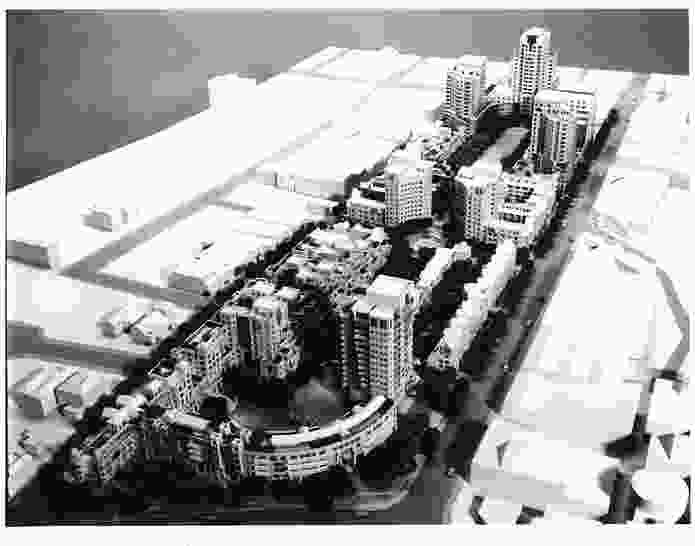 On the commercial front we were heading toward the nineties building bust. I remember clearly the vicissitudes of the development of the Como project in South Yarra. At the height of the building boom, Singapore developer Jack Chia had bought the site of the brickworks quarry in Chapel Street. Denton Corker Marshall had prepared a magnificent model, demonstrating how the site could be developed as a mix of luxury multistorey apartments overlooking a canal flanked by gardens at the river end and commercial uses at the Toorak Road end. However, after the delivery of the commercial component – a hotel and two residential towers by a consortium of architects, including Denton Corker Marshall and Daryl Jackson Architecture – development of the site stopped. The future of the project at the Yarra River end was in serious trouble. The viability of the lower-density residential development and the prospect of developing the site, in one parcel, to deliver the original vision of extensive, high-quality, landscaped semi-private space was outside previous local experience and the willingness of the financiers to take a risk. The real estate agents simply could not fathom what the market potential might be for what the architects had dared to imagine. So, after much shopping around for alternative visions, the original proposal was shelved and the land subdivided and sold into smaller parcels, an expedient solution which turned the big problem into a series of smaller ones.
St Kilda Road was also seeing the first signs of a new generation of high-rise residential developments. At the other end of the scale, the prosperity of the eighties economic boom was promoting new kinds of entrepreneurial practice represented by Neometro Architects, a design and construction company headed by Clare McAllister, Barry Ludlow and Jeff Provan. Up to that time it had been commonplace to see additions and renovations of Victorian housing stock in bagged brickwork, exposed rough-hewn beams, slate floors and generally earthy tones to harmonize with the exposed hawthorn or polychrome brickwork of the historic terraces. Now funky little redevelopments were cropping up to replace old stock beyond redemption.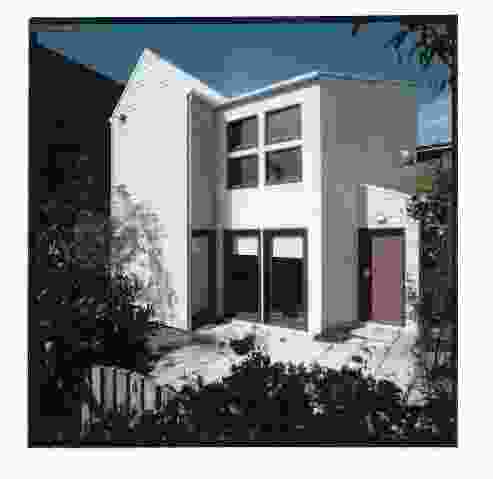 Richmond in particular was replete with much cheap land and buildings beyond repair. In 1985 it was possible to buy an eight-by-twenty-metre block of land for under $40,000 and to build a townhouse for not much more. Not far away Neometro was selling its first development and Robinson Chen was designing its spatially intricate and boldly coloured commissions. The Ministry of Housing was renewing its building stock and pursuing a policy of diversification through infill. Many young practices were commissioned and the program itself became a kind of laboratory for new housing typologies, a trend that was pursued more consciously by John Devenish when he became Housing Commissioner.
The nineties, as we all know, started with an almighty crash, but the first construction sector to show signs of recovery was housing. The Victorian Government, recognizing the changing household composition caused by greater rates of divorce and an ageing population, pursued the idea of introducing dual-occupancy controls in its planning policies in order to stimulate consolidation and halt the spread of outer suburbia, where it was perceived it might be difficult to provide the required infrastructure to adequately service greenfield subdivision. What followed was unexpectedly successful and as more and more "dual occs" started to appear, opposition from neighbourhood action groups became louder. The state government reacted by introducing new non-mandatory discretionary codes (The Good Design Guide for Medium-Density Housing, then ResCode) to guide the transformation of the middle ring of suburbs through the incremental changes introduced by densification. Dual-occupancy proposals declined over time but still they had demonstrated that there was a market for smaller, slightly more affordable residential development in the middle suburbs.
The defining moment in high-density residential development took place when Nonda Katsalidis designed and built Melbourne Terrace near the Queen Victoria Market, closely followed by the St Leonards and Silos apartments in St Kilda and Richmond respectively. Melbourne Terrace, with its many forms, colours and materials and its reference to a European belle époque, caused a sensation. There was suddenly a new model for medium- and high-rise living which was unlike modernist beach-front apartment towers and which represented more than a retirement option or an investment opportunity. This place was an address for those sophisticated enough to understand design, appreciate it and want to live in it. Nothing else has quite matched this typology or assisted the CBD to establish itself as a residential locale as this project did. After many years of postcode 3000 promotion, city living was suddenly looking like an attractive proposition.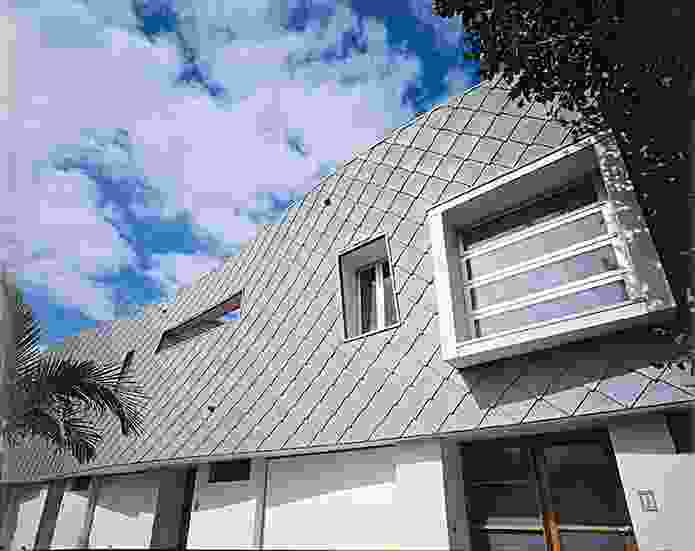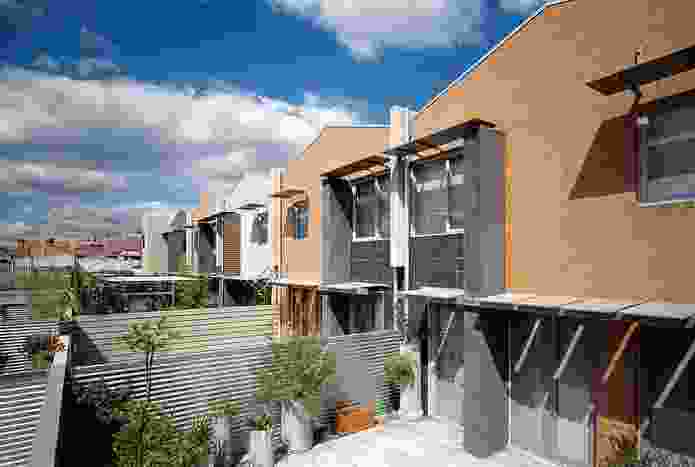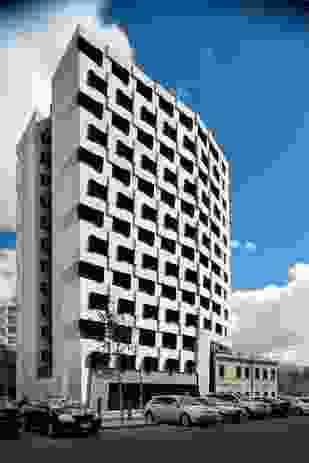 At the more modest end of the scale, medium density was also taking hold through entrepreneurial self-funded projects like McBride Charles Ryan's Legon Street apartments and more traditionally commissioned projects like the Cromwell Road apartments in South Yarra by Wood Marsh. In Tyne Street, Carlton, Williams Boag restitched a piece of urban fabric that had been broken for years. The firm designed a mews-style residential development over a public car park, which seamlessly allowed pedestrian activity and residential use in a busy shopping precinct, decking over a commercial car park.
State government urban densification and consolidation policies have progressed hand in hand with medium- and high-density housing in an unprecedented growth period for residential development for over twenty years in Melbourne. We have asked ourselves regularly how long this trend was going to last and the answer every time has been that the residential market is still in a growth phase because it has discovered a new sector every other year or so. The Commonwealth Government's 2010 Intergenerational Report forecasts that "Australia's population will rise from 22 million to 35.9 million by 2050. The demand for housing will therefore remain high and any shortage of supply will lead to severe problems for low and moderate-income households."
The recent Federal Government stimulus package targeted social housing initiatives to protect the building industry's employment figures, and this has resulted in the speeding up of affordable housing project delivery, but we know that government appetite to make up for the anticipated shortfall in affordable housing will vary. There has already been a shift away from providing the bulk of social housing through projects commissioned and managed by the state government, to funding housing agencies and other NGOs or forming public-private partnerships, where developers reserve a proportion of the development for social or affordable housing while the balance is sold on the open market. The Inkerman Oasis development in the City of Port Phillip and the Merchant – a Lend Lease development in Docklands managed by Housing Choices Australia – are recent examples of this delivery method.
Independent of government funding, there are opportunities provided by the education sector and the growth of overseas student numbers to design accommodation, as Hayball has handsomely demonstrated in its Canada Hotel project. There is still innovation in affordable residential markets – a recent example is the use of factory-based processes to compress on-site construction time, making more viable inner-city projects on difficult-to-access sites.
Last year (2010) the first baby boomers reached retirement age. I suspect that when this generation reaches a critical mass we will see more innovative models for retirement and intergenerational living than the current beige offering in middle and outer suburbs.

Source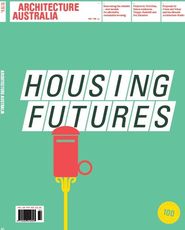 Issue
Architecture Australia, May 2011
Related topics