Tasmania is benefiting from an abundance of new eating and drinking spaces. This is in some part due to the phenomenon of the Museum of Old and New Art (MONA), but there also seems to be a broader shift in demand and commercial confidence. As a result, there is a growing number of small centres experiencing a reawakening. These centres often take advantage of great settings and allow residents to enjoy local experiences. The Salty Dog Hotel is one such local place, designed by Danielle Brustman and Michelle Boyde (Brustman + Boyde) in collaboration with Pippa Dickson, a furniture designer and one of the hotel's owners.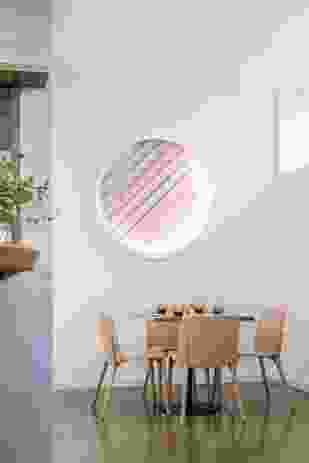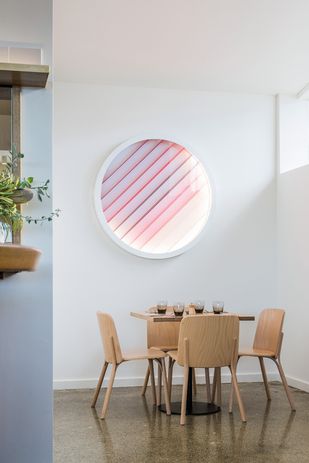 Abandoned for almost a year, in a state of disrepair and viewed as an undesirable place, this bar on Kingston's beachfront, ten minutes south of Hobart, was hiding the bones of a beautiful space. The hotel is composed of three main spaces – a front bar, a back bar and a beer garden. Brustman describes the quality of light in the front bar, which has views to the beach, as an abiding aspect of her first impression. The brief from lessees Pippa Dickson, Mark Wilsdon and James Polly Polanowski was to introduce a little of the late seventies and early eighties vibe of Puberty Blues and the aesthetic of that laid-back beach culture. They wanted to retain a mid-century timber bar in the front space, prioritizing this room as the main dining area, and ensure that all aspects of The Salty Dog projected an accessible, generous and contemporary atmosphere that would make it an extension of home for locals and a means to rebuild community pride in the beachfront. Above all, they were interested in creating an experience, rather than just a venue.
In response to the brief, Brustman + Boyde – an emerging practice that fuses interior design with fashion and installation – have adapted supergraphics of the seventies and the colour palette of the beach. While they have brought some shaping to the spaces, these small moves have been carefully chosen for maximum change. Generally the work has involved a process of scraping away layers of panelling, wallpaper and electrical detritus to reveal those lovely bones and create a playful space that captures and reflects the beachfront light. The emphasis has been solidly on the front bar, but the large back bar has also been tidied as a relaxed function room adjoining the beer garden.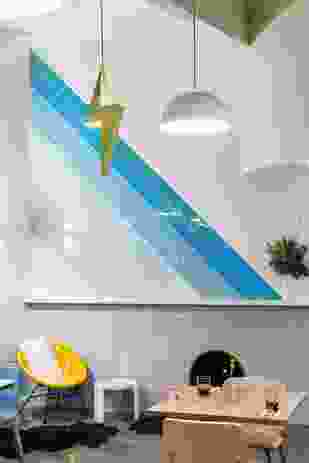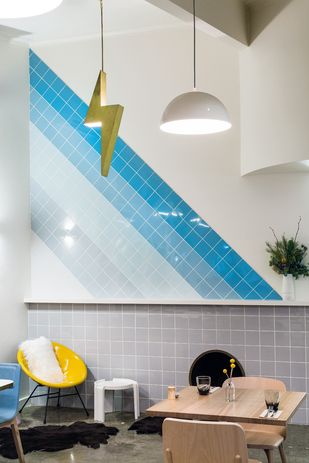 Those supergraphics are transformed into tiled motifs within the front bar, using a graduating palette of about thirty pastel hues. Tiles wrap horizontally, vertically and diagonally at forty-five degrees to define dining spaces. White walls and a long mirror behind the bar replicate the graphics and bring lightness and reflection to the room. The furniture and fittings selection has been critical to creating the desired atmosphere and includes a mix of beautifully crafted local work by designer Laura McCusker, who has made tables and a banquette, and fine European design such as the stunning Split chairs by Arik Levy. These pieces are complemented by bespoke, vintage and new light fittings, such as Verner Panton Flowerpot lights and an elegant circular wall light inspired by acrylic seventies jewellery and designed by Brustman + Boyde. A hot pink circular booth and bar seating by a longstanding Tasmanian joinery business bring old-school styling and beanbags for the beer garden have been designed by Boyde based on the shape of seventies Tetra Paks.
A rare mix has been achieved in this new local bar – a weighty emphasis on design paired with lightness of touch. The small but bold moves within the bar reveal the qualities already present, bring a little playful shine and give a beachfront room a new life. And this lightness of touch offers enough space for the lovingly selected furniture and lighting pieces to be enjoyed. As Dickson explains with a laugh, it is "now possibly more Boogie Nights than Puberty Blues," but either way it is a laid-back, comfortable environment that will be an asset for this beachfront community.
Products and materials
Walls and ceilings

Interior walls painted in Dulux 'Antique White USA.' Decorative wall tiling uses Cinca tiles from Signorino.
Windows and doors

Existing windows and doors, refreshed with paint.
Flooring

Front bar has original concrete floor, polished.
Lighting

Circular light box and brass lightning bolt designed by Brustman + Boyde and made by Earl Pinto. Timber and brass cylinder lights designed and manufactured by Earl Pinto. Verner Panton Flowerpot pendant light from Great Dane. Pop pendant from Richmond Lighting. Palermo and Cabaret 5 lights by Astro; Brightgreen D900 and D700 lights; and Otylight Box 31 light, all from ECC Lighting and Furniture.
Furniture

Split chair and stool by Arik Levy from James Richardson Furniture. Laia Bench by Alki from Cosh Living. Circular booth designed by Brustman + Boyde, manufactured by Knightsbridge. Family table, L-shaped banquette, breakfast bench and bar joinery, all designed by Laura McCusker. Beanbags designed by Brustman + Boyde. Harry Seidler fibreglass molded tub chair. Caroma plastic stools.
Credits
Design practice

Brustman + Boyde
Tas, Australia
Project Team

Danielle Brustman, Michelle Boyde, Pippa Dickson, Mark Wilsdon, James Polanowski
Collaboration

Pippa Dickson

Consultants

Builder Paul Reece
Building surveyor Lee Tyers and Associates
Furniture designer Laura McCusker
Graphic design & signage Siobhan Wilsdon
Landscaping Creative Grounds Landscaping, Pippa Dickson and James Polanowski
Lighting consultant Frederika Perey
Signage fabrication and installation Saunders Signs

Site Details

Location Hobart, Tas, Australia
Site type Coastal

Project Details

Status Built
Completion date 2016
Design, documentation 2 months
Construction 3 months
Category Hospitality, Interiors
Type Bars and cafes, Restaurants

Source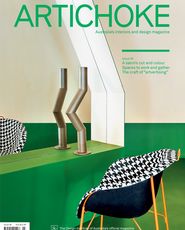 Issue
Artichoke, September 2016