Melbourne opened its own franchise of philosopher Alain de Botton's School of Life in Collingwood over the January 2012 Australia Day long weekend. The School of Life was established in London in 2008 by Alain de Botton and his colleagues, offering courses on the important questions of everyday life, as well as workshops and talks by inspirational authors with a practical, as well as a philosophical, approach to living.
The Pop-up premises for the Melbourne franchise were created by Carlton's CoDesign Studio, who harnessed a tiny budget and an army of volunteers to create all the "bibliotherapy" spaces, cafe and bookshop on the corner of Oxford and Peel Streets, Collingwood. Here it will remain for a ten-week Summer Term of talks and workshops before it looks for a permanent location.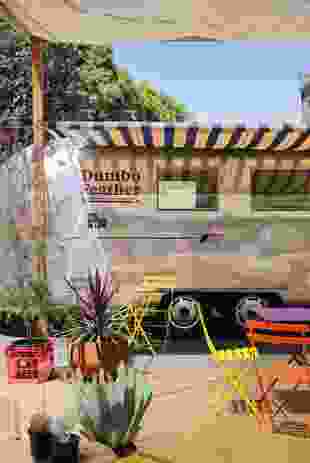 School of Life Australia is a joint venture between School of Life and social enterprise Small Giants with support from CoDesign, Dumbo Feather and others.
"Only months ago the derelict warehouse and asphalt car park were scattered with broken bottles, needles and a mountain of refuse furniture," said CoDesign director, Lucinda Hartley. "Since this makeover of a lifetime, the whole community can reclaim the assets of this heritage site."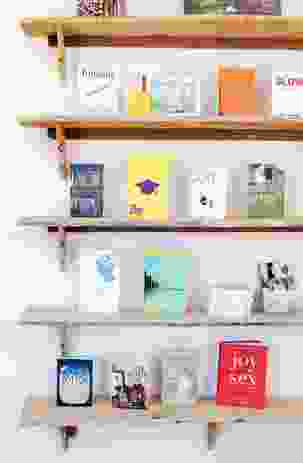 As with most socially-minded projects with meagre funding, there's the vision, and there's the reality. One week before the rebuild the site was torched, and Hartley feared the project would fail. "But that's one of the aspects of building projects, you have to work around all sorts of contingencies as they come up. We did some serious negotiating with project engineers, recycled every available resource and rallied volunteers from the local community."
Over a three-month period, up to forty volunteers – from students to social workers, bankers to architects – all worked on the site, bringing the project in on time and on budget. CoDesign project leader, Nikhila Madabhushi observes: "It really exemplified the coming together of participatory design, working bees and a client whose philosophy is about getting more out of life and being conscious of the choices they make."
"Because of the tight budget we approached the design process differently: we did not give the client fait accompli with the drawings, but rapidly built and prototyped different ideas along the way, encouraging the client to be adventurous and to look at the opportunities of the project in a different way. The outcome is that the final space is full of personality and life – everyone has their fingerprints on it."
Pop-up retail has been a revitalizing force in Melbourne's boho retail sector, with nearby sibling pop-up the People's Market and Flea (Stanley Street, Collingwood) no doubt an influence on the milk-crate aesthetic of the School of Life.
Upcoming talks at the School of Life include: 'The Hunt for Happy' (Oliver Burkeman & Matthew Johnstone), 'The Wonders of Work' (Gideon Haigh) and 'The Self-Esteem Trap' (Russ Harris). Check out the full summer program here.
Related topics