The City of Gold Coast has emerged from a string of coastal townships to become Australia's sixth largest city. The metamorphosis has been rapid and not without adolescent growing pains where component features don't yet fit the promised, handsome physique of early maturity. Nevertheless, as a tourism-focused city (and, by implication, not a serious city model) and lacking the civic investment that capital cities enjoy, the Gold Coast, warts and all, is a remarkable urban experiment.
By the early 1950s the coastal strip was home to silver service dining and boutique shopping underpinned by Melbourne's rag trade entrepreneurs. An increasingly motorized public was regaled by a cacophony of motel signage, unashamedly spruiking messages of escape and fun in the sun. More than sixty years later and in time for the Commonwealth Games 2018, the highway again presents confident welcome messages via Hi-Lights, two city gateway installations by LOT-EK with Office Feuerman and Urban Art Projects. These literally put the Gold Coast's name in lights using one hundred light poles cleverly spaced to form the words and initials of the host city. The repurposed highway lighting delivers an emphatic and memorable welcome and will be an enduring city image for both its sustainability and its bold simplicity.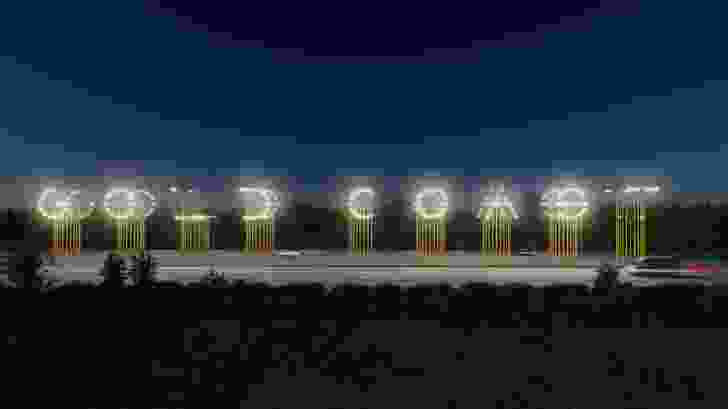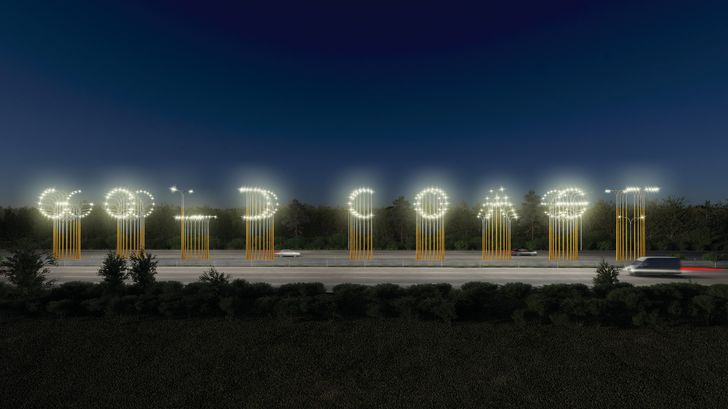 The city's early modernist architecture reflected the simplicity of contemporary US holiday developments in both name and style. Highrises through the 60s and 70s were elementary forms where the unit widths expressed a grid-like facade, but advances appeared with the Anchorage Apartments and the cylindrical (but not really leaning) Focus Tower, both by Clarke Gazzard, each building offering deep balconies for outdoor living and as effective shading devices in the subtropics.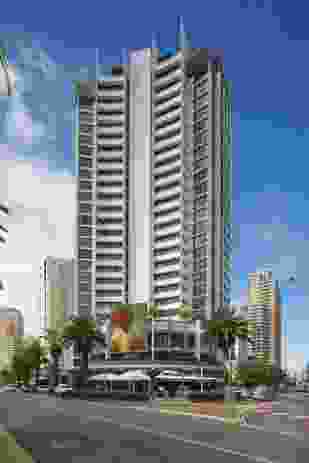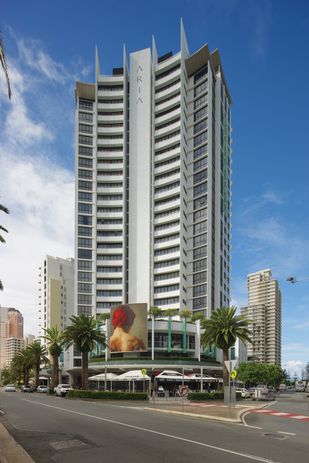 Subsequent technical and efficiency refinements to construction methods and apartment layouts propelled the industry to the forefront of Australian tall building design during the 80s. However, the whimsically themed "wedding cake" architecture and the proliferation of tall buildings vying for front- row position on the oceanfront invited unflattering critique. On the eve of the city's inaugural " Architecture Oscars " in 1984 (the catalyst for Queensland's regional awards program some eight years later), visiting architect Neville Gruzman declared, "… the Gold Coast is a disaster and should be bulldozed into the surf." While not an isolated sentiment, it drove home the need for better-informed planning and for a coherent city image not to be left to chance.
The following twenty-five years (particularly through the first decade of the new millennium) saw award-winning architecture contributing to the city skyline and to an improved public realm experience. This was due to various factors, including the political and economic climate, insightful tall building provisions in two consecutive City Plans, bonus provisions for better design and council and market awareness of the value of good urban outcomes.
Two projects of note are Aria by Atelier SDG and Air on Broadbeach by Engelen Moore.
Aria, a mixed-use retail, home offices and apartments tower, is a visually complex but disciplined composition expressing the three building functions to advantage, adding colours and long-life materials to weather naturally in the harsh environment and offering the street corner facade to display public art at a monumental scale.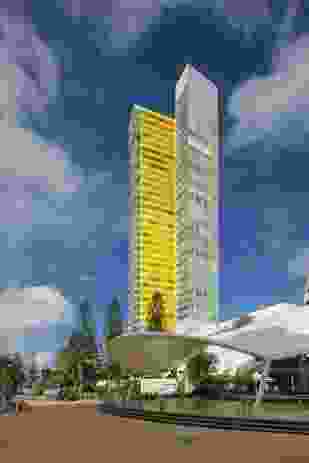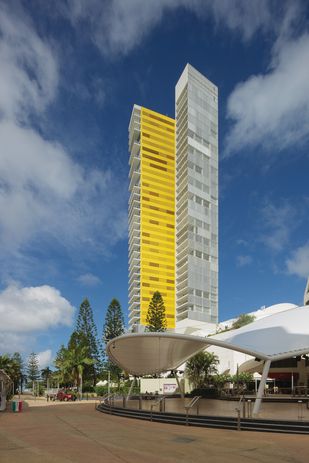 Air on Broadbeach took "air rights" to a new level with its striking yellow facade projecting thirty-seven storeys above and partly cantilevering over the atrium of an existing shopping centre. Its mixed configuration of a western wing with one unit per floor, penthouses at lower levels and double-height units capitalizing on through-ventilation, along with a provocation to the market to celebrate hinterland views over exclusive beach views, brought new thinking and sustainability into play.
Simultaneously, policy and governance initiatives complemented more orderly and better quality development outcomes. These included the establishment of the Office of City Architect in 2003 (the first in Queensland) and of the Gold Coast Urban Design Awards in 1998, the creation of the International Urban Design Conference, first held in 2007, and the first state heritage listing, in 2009, of a Gold Coast highrise building – the ten-storey Kinkabool designed in 1959–60 by Lund Hutton Newell Black and Paulsen.
Gruzman returned in 2004, his criticism of most highrises unmellowed, but seeing the city as capable of salvation if the character-making urban and street-life components were preserved. His prediction of a wall of buildings along the waterfront, however, is somewhat prophetic a decade on, when opportunistic, over-scaled and inappropriately sited developments are being approved, to the long-term detriment of neighbourhood character and city identity. While this is not uncommon, the Gold Coast is particularly at risk because of recent amendments to the City Plan that have removed character protection from neighbourhoods and also removed "plot ratio," the previously useful measure for curbing excessive floor space in any single building. The current speculative environment has spawned proposals for towers of seventy to more than one hundred storeys outside the epicentres of district activity or commercial hubs, ambitious developments that are financially risky and rely on overseas investors with very deep pockets. These tall buildings on car-parking podiums, shoehorned into landscape-rich neighbourhoods, show indifference to natural landscapes and headlands. Narrow streets are overwhelmed by the "canyon" effect of podiums built to boundaries and none of the towers exhibits exuberant subtropical design of the calibre executed by Singaporean practice WOHA.
The Gold Coast, however, is not without architectural gems and the future is far from bleak. The city's events status, coupled with the community's broadly pursued active and outdoor lifestyle, is demonstrably accommodated in award-winning stadia and sporting and leisure facilities, including the Coomera Indoor Sports Centre by BDA Architecture and Peddle Thorp. The Cox Rayner Architects redevelopment of the Gold Coast Aquatic Centre located in the Southport Broadwater Parklands is a robust yet rhythmically expressive adaptation of a cultural icon, the Southport Pool, for the Commonwealth Games 2018. Allied to sporting facilities are major investments in health and health education by universities, the state government and the private health sector.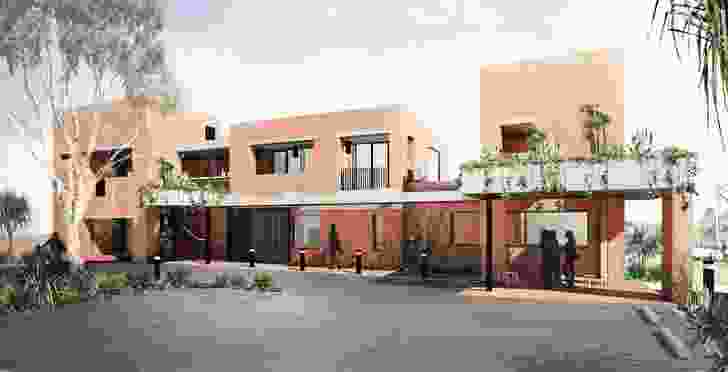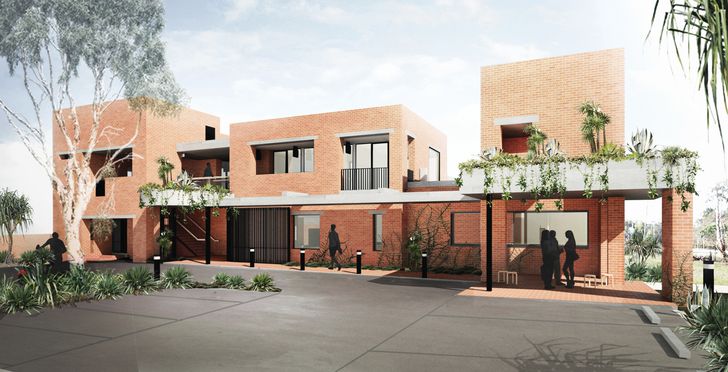 Residential architecture and projects of small to modest commercial scale remain the backbone of exemplary Gold Coast architecture. Boutique apartment developments are making a mark, such as Alta, Main Beach by Willemsen Architecture and M3565 Main Beach Apartments by Virginia Kerridge Architect. Scale, sensitive proportions and a frugal palette of materials are common hallmarks of this awarded work.
BDA Architecture's Capri on Via Roma in Surfers Paradise, a clever reworking and a raw, unpretentious expansion of Bruce Small's commercial centre, has created a popular waterside hub with spectacular views of the skyline. Richards and Spence's Cornerstone Stores in Tugun promises to shake the tree with an unexpected aesthetic of face brick and exposed concrete in a timeless, subtly detailed, village-like destination where each business (without overt signage) will enjoy its own building identity.
The establishment of three universities in the city has broadened the scope of institutional architecture and increased the quality of publicly accessible spaces. Bond University offers a handshake to the community through the Abedian School of Architecture by CRAB Studio (Peter Cook and Gavin Robotham). The unadorned concrete, cathedral-like shell is the epitome of flexible, collaborative learning spaces in one of the city's most exuberant and confident buildings.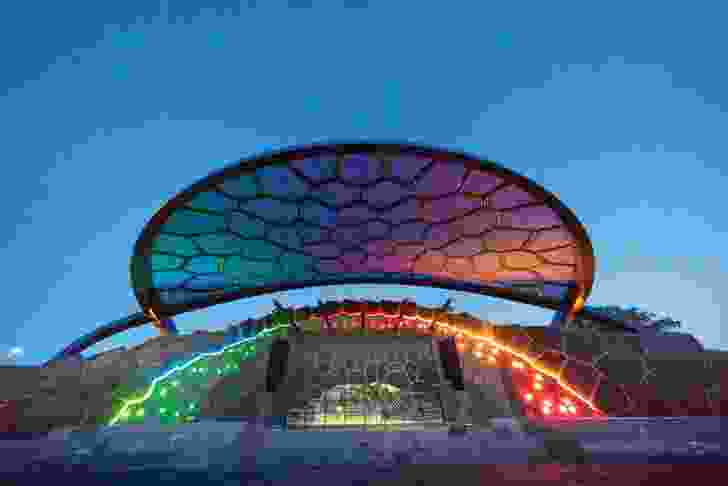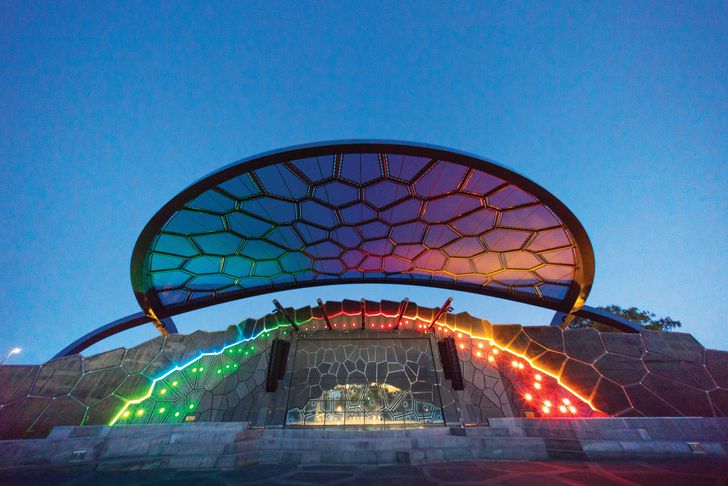 Committed investment in a city's civic places is the role of local government. The proposed Gold Coast Cultural Precinct , a home of the arts, is one of the most ambitious civic-making initiatives of the Gold Coast City Council. An amphitheatre, completed in late 2017, is the first stage of this international competition project won by ARM and Topotek 1. Celebration of subtropical landscapes underpins the project. A dynamic sunshade is anchored beneath the landscaped hill that gives public access over the top of the theatre itself (at least until security deems it a risk akin to Canberra's Parliament House!).
Council has similarly invested in regional libraries to build civic spaces, often adjacent to shopping centres and commercial hubs. The 2013 Helensvale Branch Library and Community Cultural Youth Centre by Lahznimmo Architects and Complete Urban provides a substantial multipurpose asset in addition to the usual library offerings. The building presents as monumental yet approachable, the elevational treatments suitably lively yet disciplined. Public art, a plaza, laneway links, easy access and an open, welcoming undercover space legitimize the civic relevance of the precinct.
What now for the future of Gold Coast architecture? A city's built form reflects the evolution of sociopolitical values, an evolution that may be neither linear nor progressively more enlightened. The Gold Coast's DNA is one of change. It is both celebrated for the vitality and speed with which good ideas can be enacted and cursed for the uncertainty it foists upon communities seeking stability.
The city will continue to find its feet, lose its footing, then find its feet again. There will be both horrible and inspiring architecture to come, but the architecture and urban discourse will benefit from intervention by keen, challenging graduates from the architecture schools.
If the city can hold its nerve and NOT try to be another place, but rather reflect the colour and vibrancy of a holiday city, an event city aware of its alluring and defining landscapes, then an authentic architecture and city form will emerge.
Philip Follent will be leading a canal cruise around the Gold Coast as part of the 2018 National Architecture Conference fringe events program on 9 June 2018. For more information, click here.
Source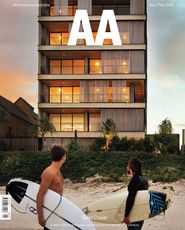 Issue
Architecture Australia, January 2018