The great Australian dream has long had two components – home ownership and the freestanding dwelling in the suburbs. Despite the hype surrounding the densification of Australian cities, the suburban home is still the predominant house form. In addition, Australian houses have been distinguished for much of this century by being the largest in the world. Interestingly, though, this mantle has now shifted elsewhere. The size of the Australian home peaked in 2009 at 247 square metres. The United States now has the biggest houses in the world – at 249 square metres – with Canada coming a fair way behind at 181 square metres and Denmark with 137 square metres.1 There has been no systematic analysis as to why this change is occurring. It would be reassuring to see this fall related to a growing environmental consciousness or willingness to match house size to household size – which has been declining since the 1960s to an average of 2.6 persons per household.2 The reduction in house sizes has been accompanied by a fall in the size of house blocks and a small rise in the number of dwellings per hectare, as local governments seek to ease the costs of providing infrastructure and developers to maximize yield. The change in average house size is also connected to the rising density of our cities. In 2006, 74.6 percent of Australians lived in detached houses, but by 2011 this rate had fallen to 73.8 percent. The move away from the detached suburban house is more pronounced in major cities, where, for example, Sydney has 27.6 percent of its population living in apartments.3
While there has been a slight fall in the overall size of dwellings and the number of people living in suburban homes, there has also been a reconfiguration of who is living there and how. Looking inside the house, there is growing ethnic and household diversity. In 2016 there were six million Australian families, up from five million in 2011 , and of these, the most common was the couple with no children (37.8 percent), followed by the couple with dependent children under fifteen (30.6 percent). One-parent families comprised close to 16 percent of households and there were also stepfamilies (6 percent), blended and gay families, as well as 60,000 grandparent-led families.4 Such household diversity should call forth greater design variation.
The ethnic diversity of the Australian population should generate an array of house designs as well as very different uses for and meanings attributed to their internal spaces. However, it is rare to see into any person's private space – beyond the designers who illustrate their houses in lifestyle magazines – let alone those from non-Anglo-Celtic backgrounds. University of Queensland PhD candidate Maram Shaweesh has interviewed and observed a Lebanese family in their relatively large suburban home in Sydney. Shaweesh details how this family chain migrated with many others to escape the Lebanese Civil War in the 1980s and ultimately purchased and reconfigured their home. The reworking ensured separate entrances for young men and women as well as distinct spaces internally where divergent activities across the generation and gender divides could be conducted. An essential element was a large dining room and table to accommodate up to fifty extended family members for meals. In addition, the complex issue of privacy – from strangers and from visitors around whom formal behaviour was either required or not – meant particular arrangements of walls, walkways and curtains. The problem of strangers gazing in on the family from the street necessitated heavy drapes and the location of the family living space at the rear of the dwelling. In addition, food preparation had to take place away from the viewlines of male guests, again in separate spaces. Domestic spaces here have therefore become an expression of Lebanese Muslim culture.5
Houses offered to suburban buyers are expressions of a more generalized Australian culture. If you are of modest means and in the market for a new home, you will likely visit one of the many houses presented at the exhibition villages that dot the peripheries of our major cities. Alternatively, you can access the websites of the mass builders and designers for contemporary house plans. Here, further insights can be gained into what is desired and perhaps increasingly accepted as standard in the suburban home.
A study of 1980s house plans by Kim Dovey revealed that, compared to the 1960s:
"The informal meals area had expanded into a huge informal zone that has … become formalised as the new 'heart' of the house … The backyard has been segmented and integrated with this new 'heart.' The parents' realm has been enlarged, and detached from children and family areas. There has been an overall increasing segmentation of the house … Formally multi-functional places such as the kitchen and living room have become more mono-functional. There is a place for games and television, and it is not the living room. There are two places for eating and neither is in the kitchen."6
An examination of houses built by Carlisle Homes and King Homes at Point Cook and of plans currently offered online by the AusDesign database, Fairhaven Homes and Coral Homes indicates that many of these characterizations persist. In particular, the kitchen and associated spaces remain at the centre of the home, while the separation of children (often with their own play space as well as bedrooms and bathrooms) from parents is still a theme (with sometimes a third precinct, presumably for a live-in grandparent). The main bedroom suite includes enormous wardrobes and bathrooms.
What has been added since the 1980s is an outdoor living or alfresco area (which now takes over entirely from the backyard and service yard), a media/theatre room and, for some, an "IT hub" or office (which is a relabelled and often relocated study). Another addition, which has not been seen in houses since the nineteenth century, is a butler's pantry. The Home Beautiful website elaborates on this extension to the walk-in pantry:
"The secret to a pristine kitchen lies in a little help behind the scenes. We've embraced 'open-plan' as a way of life with combined living, dining and kitchen areas. But what to do when a stack of dishes start piling up halfway through a dinner party? The emerging solution is a butler's pantry. This entertainer's dream can be used to store appliances, prepare food and stow away mess mid-dinner party."7
While houses and households have become smaller and more diverse, the layout and use of domestic spaces have altered. There is now some allowance made for extended families. There is also an apparent new focus on food – its preparation (more elaborate than ever but now hidden), presentation (on gigantic kitchen benches) and consumption (in one of many possible spaces, inside and outside) – perhaps registering changing gender roles, as men enter the kitchen as well as do the shopping. This reconfiguring of domestic space indicates that the dream of the suburban home continues to be realized, but in new ways.
1. "House sizes: How does Australia compare?" Australian House and Garden website, Homestolove.com.au/house-sizes-how-does-Australia-compare-3047 (accessed 20 January 2018).
2. Australian Bureau of Statistics, "Household and family projections, Australia, 2011 to 2036," 19 March 2015, abs.gov.au/ausstats/abs@.nsf/mf/3236.0.
3. "House sizes: How does Australia compare?"
4. Brendan Churchill, "Mum, dad and two kids no longer the norm in the changing Australian family," The Conversation website, 8 January 2018, theconversation.com/mum-dad-and-two-kids-no-longer-the-norm-in-the-changing-australian-family-88014.
5. Maram Shaweesh, "Domestic space management as expression of culture: The Lebanese population experience in Australian dwellings," paper presented to the symposium Aesthetic anxiety or performative subjectivity: National narratives encountering migrant architecture in Australia, Deakin University, 17 November 2017.
6. Kim Dovey, "Dreams on display: Suburban ideology in the model home," in Sarah Ferber, Chris Healy and Chris McAuliffe (eds), The beasts of suburbia: Reinterpreting cultures of the suburbs (Carlton: Melbourne University Press, 1994), 127–147.
7. Kylie Jackes, "How to design the perfect butler's pantry," Home Beautiful website, homebeautiful.com.au/ how-to-design-the-perfect-butlers-pantry (accessed 1 January 2018).
Source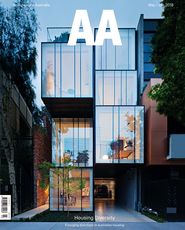 Issue
Architecture Australia, May 2018
Related topics