If there is one project that, for me, exemplifies the work of Koning Eizenberg Architecture, it's the decades-long transformation of the Original Farmers Market in Los Angeles from quaint tourist attraction to thriving public amenity. Famously located at the "corner of Third and Fairfax" since 1934, the market is like an open-air version of Melbourne's Queen Victoria Market in terms of program, but not design. More like Melbourne's laneways in its organization, the market unfolds within the space between a relatively fixed and banal architecture, setting up social spaces primarily for dining while accommodating a diversity of uses and people. As the only reliable quasi-public space in my neighbourhood – just four blocks from where I live – it's open early and late, free, always lively, and one of the few design models for outdoor space that leverages LA's benign climate (more on that later).
My introduction to Hank Koning and Julie Eizenberg's work came not through direct experience, but via books, predominantly surveys of Los Angeles architecture from the 1990s, which acted like an alternative guide to life for me as I struggled to appreciate engineering. I became enamoured with Southern California architecture in all its messy, kitschy and rough-and-ready forms, not understanding the clubby social circles that connected it all. Koning Eizenberg's work shared pages with projects by Frank Gehry, Eric Owen Moss, Franklin D. Israel, Jon Jerde, Marc Angélil and Sarah Graham, Craig Hodgetts and Ming Fung, Thom Mayne and Morphosis, and many others, and together they coalesced into a culture I didn't know but felt I could know. The players and their work appeared fast and loose, seemingly unconcerned with notions of permanence while still maintaining a consistent group effect, happy to mine the strangeness of LA's modernist histories like a bunch of garage-band performers making music with whatever they could find.
Sidestepping LA's persistent inferiority complex, which is mostly expressed through bewildering architectural selections for the city's rare civic projects, I chose to see Southern California architecture rather as a place of experimentation (certainly), mostly untethered from depressing historical baggage (arguable), and casting its eyes to other parts of the world (no one is actually from LA, as the joke goes). This culture was distinct from that of the East Coast of the USA, with its necessity for institutional norms accompanied by reliable media recognition. If there is an east-coast influence on West Coast architecture, it is that of the east coast cities from across the Pacific – Seoul, Tokyo, Hong Kong and, unbeknown to me at the time, Melbourne.
Hank and Julie were the first architects I met from Melbourne, but in a way they were the first architects I really knew in LA. I had worked with many others before I met them, and have come to know many architects in Melbourne since, but my conversations about design with Hank and Julie have always been open-ended, totally easy and respectfully unconcerned with professional and even project boundaries. They make it easy to be yourself, to share your thoughts about what's important and then to find a place for them in their architecture.
Unlike much of the best architecture in LA, you don't have to sneak around toney neighbourhoods in your car to see Koning Eizenberg's work, although I recall doing just that as a student trying to see their own Santa Monica house. The Pico Branch Library in Santa Monica (2014) or the West Hollywood Community Center (2001), both situated in that rarest of LA provisions, the urban park, are open every day. Julie and Hank have a deep love of place, rooted in Santa Monica and Southern California yet also never far from Melbourne, which instils a confidence in their work's ability to engage with the city.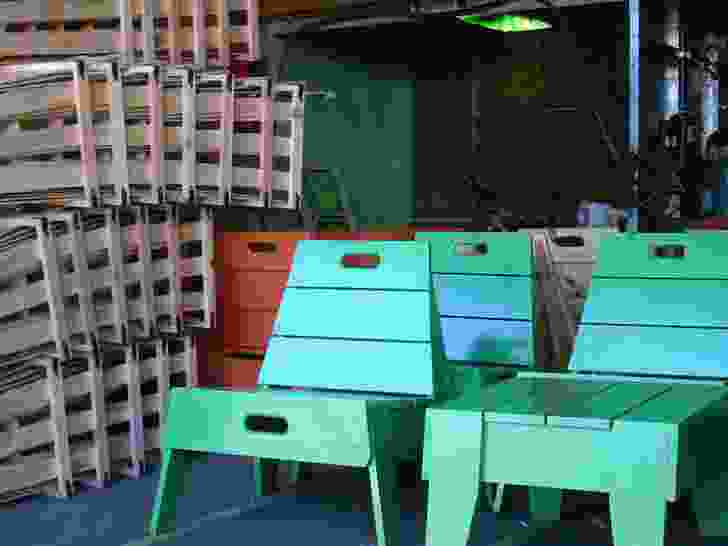 I don't see them every day, personally or professionally, but their work is essential to my life since I live a few minutes' walk from the Original Farmers Market. As one of Hank and Julie's first projects after their graduate studies at the University of California in LA (UCLA), the project commenced in the early 1980s as a series of small interventions such as reconfigured entrances, designs for new tenant stalls and signage. Later renovations, completed in 2002, added new buildings and open space to existing parking lots to the north of the original market. The new work successfully translates the almost-residential scale of the historic market, with its sprawling ranch-house aesthetic, into a contemporary language with larger spaces for corporate retail. More importantly, the clear organizing principle of preserving the in-between social space of the market, assigning it value while freeing up the architecture to change, is almost unprecedented in LA given the city's dearth of public architecture.
The Grove, an adjacent development to the market designed by others, opened in 2002 as a conventional outdoor shopping mall known most widely for its dancing fountains set amid a Main Street aesthetic. As a study of urban design, the two models sitting cheek by jowl could not be more instructive. The market acts like a bazaar, offering a sense of discovery, its architecture providing a warren of delights to explore time and again, never presenting a fully resolved place all at once. Repeat visits are necessary. By contrast, the Grove is more like a single promenade with less variability and fails to establish a successful connection with the large public park across the street.
Koning Eizenberg's recognition of the social value of the market's spaces as its key strength, rather than a deference to the pure economics of corporate retail, hedges the market toward long-term survival by prioritizing what ultimately makes it important to public life – free space for living – regardless of changing tastes or consumption patterns. I don't want to be too cute about it, but this intense commitment to the space between architecture seems like a particularly Melburnian trait. I remember working years ago with Ashton Raggatt McDougall on an initial project to transform Melbourne's Highpoint shopping centre. The project started with the architects' investigation of the dimensional relationships of central Melbourne's laneways, particularly the widths and heights that make the laneways so socially effective. After more than sixty years of enclosed malls, we still prefer the street.
Translating the forms of laneway urbanism to a retail centre is not easy, particularly in sprawling cities designed for cars. Rather than installing some kind of fake urbanism and hiding parking behind adorable storefronts or period accoutrements, Koning Eizenberg reframed the parking lot at the market in terms of historic and current necessity – after all, this is a market for people in a city for drivers. The market itself responds to the parking lot as a field condition, offering multiple points of entry with subtle cues and landmarks for orientation. New buildings surround it, enclosing the lot as an outdoor room for cars, with landscape blurring distinctions between pedestrian and car. I struggle to think of another project here by any other firm in LA that has found this sweet spot between the city's "good-life Modernism" of the 1950s and 60s and the contemporary condition. It makes the market one of those rare historical reuse projects in architecture that emerges fully intact but better, more resilient, and relevant, all while avoiding the creative dead-end of replicating the site's existing architectural palette to ersatz effect.
Returning to the question of outdoor comfort, which is not something I generally expect an architect to discuss at length, both Melbourne and LA share a somewhat coastal environment. I say "somewhat," since both cities experience radical diversity in environmental conditions within an area that most of the population conceives as a single place. In LA, as Hank would tell you, the aspects of outdoor comfort we care about, such as daylight access, thermal comfort or wind effects, are mostly unregulated, meaning they are not enforceable concepts and, as such, emerge in architecture accidentally and mostly owing to Southern California's naturally benign climate. No one is really paying attention, he'd tell me, because they don't understand it. In an era of climate change and looming environmental collapse, paying attention to making our outdoor life better may be an important consideration in architecture. We can't all live indoors all of the time: the economic, social and environmental cost is too high.
The expanded market's overall orientation within the site, but also its perfect use of awnings, umbrellas, landscape and furniture – both in their original configuration and as interpreted anew by Koning Eizenberg – negotiates that delicate relationship between the body and the environment in such an easy, informal way that the careful design attention paid to it goes unnoticed. The messiness of the market – air, light, sounds and smells – is translated into a variety of spatial configurations, some actively transformable, others quite fixed. New fountains act like benches, bringing the water close to the body and making it easily accessible. This is not the fountain as a performance or designed object, but rather the fountain as microclimate. Design not for show, but for people. Why can't we have more of this in LA, in Melbourne, anywhere? And can Hank and Julie design it?
— Russell Fortmeyer is an associate principal in the Los Angeles office of Arup, where he leads the consulting practice and its sustainability team.