"Social responsibility is not a 'feel good, do good' add on." – Julie Eizenberg
"Architecture is a social medium." This simple statement underpins all of the work of Koning Eizenberg Architecture and its founding directors, Julie Eizenberg and Hank Koning. The idea suffuses the projects produced by the practice, the publications they assemble, the contribution that Hank, Julie and their colleagues make to the profession and discipline, the generosity and pleasure with which they engage, and the warmth and good humour they extend to others – myself included.
This is not simply a matter of "social responsibility," and it most certainly is not about pious, potentially dour attempts to "do good." As Julie explains, "we're meant to be good people because we do a lot of 'public good' projects. Well, I don't see it that way. The projects are just as interesting as any others. The clients, or end users, are just as important as anyone else."
Hank and Julie bring a clear and compelling ethical position to their work, which they combine with wit and curiosity, tenacity, ambition and empathy, and an overt commitment to producing outstanding architecture. The result is an intriguing body of work that brings together the serious, the playful and the everyday, and that is both generous and determined.
The fascination with, and belief in, the social is at the core of Koning Eizenberg, embedded into its very foundations. The practice traces its origins to Hank and Julie volunteering with an organization, for which they restored shopfronts in a down-at-heel Jewish retail neighbourhood in Los Angeles in the late 1970s and early '80s. This led to a sequence of small, almost invisible projects undertaken over a long period, which then became a large project, seeding both the tenor and possibility of the practice.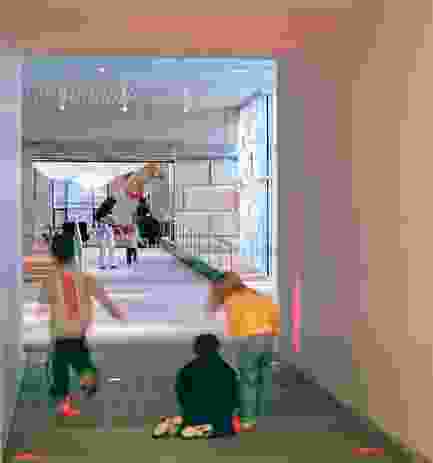 The development of Koning Eizenberg in the intervening decades can be seen as an ongoing exploration – and explication – of this idea of architecture as a social medium. The threads that bind the oeuvre are not aesthetic. Rather, affinities can be found in how the projects accommodate, support and encourage social and communal interaction, in how they seek to provide dignity and welcoming environments for all, and in the pleasure that is taken in this exploration and then gifted to the occupants and the community. Architecture is valued for the contribution it can make to the city, to the environment and to peoples' lives, individually and collectively. This sensibility and dedication are brought to all projects undertaken by the office – whether affordable housing, bespoke houses, social services or art galleries and museums. As Julie explained in 2012, "We have an obligation to bring joy and knowledge about the world every time we build – it's always the same, high end, low end, no end."1 Architecture, the practice declares, is not just for special occasions. But all projects have the potential to be special.
This obligation, of course, is not separate from aesthetics. The works produced by the practice are often striking and always highly accomplished, and embrace the delight to be found in colour, material and detailing. Exemplary design work is essential to realizing architecture's potential as a social medium, but Koning Eizenberg understand that this can be achieved through a variety of architectural vocabularies, which for them tend to be determined by the architect who is responsible for delivering a particular project. This aesthetic flexibility can also be understood as another kind of investment in the social – in the culture of the practice and the development of its people.
This expands into the ways the practice operates, and how it presents itself publicly. The practice now has four principals – Julie, Hank, Brian Lane and Nathan Bishop. Julie is most often the spokesperson, but she represents the work of many. Respective roles were established in the early years: "I could talk. Hank wasn't all that interested in talking, so I became the one who put together presentations to communicate with others. He did the stuff that actually made things get built in his super pragmatic wonderful way. But when I speak, I am in fact talking about a lot of people's interests and work. A creative idea doesn't come from the person with a title. A creative idea is a bunch of things that come from the way many things interact – if you were seeing this, you'd see a lot of swirling hand movements. So, I see myself more as a creative director than a hands-on designer."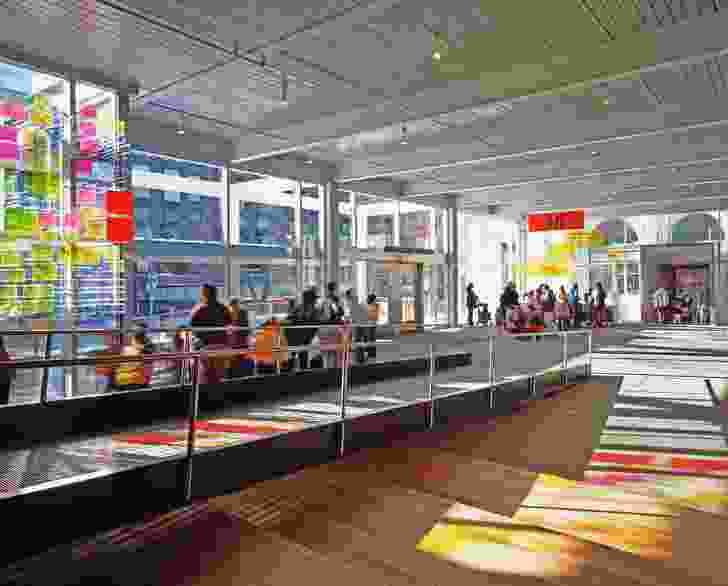 Process matters. Great care is taken to ensure that each project is set up to maximize the informal social situations that can be found in the space between a building program and its context. Nathan calls these the "sticky opportunities" of a project. These sticky opportunities can be found in a multitude of places and vary with each project and circumstance. For example, the Children's Museum of Pittsburgh (2004) was designed to overtly accommodate intergenerational audiences – the idea being that if the parents were as comfortable as the kids, they would be more likely to engage more fully and for longer. In another instance, a housing project seeks to blur the barrier between the street and the housing above. Creating opportunities to engage is also about attending to the subliminal cues given by a building: a formal building can feel less intimidating through the careful placement of dynamic components, such as a bike rack outside a library.
Finding and realizing these sticky opportunities for social encounter is a matter of thinking inventively, of seeking architectural and social possibility in unexpected places. To do so, the architect needs to think opportunistically while also proceeding with empathy and understanding. This has parallels in the origins of the practice and the temperaments of its founders. The beginnings of Koning Eizenberg were a matter of making the most of circumstance and economic cycles, and looking sideways to find opportunity. Hank and Julie left Melbourne for Los Angeles in 1979, the day after they got married. In the midst of a recession, jobs were hard to find, and they didn't have permits to work in the US. So they enrolled at UCLA for two years, started volunteering, began to understand how to navigate LA's very different urban structure, and realized that they could legally work for themselves, if not for others. "We set up practice by the seat of our pants, without knowing what we were getting into," Julie says. In those early years, being Australians in Los Angeles provided both the gap and viewpoint to look at everyday habits and processes anew. Julie recalls, "As outsiders we didn't understand some of the conventions, so we weren't constrained by them. We could say, 'Well, why can't we do it this way?' Hank knew how to put things together. He had ways of getting around stuff to allow us to put ideas out there that people felt were fresh."
The days of being outsiders in LA are long gone, but the interest in the anti-authoritarian potential of not belonging remains. So does the determination and the valuing of empathy, which enables the practice to work productively with and on behalf of many different social and cultural groups.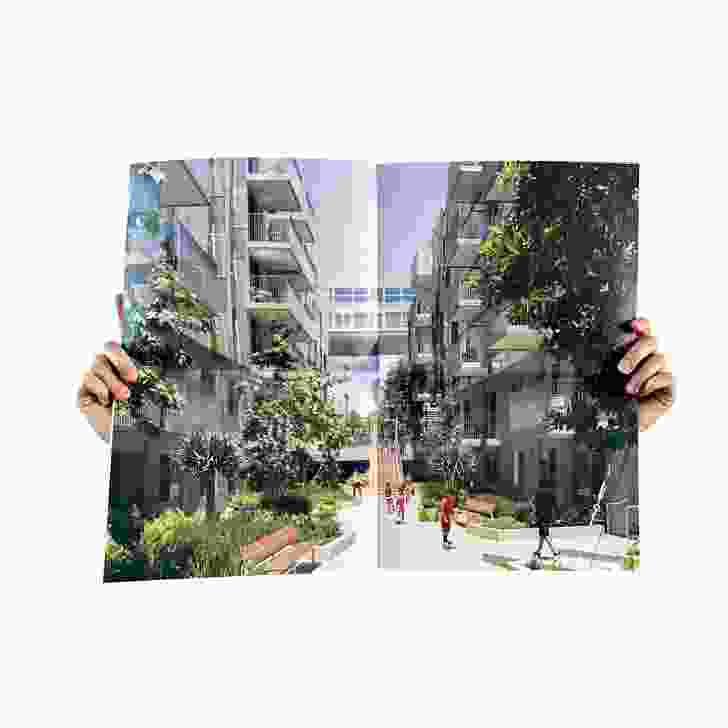 These ideas that drive the practice are promulgated through publications and presentations, including books that operate as both monographs and manifestos. These seek to place the work in wider settings – expanding out to the city and inwards to the lives of those who spend their days in Koning Eizenberg-designed spaces. They enjoin the reader to think about what architecture might offer, and then show how it can be done.
Urban Hallucinations (ORO Editions, 2017) locates the practice's work within the life and structure of the city. Presented as three thematic pamphlets, each includes a personal reflection on Los Angeles (by academic Dana Cuff, writer Alissa Walker and broadcaster Frances Anderton), data infographics, a discussion of urban systems and a set of related projects. The practice's facility with one-liners is deployed to great effect – "A street is too valuable to waste." "A balcony, a stoop and a stair are places where chance meetings grow a sense of community." "The more you can get people to bump into it, the more muscle a building has to do things socially for a community." "If you think of a social service setting as a community setting, it changes everything." "A building's story is best discovered, not told." These pithy statements are juxtaposed with projects that demonstrate the possibilities.
Architecture isn't just for special occasions (Monacelli Press, 2006) framed the work in terms of the experiences of those who live and/or work in the buildings. Large portraits of occupants are accompanied by quotations of what these people expect from the spaces they inhabit. The manifesto is explicated over the first pages of the publication – one small sentence per page. "Places for daily activities should be highly valued." "People can have more than they think." "We expect great qualities in buildings like museums; shouldn't we also expect then in places for everyday living?" Together these photographs, stories and statements create a context within which to understand Koning Eizenberg's work, but also encourage the reader to think about how we might all approach architecture differently.
As we celebrate Julie and Hank, we can also ask what we can learn from Koning Eizenberg's approach and work. In the midst of the contemporary turn to considering architecture's social potential, it is heartening to look closely at this work. We find that architecture that seriously pursues social spaces and community outcomes need not – indeed, should not – present itself as austere or "dull and worthy." In "elevating everyday experience," Hank, Julie and their colleagues remind us that a sense of play, ambition and exuberance is more necessary than ever.
1. Julie Eizenberg, "Low Expectations: Barriers to Using Design as a Tool for Social Gain," Design Access Summit 2012.