There is a real sense of theatre in this elegant apartment. Not in the sense of showiness; rather, it is in the very carefully executed mise en scène of each space. With that in mind, it's not surprising to learn that both architect Steven Whiting and designer Carole Whiting have a background in art direction and film. There is a lightness of touch in the way materials are layered and, a focus on the temporal and visceral aspects of the site – a captivating vista of grass, sea and sky, gazing out to Melbourne's Port Phillip Bay.
The home has also benefited from a personal connection between designer and client: it is the seventh project that Steven and Carole have collaborated on with clients Bruce and Margaret. Their previous work for the couple include city residences, holiday homes and a serviced office development.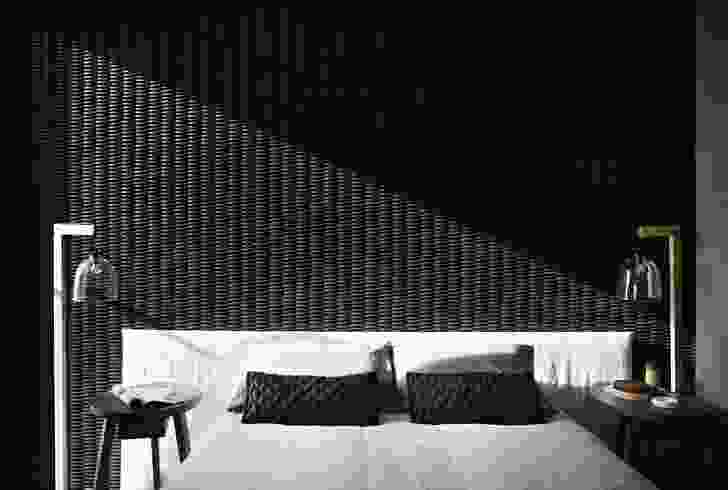 Interestingly, what has resulted in a lovingly tailored home began as a speculative multi-residential project. A nondescript house on the waterfront site was demolished to make way for the two apartments, one atop the other. Beneath, there is a capacious basement-level carpark. As the project progressed, the clients soon realized that the magnificent view and soothing interiors were too special to pass up.
The spatial arrangement within evidences the architects' effortless combining of practical considerations and clever design. On paper, the rectilinear forms are deceptively simple; in real life, the timber-panelled planes are enlivened by an array of sliding walls and concealed doors that open and close, transforming the space with each manoeuvre. "The interiors are very architectural – our aim is to create a landscape, to conceal and reveal," Steven says.
Central to the design are two joinery units – one black, one white – that give the plan structure. They read as boxes floating within the space, housing the kitchen and laundry, a second bathroom and a bountiful supply of storage. The kitchen layout plays with this concept of insertion – two discrete joinery units, one concealing the mess and clutter, are positioned around an elegant maple table that acts as an island bench. The kitchen doesn't immediately reveal its function – it is subtle and unexpected, traversing the intersection of architecture and furniture. The appliances are housed within the black box, backed by a playful monochromatic mosaic splashback and surrounded by a smooth black benchtop.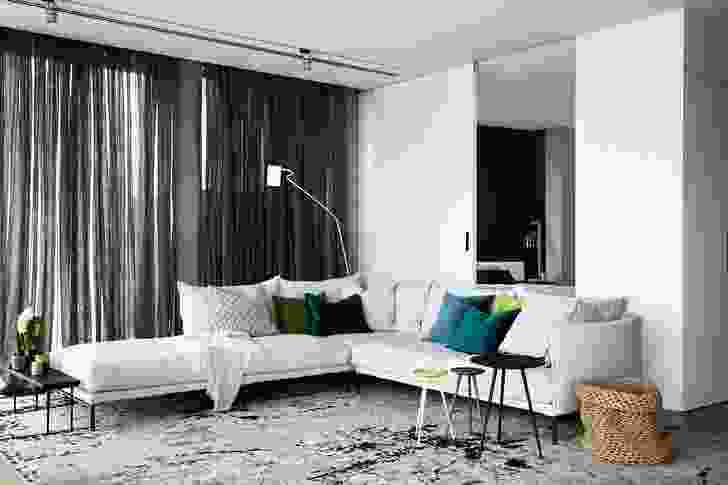 "It's a continuous piece of ceramic tile with no joins. It's the first time I've used it, and it really suited Margaret's request for something new," Carole explains. "We like the idea of dual purpose and ambiguous spaces. We generally don't do the big marble-slabbed island bench that just says 'kitchen.'"
The idea of floating elements is also articulated in the main bathroom and bedroom. Narrow windows have been inserted between the internal and external walls, slicing and curating the view and making it visible from entry. Preventing the walls from abutting creates a kind of levity in the architecture – while it is undoubtedly sturdy and solid, there is a feeling that the elements have been painstakingly arranged just so, touching lightly and endlessly reconfigurable. A sliding wall separates the bedroom from the living space. "They can shut it off when they have guests over to make the bedroom private. When they're alone, they keep that door open so, from the bed, they get that view out as well," Carole says. Steven adds, "It's about having an interior that fulfils that dual program – it can operate differently as a private space or a public one."
The project exemplifies the practice's love for textural details. Rather than splashes of colour, the interiors experiment with textural elements, from a hefty knotted rug to velvet-like concrete pillars. None of this happens by accident, and it's clear that the interiors were forged at the same time as the architecture. "It's a holistic approach – we're thinking about those interior elements as we're designing the space. It's not just about making a building and then bringing the things in. The interiors are an integral part of the project," Steven says. Perhaps the most vivid example is the dramatic blade wall that slides into the main bedroom from the southern facade. Finished in a striking basket weave ceramic tile, it brings a compelling tactility to an otherwise pared-back space.
At the rear of the building are two further private spaces – a second bedroom and a study. In the study, a large box window is positioned just so, to capture an elegantly framed view of the water through the length of the apartment. Behind, screens of laser-cut steel encase the windows, providing privacy and moderating the western sun. These screens, and the interlocking keystone-shaped timber pieces that line the window seat, demonstrate the designers' skills with craft and detail. "I like to think our approach is quite crafted," Steven says. "It's an idea of functional craft."
Products and materials
External walls

Inax Crescent Border tiles from Artedomus (internal/external wall to bedroom).
Internal walls

George Fethers and Co timber veneer; walling from Listone Giordano (hallway detail and study sitting nook).
Doors

Black Opaque door hardware from Pittella; custom doors by joiner.
Flooring

Listone Giordano French oak flooring; Gan rug from Hub Furniture; rug from Loom; cement tiles from Bespoke Tile and Stone.
Lighting

TossB wall path lights and Bocci outdoor lights from Hub Furniture; Weplight from ECC Lighting and Furniture; Tolomeo pendant from Artemide; Sempe pendant from Euroluce; Angel des Montagnes lamps; Agape lighting from Artedomus (bathrooms).
Kitchen

Maple timber veneer to sideboard and island table/bench; tiles from Signorino Tile Gallery; George Fethers and Co timber joinery; Hills and Mason black glass mirror; Maximum porcelain tiles from Artedomus; tiles from Bespoke Tile and Stone in herringbone mix.
Bathroom

Oak cabinet and Fukasawa tapware from Rogerseller; Pittella hardware; Agape fittings from Artedomus.
Heating and cooling

Jetmaster fireplace; fully ducted reverse-cycle refrigerated airconditioning.
Other

Dining table, chairs, sofa, bedroom rug and hallway hanging system from Hub Furniture; Ligne Roset and Cult occasional tables; Gervasovi bedside tables.
Credits
Architect

Whiting Architects
Melbourne, Vic, Australia
Project Team

Carole Whiting, Steven Whiting, Emma Scarlett-Hunting
Consultants

Builder Spinifex Constructions
Engineer Bruce McCraken
Joiner Colonial Cabinets
Landscaping Hurricane Landscapes
Lighting Lighting Partners Australia

Site Details

Site type Suburban
Site area 411 m2
Building area 197 m2

Project Details

Status Built
Design, documentation 6 months
Construction 12 months
Category Residential
Type Apartments

Source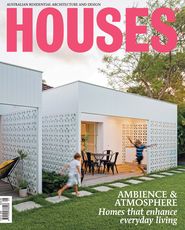 Issue
Houses, October 2015