Aficionados of Melbourne's pub scene will fondly remember the mint-green Terminus Hotel, a classic drinker's destination in the landscape of inner-urban Melbourne. After being closed for some time, the pub was recently purchased and given a new lease of life by prominent Melbourne hotelier Sand Hill Road in collaboration with its long-time architectural partner Techné Architecture and Interior Design. Messing with a classic is a process fraught with danger, but even a cursory examination demonstrates that the team has managed to breathe new life into the shell without sacrificing the idiosyncratic vibe that made the place so special.
As frequent collaborators (previous projects include Melbourne's Bridge Hotel and Prahran Hotel), Techné and Sand Hill Road have honed and refined the formula for the design of a successful local pub. To some extent, the Terminus Hotel refurbishment follows the pattern of previous projects by Techné for Sand Hill Road. Firstly, the pub location is selected for its ability to support a healthy local population of patrons. The Terminus Hotel draws on a large population of locals. Secondly, the site has to be able to support a beer garden, which is seen as an essential component of the Sand Hill Road formula. A third strategy is to create multiple bar spaces with different characters, especially spaces that activate the upstairs rooms, which in a traditional pub are difficult to get punters into.
Perhaps most importantly, the finished product has to have a strong identity and a depth of character that marks it out as unique. This too has been achieved, so despite the common formula, no two Sand Hill Road/Techné pubs are precisely alike. Techn é has responded in each new case with a unique solution tailored to the constraints of the existing building and the opportunities afforded by the different sites; the same is true here.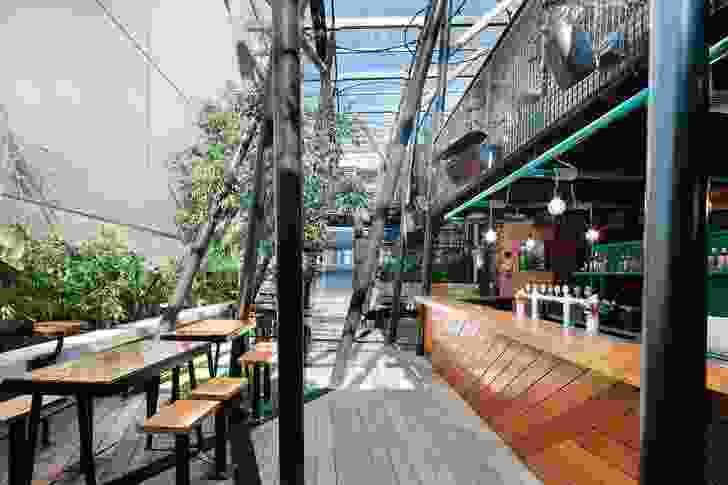 With the Terminus Hotel, Techné was instructed that the venue must have a distinct and recognizable front bar that forms the entry point. The front bar is finished in a classic wash-down green and cream tile, with a timber bar top and copper detailing, including the pipe system that connects the beer taps to large copper tanks dispersed throughout. Moving beyond the front bar, the visitor finds a series of booths with plush vinyl-finished upholstery – a comfortable place within which to imbibe.
The front and back bars are the precursor spaces to one of the highlight features of the new hotel – the sheltered beer garden. A space that is open to the sky only in part, the beer garden is mostly sheltered by a glass canopy supported on "tree trunk" steel and timber columns, set at rakish angles to suggest a wooded glade. The floor of the beer garden is finished in alternating patterns of artificial grass and decking timbers, and the orientation of the space draws northern sunlight deep into the building.
A long, generous bar is found in the beer garden, which terminates in a two-storey "found" space, one of those happy discoveries of the planning process. It has a sunken drinking pit below (with more banquette seating), and another bar above with strange, circular booths festooned with ropes suspended from the ceiling. Timber shingles finish the interior of this upper-level bar, giving it a warm aspect, but it has to be said that of all the rooms in the pub, this one travels furthest into the territory of thematic architectural parody.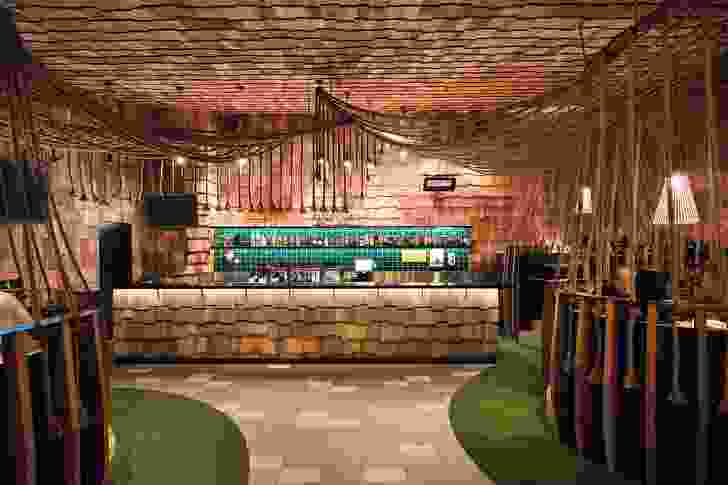 From this room, the patron can move back across the beer garden at the upper level, across a broad balcony; from the balcony one enters the upstairs bar. The upstairs bar is a visually lively affair, from its painted steel bar and joinery detailing to its banana plant print wallpaper, which covers the entire ceiling. The wallpaper was quite a find and is an old, classic pattern, roughly contemporaneous with the original pub building shell. The Terminus Hotel's iconic rounded corner window is found in the upper bar and has a curving banquette set against it for the best views in the house.
One of Techné 's party tricks in pub design is the activation of the upstairs rooms, traditionally the "dead" spaces of a pub. The strategy here is a simple one: a portion of the upper floor has been removed, leaving a two-storey void. An open balustrade ensures that there is a strong visual and aural connection between revellers above and below, and in this way the majority of the property is put to active, revenue-raising use. Projecting columns set with plants link the upper level to the level below, and expertly draw the eye out through the north-facing glass to the aforementioned beer garden.
When you tinker with a classic, it is unlikely that you will be able to please all of the punters, all of the time. Nevertheless, Techné and Sand Hill Road have successfully revived this signature property and imbued it with enough character and simple practicality to ensure that it will be around for quite some time. So now, I think it's time for a drink.
Products and materials
Walls and ceilings

Great Shalimar wallpaper in 'Steam' by Sparkk. Timber rafters painted black. Feature wall on first floor painted Dulux 'Ficus.' Shingles in Western red cedar. First-floor ceiling in double-layered Gyprock Soundchek acoustic plasterboard. Wall tiles to front bar in 'Mystic Sand' by Urban Edge Ceramics and 'Emerald' by Perini. Ceramica Vogue wall tiles in 'Pompelmo,' 'Albicocca,' 'Rosa' and 'Cielo' from Classic Ceramics. Steel columns with treated pine "branches" to garden.
Windows and doors

Custom steel-framed windows and doors with Penetrol finish, from Moreland Glass. Existing timber frames painted Dulux 'Primrose Path.'
Fabrics

Accent vinyl in 'Jungle' to public bar banquettes and rope booths and 'Desert' to dining and lounge banquettes, and Paintbox vinyl in 'Slate' to garden booths, 'Spray' to first-floor banquettes and 'Mustard' and 'Black' to first-floor stools, all from Instyle.
Flooring

Unglazed black and white hexagonal porcelain tiles in custom pattern from Academy Tiles. Solitaire carpet from Brintons to ground floor. Hamilton collection carpet in 'Night Sky' from George Low to first floor. Solid spotted gum floorboards/decking boards to first floor and external areas. Cube porcelain tiles in 'Ardesia' from Earp Bros to bathroom.
Lighting

IBL Lighting pendants and tube downlights, wall lights, Lightly rope lights and Xlux LED strip lighting, all from Light Project. Custom piping with integrated LED strip lighting and recessed downlights. Frandsen Klassik Pendant from Designstuff to ground-floor booths. Maia Pendant to Tropicana bar and Oslo Pendant to back bar and terrace, both from Schots. Alrik 1 large cone pendant from Beacon Lighting to rope booths. Edison Light Company custom steel rings to external courtyard.
Furniture

Thonet No. 18 bar stool and chair in dark oak. Waverly Chair from Concept Collections. Custom tables, upholstered stools and booths, and picnic-style table and stools (external).
Bathroom

Custom wall-hung hand troughs, tapware, steel mirrors and shelving.
Heating/cooling

Bromic outdoor heaters. Fujitsu airconditioning.
Roofing

Metal deck roofing in Bluescope Lysaght Klip-Lok with Zincalume finish. Trafficable glass roof in toughened A-Grade safety glass by Viridian.
External elements

Synthetic grass in 'Summer Envy' by TigerTurf from George Low. Stone101 bluestone pavers to sunken lounge. Tiles from National Tiles to first-floor terraces.
Other

Custom steel rings, and Natural Manila Ropes from Donaghys, to rope booths.
Credits
Design practice

Techné Architects
Melbourne, Vic, Australia
Project Team

Justin Northrop, Steve McKeag, Francois Claassens, Alex Lake, Raphael Graham
Consultants

Acoustic engineer Marshall Day Acoustics
Builder Visual Builders
Building surveyor JNAT Building Surveyor
DDA Before Compliance
ESD EnergyLab
Engineer Parkhill Freeman
Fire engineer Fire Safe Buildings
Geotechnical engineer NSP Geotechnics
Land surveyor Existing Condistions Surveys
Landscaping Ayus Botanical
Lighting Light Project
Services engineer BRT Consulting

Site Details

Location Melbourne, Vic, Australia
Site type Suburban

Project Details

Status Built
Design, documentation 6 months
Construction 12 months
Category Hospitality, Interiors
Type Bars and cafes

Source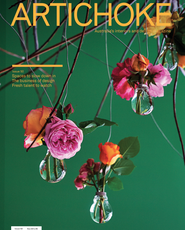 Issue
Artichoke, March 2015