The Uncarved Block is shortlisted in the 2012 Australian Interior Design Awards for Melbourne Central and The Galeries Victoria food courts. Both projects are shortlisted in the Retail Design and Colour in Commercial Design categories.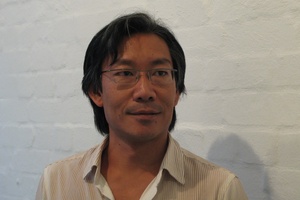 The two projects offered design and creative challenges but had very different briefs based on location – one is in Melbourne, the other in Sydney – and prescribed market. They also provided The Uncarved Block with the opportunity to work within different design categories, as the company had previously worked mainly on high-end residential and hospitality projects. The knowledge and experience gained through these previous projects led to a less orthodox approach when it came to designing for large-scale retail; one that seems fresher.
Founded in June 2010 by Philip Chia, The Uncarved Block is a studio of five designers. The company works on a wide variety of projects including retail projects, residential and, more recently, overseas resorts. These international projects have tested the company's flexibility and adaptability across a broad cultural spectrum while providing a completely different set of challenges and complexities, inspiring and strengthening the company's design intuition and confidence. Chia previously founded design practice Idiom, but chose to pursue a different vision and to return to a more "hands-on" approach. The Uncarved Block offers this flexibility and promotes collaborative opportunities to work with other like-minded architectural and design studios on larger-scale projects.
The Galeries Victoria food court
For The Galeries Victoria, the brief was to rejuvenate a tired existing food court located below ground level in Sydney's CBD. A strategy and direction was workshopped with the client to provide a subterranean, boutique-style dining experience. Considerations included the fact that there were pre-existing food courts in the CBD and that a new Westfield food court would open before the completion of the Galeries.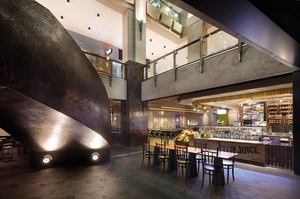 The design concept aims to redefine all facets of the dining experience in a typical food-court approach, setting it apart from its counterparts in the CBD. The food court links inspiration from the existing mix of avant-­garde fashion retailers, the current clientele and location with the art of consumption and conveys this through bespoke design elements, materials palette, texture, lighting and furniture. Visual and tactile juxtapositions – nature verses technology, warm natural materials verses raw concrete, and art verses functionality – are driving elements in providing an inviting yet richly dynamic dining venue. Ceramics from Japan, Spain and Italy are used extensively, and were selected for their sculptural qualities, reaction to light and textural attributes. The architects chose a warm neutral palette to allow individual tenancies to inject their own colours – now, tenant palettes embracing greens and yellow, orange through to red, and black and white contribute to the total visual composition.
A grand staircase in the primary void enhances the link, visually and physically, between ground and lower ground levels – the food court and specialty retailers – and provides an entry point to the food court directly from street level.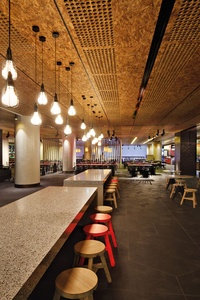 Breaking away from the traditional mass dining hall approach, the dining area allows for a variety of dining experiences. There is high and low communal bench-style seating and a more intimate semi-enclosed central dining box reminiscent of a private dining room in a restaurant. This diversity caters for a broad clientele, from the youth and CBD blue-collar workers through to inner-city residents, executives and fashionistas, and allows for the traditional fast food grab and counter service to co­exist with the slow food dining experience. It also provides the flexibility to adapt and transform the space from a day venue to one for evening dining.
Technology integrates with raw aesthetics. A full-height wall of multimedia screens alters the quality and feel of the dining environment. This ever-changing medium can be programmed to promote, inspire and celebrate milestone dates. Light fixtures and furniture by Diesel for Foscarini, Tom Dixon and Established & Sons feature throughout the space. Their selections are provocative and allude to fashion and nature.
The Melbourne Central food court
The Melbourne Central food court follows GPT's manifesto for Melbourne Central, which encourages the blending of creativity and art with retailing and community, and promotes sustainability to the retailers by leading through example.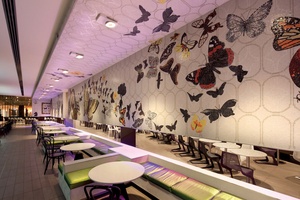 Melbourne Central is a landmark, eclectic, environmentally aware shopping centre in Melbourne's CBD. Fittingly, the food court's design focuses on the use of environmentally sustainable materials. Given the large size of the space, it was also important to create a variety of smaller dining areas for different groups of people.
The largest mosaic art installation in Australia graces the walls and tells a story for adults and children.
The layout defies the number-one rule of food courts that says that sight lines to all tenancies from anywhere are a prerequisite. Deliberately massed visual obstructions break up dining zones and the layout relies on people's innate sense of curiosity. Similarly, variety in furniture and lighting selections defines different dining zones. Material selections for flooring, walls and ceiling provide a design response on many levels. Floor tiles and wall cladding have a relief texture designed by Patricia Urquiola. Its reference to fabric print evokes a connection to the adjacent fashion precinct while also serving as a suitable non-slip floor treatment. The open slat ceiling defines the overall space while providing warmth, texture and acoustic qualities.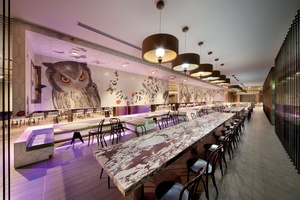 The innovation of this design comes from its redefinition of the food court experience. It blurs the line between restaurant dining and fast food – you can be sitting in a chair of significant value eating a simple cheeseburger and fries. Mass public venues attract a broad and varied audience; this one raises the bar through specified material, furniture and lighting, and a focus on design sophistication. Its habitation and enjoyment is not just reserved for wealthier people; it is non-discriminatory. Melbourne Central food court encourages co-­habitation, and educates from a design sense as well as at a cultural and human level. It holds no social prejudices and therefore provides a genuine and honest venue for community interaction. 
Each venue demonstrates different public dining experiences that shift the public perception of food courts.
The winners of the 2012 Australian Interior Design Awards will be announced on 27 April 2012.