This Faculty of Engineering, Computer and Mathematical Sciences, whose mission is to benefit the Australian community by providing excellent research facilities, leads, as it should, by powerful example.
The commitment of this building to excellence in sustainability is demonstrated in every aspect of its robust design, which achieves a 6 Star Green Star Education (V1) rating from the Green Building Council of Australia. The building combines and balances sophisticated mechanical systems and technologies with a basic principles approach incorporating orientation, natural airflow and appropriate material selections.
A gas-powered trigeneration plant located on the roof provides for the building's needs in electricity, heating and cooling. It produces 17 percent less emissions than the alternative brown coal generation. The load on this plant is lessened significantly by externally expressed thermal chimneys that induce natural, healthy airflow through the entire building at appropriate times.
The internal environment is further enhanced by active slab technology incorporating embedded hydronic cooling loops, heat rejection to computer server rooms via geothermal loops, a low-E double-glazed cladding system, sensored lighting and a building management system. In addition, rainwater is harvested and stored to provide toilet flushing and irrigation, and materials throughout were selected for their eco-preferred content.
The sustainability-driven systems that were incorporated have certainly informed the robust external expression of this building, which sits proudly within the solid masonry context of the university campus. It is a showcase of the University of Adelaide's commitment to ecologically responsible design for the future.
– Jury citation
Programmable LED screens located strategically in the building – from the large illuminated totem in the atrium to banks of screens in communal lounges … project data from a network of sensors.
– Rachel Hurst in Artichoke 35, p. 70.
For further coverage see Innova21, University of Adelaide.
For a full list of awarded projects see 2011 National Architecture Awards – the winners and for more awards discussion see Rachel Hurst and Rory Hyde's responses to the awards and the jury overview by Karl Fender.
Products and materials
Flooring

Carpet tiles by Ontera. Vinyl by Amtico. Rubber by Neoflex.
Lighting

Feature stair lighting by Mance Design. Also Austube, Erco, Bega, Iguzzini, Ligman, WE-EF, Zumtobel.
Furniture

From 4M Furniture, Burgtec, Dexion, Insitu, Interstudio, KFive, Koskela, Living Edge, Planex, Skandiform, Stylecraft, Urban Culture.
Credits
Architect

DesignInc
Australia
Project Team

John Williams, Peter Cove, Ross Chalmers, Glenn Versteegen, Nick Stephenson, Jacqui Williams, Wayne Dixon, Lyndell Ye
Consultants

Access consultant Disability Consultancy Services
Acoustic consultant AECOM Adelaide
Builder Hindmarsh
Building certifier Katnich Dodd
Cost consultant Aquenta Consulting (formerly Currie & Brown)
ESD, mechanical and electrical consultant Umow Lai Melbourne
Hydraulic and fire services engineer BESTEC
Landscape consultant Outlines Landscape Architecture
Project manager Arup Adelaide
Specialist lighting Lighting Design Partnership
Structural, civil & facade engineer Aurecon Adelaide
Town planning Aurecon Adelaide

Site details

Location Faculty of Engineering, Computer & Mathematical Sciences, University of Adelaide, North Terrace Campus, Adelaide, SA, Australia
Budget $73,000,000
Category Public / commercial
Type Education

Project Details

Status Built
Design, documentation 8 months
Construction 30 months
Website http://www.designinc.com.au/projects/university-adelaide-innova21

Client

Client University of Adelaide
Website University of Adelaide

Source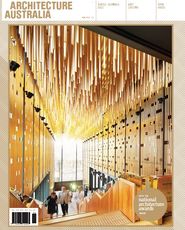 Issue
Architecture Australia, November 2011
Related topics