At the risk of oversimplification, "putting engineering on display" could be the clarion call for this entire suite of interventions in the University of Melbourne's Engineering faculty buildings, which incorporates an engineering workshop and various moments in the old engineering buildings. Designinc has worked hard with its client to bring spaces, machinery and objects into the light that were previously buried deep within the University of Melbourne's famously labyrinthine Parkville campus, laying down new paths and vistas through what were once opaque "black box" functions. In doing so, architect and client have elevated and laid bare the machinery and processes, both human and mechanical, and that of the business of educating the next generation of engineers and makers.
In fulfilling a masterplanning concept, an important foundational move was to create a new pedestrian link through what was the southern end of the workshop space, linking two courtyards and connecting pedestrians to the network of paths through the campus, drawing them deep into the heart of the Engineering area. This path through the building is defined to the north by a wall of structural glass and perforated panels, combined with a dramatic self-supporting, black steel stair, allowing views into the workshop from ground level and above as one moves up the stair.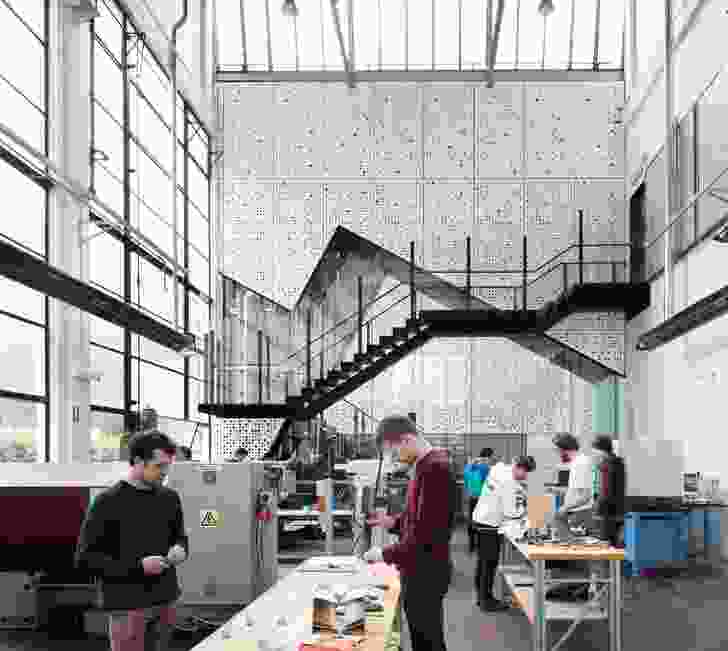 The workshop is a dramatic multi-level volume containing some intimidating-looking machines. However, the design of the old building, with its sills higher than eye height for passing pedestrians, limited the exposure of the goings-on within to those who were actually participating. This condition – of interesting things consistently happening behind closed doors and concealed behind high walls – characterized much of the engineering faculty's presence on the campus. By cutting through the southernmost part of the high workshop volume at ground level, a dramatic space has been opened for visual occupation. On display south of the link is a room containing a Computer Assisted Rehabilitation Environment (CAREN) rig and a room containing a metal printer, again exposed for view behind fully glazed walls.
Past the link and in the heart of the engineering faculty sits the postgraduate work and breakout room, another space that has been newly created in the old engineering building. The challenge here was to take a cellular building divided by structural masonry walls and open it up completely to a new type of occupation. The structural puzzle was greatly complicated by the need to protect the newly exposed shell from potential earthquake damage, and in service to this objective some serious steel structure was inserted above, around and below the newly opened floor spaces, effectively creating a large internal cage.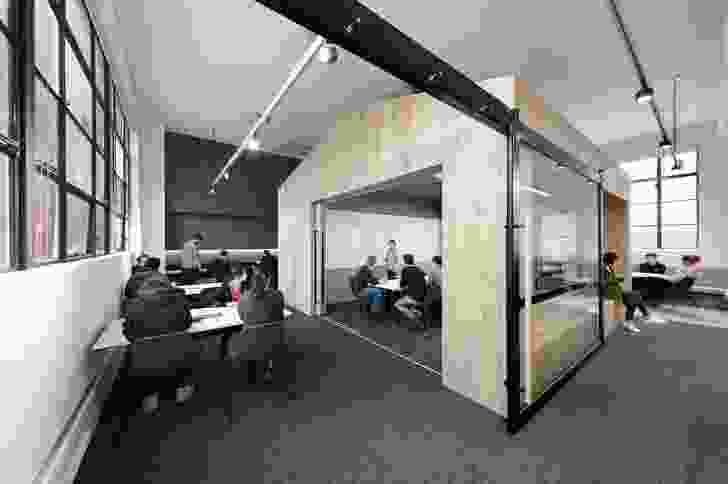 True to the philosophy of the project, this steel cage has been left exposed, and can be seen abutting the walls and floors of the occupied spaces. Inserted into this open-plan space was a range of breakout rooms and areas that support different types of collaboration and group work, creating an essential and social work space for student groups. There are smaller and larger booths with tables and whiteboard walls, so-called "think tanks" that support group collaboration with smart boards and pin boards, and bench seats and clusters of tables and chairs arranged along the windows flanking the space. The "think tanks" and some of the booths are clustered within a series of shed-like volumes that sit lower than the ceiling, bringing an undulating roof line into the space and creating a sense of containment. The interior palette is intended to be calming and muted, situated in the blues and greens range, with natural timber walls and some greys coming through in the custom carpet tiles.
The spaces described above, and range of other internal and external spaces and interventions that constitute this project, are evidence of an architecture of "stitching-together," of spending money wisely and strategically from a limited fund for maximum impact. Notwithstanding its moments of spatial drama – and they are certainly present – the real proof of the quality of this work is seen in the fact that the collaborative work areas were packed to overflowing – humming with life – at 4.30 on a wet Friday afternoon. It is clear that a social and practical need has been fulfilled in a faculty that teaches what one might be tempted otherwise to think of as an un-social discipline: from such constructive collaboration, the most intractable problems we face may be solved.
Products and materials
Walls and ceilings

Woodcut 'White Smoked' engineered lining boards and Autex 'Vertiface' workstation finish on Autex 'Quietspace' acoustic panels to meeting room pods. Existing walls and ceilings painted in Dulux 'Lexicon Quarter.' Feature walls and bulkheads painted in Dulux 'Coriole.' Custom perforated metal panels in Dulux 'White Satin.' Atkar Au.diLux AL 1000S and Armstrong Metalworks ceiling systems.
Windows and doors

Steel-framed and powdercoated aluminium windows and doors in Dulux 'Black.' Barben door pulls in powdercoated 'Black' and 'American Oak.'
Flooring

Ontera custom Colourweave carpet tiles. T arkett iQ Natural and iQ Toro SC vinyl flooring. Alternative Surfaces X-bond Polished Bond system and jarrah timber flooring to linkway.
Furniture

Stylus and Blade tables, both from Stylecraft. Silhouette workstation from Zenith Interiors. Pure Loop Binuance chairs from Cafe Culture + Insitu with powdercoated sled base and Kelargo upholstery from Warwick. Bliss chair from Mark Perry.
Other

Custom-made frameless glass and steel display cabinet with integrated bench seat by Fabmetal.
Credits
Design practice

DesignInc
Australia
Project Team

Christon Batey-Smith, Sally Brincat, Sonya Montgomerie, Jane Sayers, Cameron Smith, Simon McKeown, Clare Barclay, Sereni Naidoo, James McCutchan, Simon Bennett, Robert Duffield
Consultants

AV consultant CHW Consulting
Acoustics Acoustic Consulting Australia
Builder Kane Constructions
Building services Meinhardt Group
Building surveyor McKenzie Group
Heritage Lovell Chen
Landscape architect Outlines Landscape Architecture
Project manager Root Projects Australia
Quantity surveyor Slattery Australia
Structural engineer Irwinconsult

Site Details

Location Melbourne, Vic, Australia
Site type Urban

Project Details

Status Built
Completion date 2017
Design, documentation 11 months
Construction 20 months
Category Education, Interiors
Type Universities / colleges

Source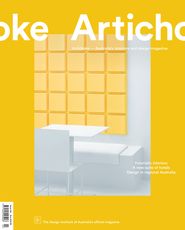 Issue
Artichoke, September 2018