The flurry of renovation work in Melbourne's inner north over recent years has been a boon for local architects, but its impact on the public environment has been considerably less marked. After all, most of it is hidden behind the stoic facades of Victorian terrace housing. As charming as suburbs like Carlton North are, fans of modern architecture can't help but wish that their rolling armadas of space-age prams were matched by an occasional glimpse of twenty-first-century residential design. Step back into the slightly less fashionable next ring of suburbs and it's a different story. Take Brunswick, for example, where worker's cottages sit cheek-by-jowl with Californian bungalows, tired old factories and forgettable low-rise multiresidential buildings dating from the 1970s. It's a disorderly palimpsest of architectural styles, endearing and frustrating by turns, but this disorder offers architectural opportunity - fewer heritage overlays, more gaps to fill and the imperative for the current generation to add its imprimatur to the streetscape.
This intriguing alt-and-add is a case in point. A well-loved weatherboard bungalow – a Brunswick classic – has been appended with a wall of translucent, soft-green web glass (a toughened fibreglass) that butts up against the footpath and presents not only contemporary architectural form to the street, but also a strong sense of the life and activity within the house itself. A happy confluence of location (corner block), budget (constrained) and the will to find a unique solution (Multiplicity is one of Melbourne's most delightfully creative architecture and design practices) has delivered a home that gives as much to the local community as it does to its occupants.
It wasn't always that way. The original house, programmatically boxy and designed, one presumes, by a person with an aversion to natural light, completely failed to take advantage of the northern aspect of its long side boundary. The clients' brief to the architects was relatively simple - maximize northern sun, minimize encroachment into the garden and be as environmentally sustainable as possible. The architects' response is simple too: a compartmentalized collection of rooms at the rear of the house has been replaced by a new bathroom and conjoined kitchen, dining and living areas. Sounds familiar, yes, but a series of thoughtful, creative and economical design manoeuvres make this "simple" alteration project unlike any other you might have seen before.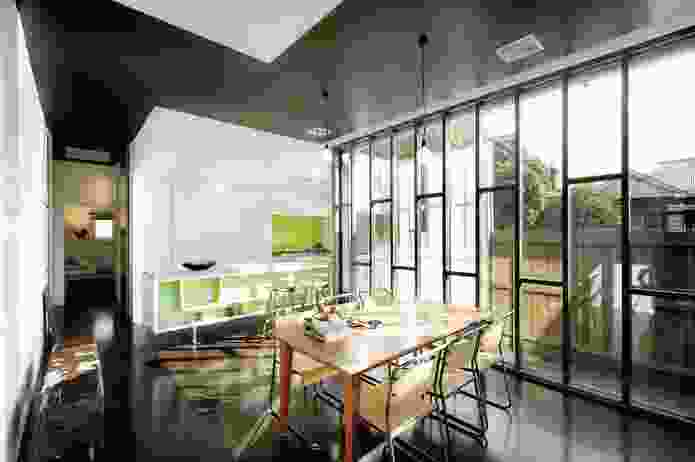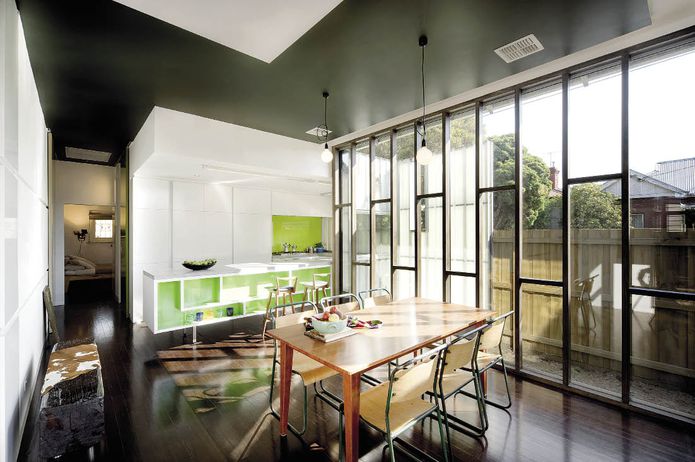 The most significant of these strategies involved expanding the building's footprint, in a section occupied by a bathroom and kitchen, out to the site boundary, reclaiming the dead space between the old house and the side fence and providing a line of intersection between "private" and "public." Viewed from the street after dark, these rooms glow; joinery creates definitive blocks of shadow while ghostly humanoid shapes fade in and out of view; wall framing, visible as a timber skeleton beneath the web glass skin, marks what designer Sioux Clark describes as "the builderly rhythm of studwork" and "celebrates the inherent beauty of the frame." In contrast to this, by day, the flow of light is reversed and the rooms are washed with finely filtered daylight. The web glass facade appears opaque, pale green, like glow-in-the-dark plastic with the lights on.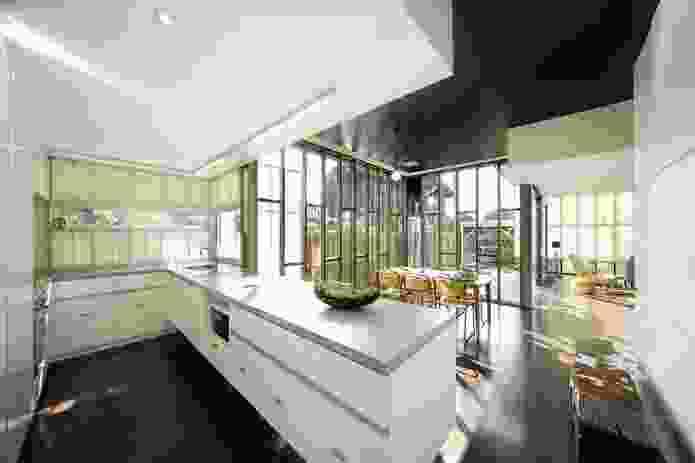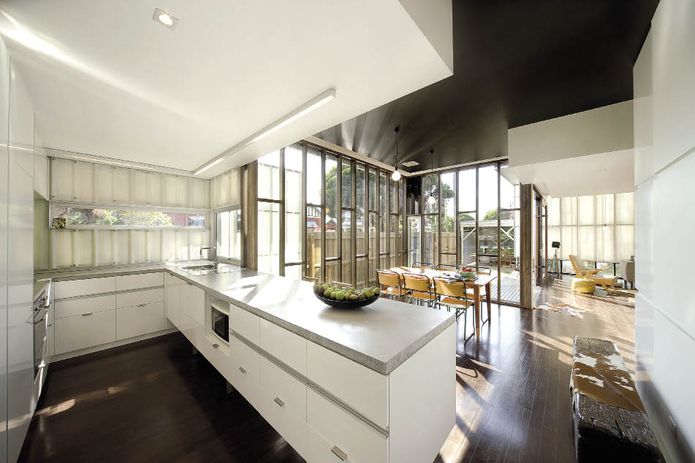 In response to the budget and the request to preserve garden space, the rest of the extension follows the roofline of the original house and small backyard bungalow. Hidden behind a six-foot-high timber fence, the dining and lounge areas step back from the street and hug the southern boundary, and the house opens itself up to the surrounds: web glass gives way to floor-to-ceiling glass, the translucent becomes transparent and the northern orientation of these living spaces is emphatically embraced. The fittings and furnishings are spartan, but this is counterbalanced by the view out into the garden, with glimpses of trees and rooftops beyond the fence and the attendant richness that offers.
During construction, visiting tradies came to refer to the project as the Cow Shed, and there is something vaguely agricultural about the frame, even more visible through the transparent walls. The web glass too, with its square corrugated profile, recalls the iron shell of a modern farm shed, although, along the street facade, its vertical ridges could just as easily be read as a reimagining of the ubiquitous old timber fence. And therein lies the beauty of the project - it can be many things to many people, and the fact that it has become part of the communal built environment means that those people have a chance to consider their own interpretation.
"We looked at this project as urban infill," says architect Tim O'Sullivan, "but we were quiet about it." Sioux adds, "We feel that it's consistent with the humility of the prevailing Californian bungalow style." It's a disruption to the streetscape, then, but, unlike the double-storey brick veneer disaster on the opposite corner, it's a quiet disruption. If this is how the new generation marks their presence in Melbourne's inner north, then long may its disorder reign.
Products and materials
Roofing

Existing roof; corrugated Zincalume, natural.
External walls

Ameplite Webglass GC sheeting; Carter Holt Harvey Shadowclad, stained black.
Internal walls

Ameplite Coolite sheeting; Wattyl ID range low-VOC paints; ceiling painted Resene 'Green Waterloo'.
Windows

Double glazing; double-hung windows with laminated solar E glazing.
Flooring

Artedomus Inax tiles to bath hob; De Fazio Tiles and Stone cut and honed bluestone tiles; existing Baltic pine, sanded and stained; recycled Tasmanian oak, stained dark brown and finished with Bona mega, non-toxic waterborne polyurethane.
Lighting

CLA fixed compact fluorescent downlight; mLight ceiling and wall-mounted magazine system with T5 fluorescents.
Kitchen

oven, hotplates, dishwasher and rangehood; Fisher & Paykel fridge; Blanco sink; Rogerseller chrome tapware; Rutso concrete benchtops in 'Soft Grey'; glass splashback; Halifax Vogel gloss white on-board laminate cabinetwork; Abet Laminati 'Lime' cabinet highlights; recycled timber inserts and handles; Häfele hardware; Designer Doorware drawer pulls.
Bathroom

Reece Kaldewei bath; Rogerseller Verso vanity basin and Profilo Bloc sink tapware; Caroma Catalano toilet; Laminex Aquapanel to walls.
Credits
Architect

Multiplicity
Brunswick, Vic, Australia
Project Team

Tim O'Sullivan, Sioux Clark, Ro Berry
Consultants

Builder Living Edge Builders
Glazing Expert Glass
Interiors Multiplicity
Structural and civil engineering Meyer Consulting

Site details

Location Brunswick, Melbourne, Vic, Australia
Site type Suburban
Building area 330 m2
Category Interiors, Residential buildings
Type Houses, Residential

Project Details

Status Built
Design, documentation 2 months
Construction 5 months

Source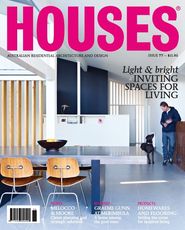 Issue
Houses, December 2010
Related topics