The interior environment is one of many integral parts of the brand of venerated chef and restaurateur Neil Perry. His two latest incarnations at Melbourne's Crown Towers' five-star hotel are The Waiting Room (TWR), a slick bar commissioned to enliven the lobby, and Spice Temple, a restaurant that has a Sydney precedent. These projects share the same team, but are otherwise two separate experiences and design stories.
Grant Cheyne, architect, formerly of Bates Smart, worked as chief designer on Perry's Rockpool and Spice Temple in Sydney, and Rockpool in Melbourne. His ability to deliver Perry's vision resulted in an invitation to expand the relationship. Cheyne embarked on the new venture as design director in association with 1:1 Architects. "We were the interface between Crown and the operator, Neil Perry," explains David Nock of director, 1:1 Architects.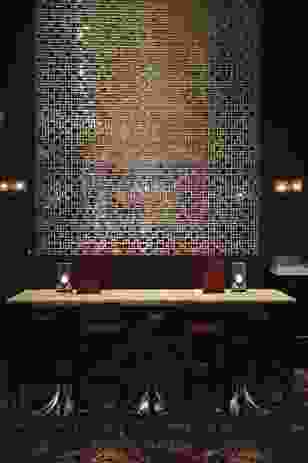 The underlying concept, and a trait in many of Cheyne's projects, is that of place making. "I'm adamant that place and spaces and how they work are so much more important than anything else. If you don't get that right, no amount of chandeliers will fix it," says Cheyne. He perceives materials, lighting and acoustics as supports to place making, but secondary considerations: "What we actually see is not what it's about. What it's about is what we can't see – the space and how we manipulated that."
Cheyne's request to change the shape of the tenancy for TWR at the outset is a prime example. As the space opens onto the lobby, he felt an extra wall was required to create the right presence. Negotiating the space made possible a dramatic statement – a pair of substantial glass doors, 5 metres high by 3.5 metres wide, that act like curtains in a stage set. Also unveiled was an existing staircase that provided the opportunity to design back-of-house office space, change areas and storage connected to the kitchens of both premises.
Inspired by the classic grand hotel bar, there was the idea of a journey starting in the lobby and progressing through to smaller and more intimate and exclusive areas. "It's like this sequence of ever-decreasing spaces," says Cheyne. Elegant yet classic vintage crystal glassware inspired the selection of reflective surfaces. "The whole space is walled with mirror-backed glass mosaic tiles then, within, we have inserted high-gloss timber panels to animate the space," he says.
Acoustic management is achieved by a high-performance acoustic waffle ceiling in concert with velvet fabric on the wall and flamboyant patterned carpet. The challenge of transitioning a change in atmosphere from 10 am opening through to late 2 am closure was addressed by automated lighting, preset to different themes, with a selection of lighter colours for the ceiling and banquette seating fabric. There's also a choice of seating arrangements and size of spaces that increase in intimacy on walk through.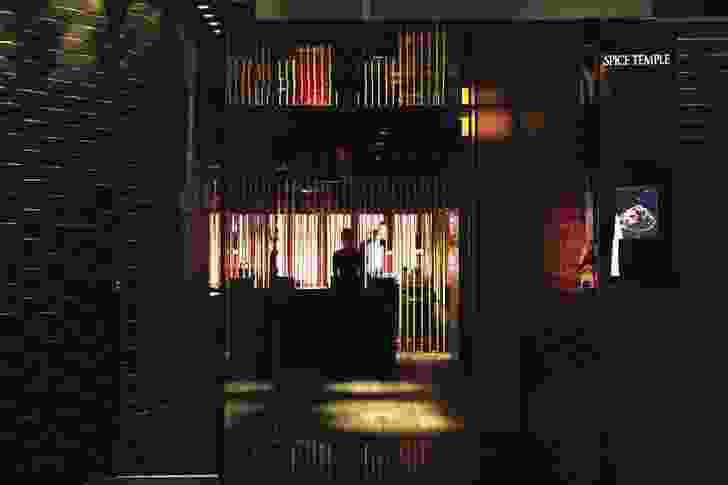 The brief for Spice Temple was "more about creating a sexy nightclub-like experience for people," rather than working to a theme, says Cheyne. Transforming the space was again the first step. In this case, there was the need to overcome the constraints of a two-level layout, the upper at the hotel's podium level and underground. Major work included opening up an existing staircase and installing another, moving the kitchen and building new toilets. "An important part of the brief was for the atmosphere to have an equilateral feel about it. We didn't want B-grade seats downstairs," says Nock.
The designers liken the generous downstairs dining spaces to that of a mass dining room where lots of people can enjoy themselves. Custom lighting pendants on a sliding rail place the spotlight on the food and at the same time create a sense of personal space for diners. They also make the table configurations flexible for different seating arrangements.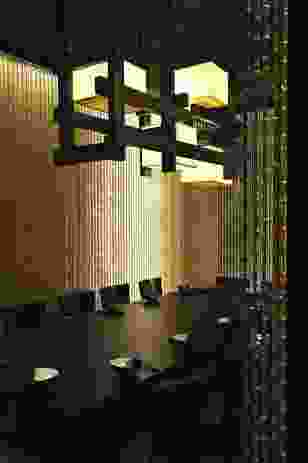 Referencing Perry's fondness for hawker-style food, the detailing is consciously crude, accentuated with dark hues and music. Haphazard and ad hoc sections of custom-made brick panelling composed of routed MDF and textured render deliberately raises the question: was the space already like that? Similarly, the wallpaper made from pages of Chinese textbooks, which could well belong to the past.
Upstairs, the desire for an inward-facing restaurant needed to counteract daylight and views. A compromise solution that combined reflective graphic filmstrips and tinted graphic film served to reduce the amount of light entering the space and casts a warm glow when looking out. Oregon timber curtains define the dining area perimeter and add another filter.
Generous lashings of acoustic materials have been applied wherever possible, enabling one-on-one conversations to be held despite the two-hundred-seat capacity. The suspended timber Echopanels not only provide excellent sound-absorption qualities, they also provide a link to Spice Temple Sydney.
The selection of Riccarton Collection carpet from Feltex for a touch of drama in the dining spaces hints at the eclectic side of Spice Temple. Circulation spaces are a mix of carpet and original timber floors in dark hues. The contrast between rudimentary details and the more complex is further illustration of Cheyne's philosophy of investing energy in detailing where he believes it matters – not design for design's sake.
Spice Temple Melbourne was named Best Restaurant Design (joint winner) at the 2012 Eat-Drink-Design Awards.
Products and materials
The Waiting Room - Walls and ceilings

Mirror mosaics by Academy Tiles. Creatic laminate in Shannon Oak by Polytec. Echopanel ceiling baffles from Woven Image. Aria Velour from Maharam for curtains and pleated fabric.
The Waiting Room - Doors

Mirror-clad glazed sliding entry doors by Heritage Glass.
The Waiting Room - Flooring

Feltex Riccarton Axminster carpet in custom colour. Black ribbed tiles from Academy Tiles for bar floors.
The Waiting Room - Lighting

Custom pendants by Ricardo lighting. Central pendants and wall lights by Pieter Adam.
The Waiting Room - Furniture

Kingwood custom chairs, ottomans and waiters station furniture. Pedrali Dream table bases from James Richardson. Glazed pyro lavastone tabletops and bar in Ivoire.
The Waiting Room - Bathroom

Stone slab honed marble Giallo Venus from Euro marble.
Spice Temple - Walls and ceilings

Echopanel ceiling baffles from Woven Image. Black handmade glazed tiles by Academy Tiles for walls and waiter's stations.
Spice Temple - Doors

Entry portal and specialist glazing by Heritage Glass.
Spice Temple - Flooring

Feltex Riccarton Axminster carpet in Red Piazza. Black ribbed tiles from Academy Tiles for wall and floor tiling.
Spice Temple - Lighting

Custom pendants and fittings by JS Lamps.
Spice Temple - Furniture

Honed Kimberly brown granite from Corsi & Nicolai for waiter's station tops and bases. Custom joinery by Wunda.
Spice Temple - Finishes

Custom timber curtains, special paper and faux brickwork developed and supplied by Wunda.
Spice Temple - Bathroom

Bespoke wash plane fabricated by Wunda.
Credits
Designer

Grant Cheyne Design
Sydney, NSW, Australia
Project Team

David Nock, Grant Cheyne, Lachlan Mosley, Clare Cannon, Andre Soebekti, Sarah Rickard, Caitlyn Parry, Kathryn Gibberson , Carmen Wilson, Lucy Brylski, Yamil Khourydiaz
Consultants

Architectural practice 1:1 Architects
Builder Wunda Projects Austalia
Lighting Glowing Structure
Project manager Crown Projects Melbourne
Quantity surveyor Turner & Townsend
Services engineering Aurecon
Structural engineer Aurecon

Site Details

Location 8 Whiteman Street, Southbank, Melbourne, Vic, Australia
Site type Urban

Project Details

Status Built
Website http://www.spicetemplemelbourne.com/private-dining/
Category Hospitality, Public / commercial

Source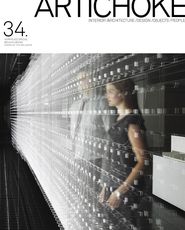 Issue
Artichoke, March 2011
Related topics