Workplaces are undoubtedly evolving as work styles continue to change, driven by new technologies and the expectations of the millennial generation. The 2017 Work Place / Work Life forum in Sydney, part of Architecture Media's Design Speaks program, explored current and future trends in workplace architecture, design and technologies. Despite the broad scope of speakers, the forum delivered a consistent message: the need to create sustainable and flexible environments that promote collaboration, wellness and productivity; engage new technologies; and help attract and retain talent.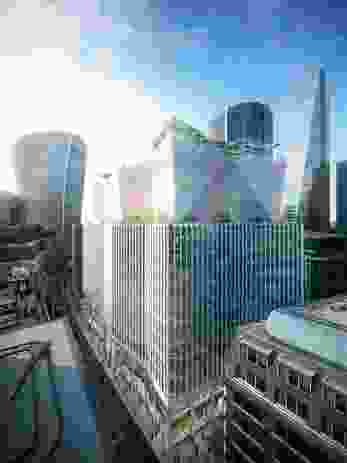 The symposium included four keynote addresses and three local case studies. Roberto Bannura, director at Steven Holl Architects (China), and Eric Parry, founder and principal at Eric Parry Architects (UK) discussed the importance of site and context for designing workplace buildings and interiors. Providing multiple projects as examples, each demonstrated how their architecture takes a holistic approach to work and life: how the journey to and from work is part of the workplace experience; how wellbeing is enhanced through access to open space; how commercial settings should function as a platform for social interaction and engagement; and how the pleasures of light, material and detail contribute to the human experience of a workplace.
Three Australian-based speakers presented case studies that further illustrated how these priorities in workplace design are being applied at a practical and local level. Tom Owens, studio director at Gensler (Sydney), discussed how the concept of "workplace as home" for tech company Dropbox Sydney fosters the wellness and productivity of its employees; Kim Vella, head of premises and procurement at Clayton Utz (Sydney), relayed the challenges and opportunities in transitioning from a traditional (read: hierarchical) law practice office layout to a more egalitarian open-plan hybrid workplace; and Cushla McFadden, director at TomMarkHenry (Sydney), detailed the finishes, furnishings and artworks designed and commissioned for WeWork Martin Place and WeWork Pyrmont as a part of the site-specific response for the global co-working brand.
Keynote speakers Caroline Burns, director at Workplace Revolution (Singapore), and Robbie Robertson, partner in experience design at Deloitte Digital (Sydney), explored future trends in workplace design and how people and technology are at the centre of driving that change. Burns identified Asia as shaping the future trends in workplace design, while Robertson discussed how digital developments and millennials are forcing the evolution of working styles.
The day concluded with a panel discussion chaired by Rosemary Kirkby, principal at Rosemary Kirkby and Associates, who asked about the implications of the issues the keynote speakers raised. As the panel discussed, the future of workplace design will lie in providing users with access to space, people, networks, technology and ideas. Workplaces will also increasingly need to cater for a higher degree of mobility, flexibility and adaptability, because as technology advances and working styles evolve, new buildings will need to remain environmentally, socially and economically sustainable.
As Burns described, 71 per cent of millennials in Asia would choose a better office environment over other work benefits. And if the future of workplace trends lies in Asia and the expectations of the millennial generation, then workplaces must become a key mechanism for attracting and retaining talent, as well as empowering workers and promoting productivity. The design of a workplace and the culture of a company thus need to be reflective and conducive of one another. Indeed, as Kirkby summed up, "We should consider the workplace as a service rather than a commodity."
Work Place/Work Life, presented by Architecture Media, is part of Design Speaks, a series of talks, seminars, forums and conferences on and about architecture and design, for design professionals and their clients and interested members of the wider community.
Work Place/Work Life is supported by major partner Planned Cover and supporting partners Space and Colebrook Bosson Saunders. The Design Speaks Symposia 2017 presenting partner is Taubmans.
Save
Save
Save
Related topics