A Sydney-based not-for-profit organization will build a tiny house village on the NSW Central Coast as part of a project to help the homeless.
The pilot project, designed by NBRS Architecture and developed by the Tiny Homes Foundation, will comprise four tiny houses, a common laundry and workshop and community vegetable gardens. The project will be located on a site next to Gosford Hospital on the corner of Showground and Racecourse roads.
Derek Mah, an associate at NBRS Architecture, said the concept for the project was inspired by the tiny house movement to fill a gap in housing provision for the homeless.
"There's boarding houses and subsidized housing but there wasn't anything that offered this amount of independence for such a small amount of money," Mah said. Each unit is projected to cost around $30,000, which is expected to decrease as the foundation increases its economy of scale. "That's the main driver behind it – to give people some dignity and independence."
Each unit contains a full bathroom, kitchenette and a sleeping space in a "very modest" footprint of only 14 square metres.
"The living space is the sleeping space and the food preparation space, so it's multipurpose," Mah said. "That's the secret to these things. You have to multitask the space as much as possible to get the most use out of the very small space that we have."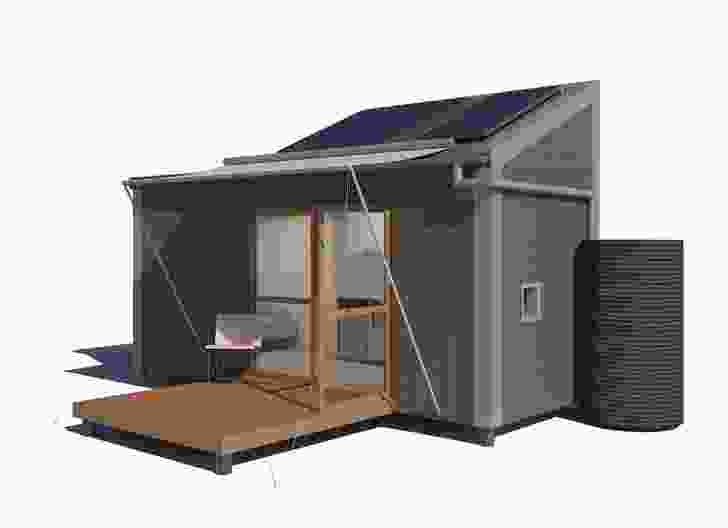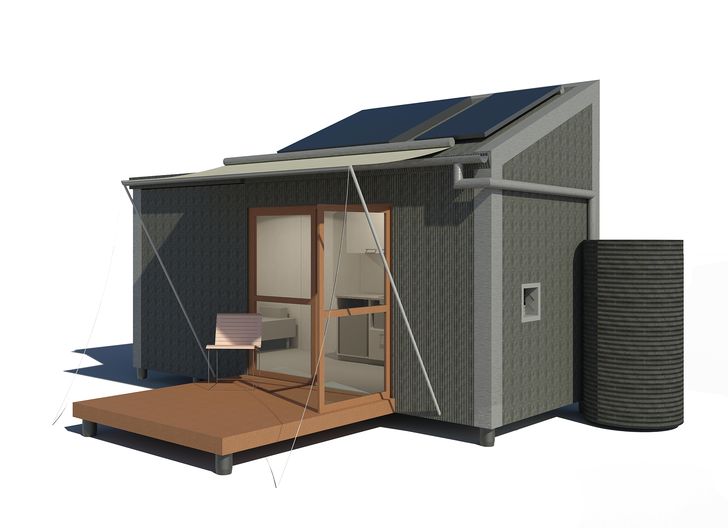 The tiny houses are designed with passive solar principles in mind. Each unit features large glass doors in the longer side of the dwelling, which will be oriented north to take advantage of the solar aspect. There will also be a small covered deck area. The whole site is also designed to be off-grid with solar electricity and hot water and compostable toilets.
The entire unit can be prefabricated, with insulated wall panels, and delivered on site either as a fully formed dwelling or flatpacked and assembled on site with simple tools and no requirement for specialized building skills.
The tiny house movement has gained enormous popularity in the USA, spawning entire industries and reality TV shows, as well as an Australian-made documentary. But Mah says this project shies away from the "twee and delightful" idea of a traditional tiny house.
"The difference with what we've had to do as a design project is that we've had to consider the fact that this is essentially public housing. It's not me handcrafting my non-compliant, dangerous-for-the-kids type of moving caravan on wheels," Mah said.
The units will also be adaptable. "We'll probably have to explore additional scenarios for other designs, one of them is having one which is accessible," Mah said. "We also have to look at adopting the basic unit for other purposes like a communal laundry or communal meeting space."
The Tiny Homes Foundation received development approval for its pilot project in early August 2016. The project also collaborates with Clayton Utz (lawyers), Chase Burke and Harvey (surveyors), Wilson Planning (town planning), The Skills Generator (employment and training), TAFE Outreach (education) and Pacific Link (social housing providers).
Related topics