Construction has begun on a terrace house development on the Gold Coast that includes a 38-square-metre freehold lot, believed to be the smallest in Australia.
Envi Micro Urban Village is an architect-led development by Amy Degenhart of Degenhart Shedd, in partnership with town planner Nicole Bennetts. The pair are directors of Community Benefit Developments, which specializes in small-lot housing.
The development will be located on a standard corner block at Meron and Lenneberg Streets in Southport on the Gold Coast, a few blocks away from high-rise apartment developments. It will include 10 affordable terrace homes comprising a diverse range of occupancies – micro terraces (two bedrooms), "urban pods" (two bedrooms), a "village home" (three-storey, three-bedroom house), and "pico pod" (one bedroom).
The smallest of the lots – 38 square metres – will be occupied by a terrace house with 67 square metres of floor space.
"This project […] really services that happy medium between city apartment living and the traditional three bedroom home in the outer suburbs," said Degenhart.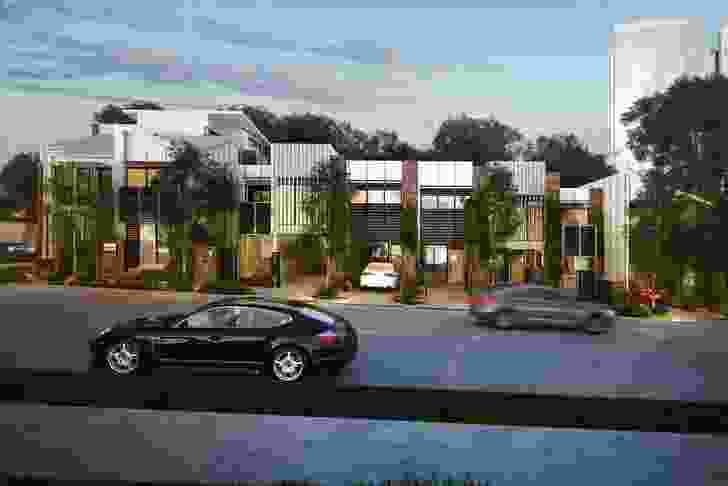 The houses will each have open timber stairs, higher ceilings and glazing to encourage light penetration and cross ventilation.
Small lots sizes are emerging as a potential method for tackling problems of density and housing affordability in Australia. Small-lot housing developments also have the added benefit of no body corporate fees.
"Most buyers looking for central real estate at this price range are forced to look at apartments, which come with body corporate fees that they have to factor in when considering their ability to service their repayments. Each of the homes at Envi is on its own title, meaning you own your house and land, without any additional fees," she said.
In February 2017, the Western Australian Planning Commission approved the trial of 80 square-metre lots in Ellenbrook, a suburb on the north-eastern fringe of Perth.
The subject of medium-rise density is being considered by government planning bodies across Australian states. It has also been the subject of design ideas competitions in New South Wales and Queensland.
Degenhart Shedd, in collaboration with Roberts Day, submitted a proposal similar to the Envi Micro Urban Village development, titled Hyper-Flexible Terrace, to the 2017 Density and Diversity Done Well ideas competition, which received a mention from the judges.
For more on the Gold Coast and its architecture, see the January/February 2018 issue of Architecture Australia.
Also, read more on ArchitectureAU special series on housing affordability.
Related topics