The University of Technology Sydney (UTS) has selected Tonkin Zulaikha Greer to design a new industry hub to be located at a historic education precinct in Chippendale.
The proposed seven-storey building, which will house a range of research projects, a start-up community and flexible spaces for the university, will be located on Buckland Street adjacent to the more than 130-year-old, Neo-Gothic former Blackfriars Public School building, designed by architect George Allen Mansfield in 1883.
Tonkin Zulaikha Greer's winning scheme proposes a brick building with a cascading glass wall on the south side. According to a statement from UTS, "these materials respond the form of the 1880s Blackfriars School building adjacent to it, with the angled glass a modern reinterpretation of the Neo-Gothic architecture of the historic precinct buildings.
"The glass […] cleverly reflects the past while creating visual connections to the activity inside."
The internal spaces, including open-plan collaborative spaces, will be arranged around a sculptural staircase.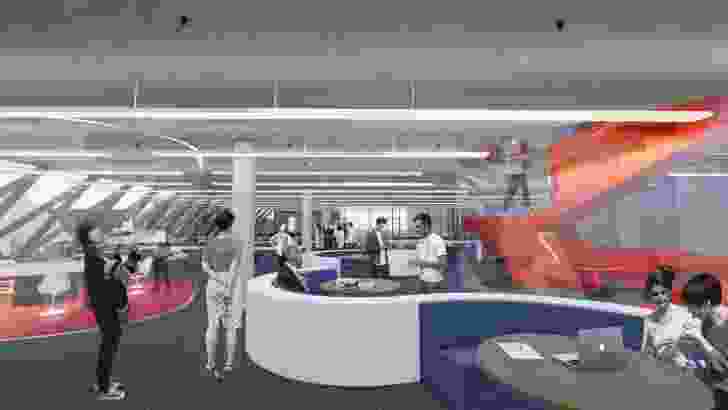 "We have conceived a hub for the rich Blackfriars context that declares […] our century's building technology in its contemporary expression," said Tim Greer, TZG director.
"The facade is reflective of the approach, namely the use of technologically advanced materials that are intuitive for the occupants."
The proposed building will also include sustainable initiatives such as solar panels on the roof and facades, external sunshading fins, rainwater collection and natural ventilation.
"This is a design that embodies the spirit of UTS – it's bold, focused on the future but deeply connected to its surroundings," said Professor Attila Brungs, vice-chancellor of UTS and design competition juror. "It showcases our commitment to creativity, sustainability and engagement with industry and the community."
Tonkin Zulaikha Greer was chosen from six practices invited to participate in the design excellence competition, which included Architectus, Bates Smart, Carter Williamson Architects, H2o Architects and Kirk.
The proposed building will occupy the site of the former Blackfriars Children's Centre, which was relocated to a new facility designed by DJRD Architects and Lacoste and Stevenson in November 2017.
The jury comprised Ken Maher (chair, immediate past president of the Australian Institute of Architects), Graham Jahn (City of Sydney), Dillon Kombumerri (Government Architect NSW), Attila Brungs (UTS vice-chancellor, with Professor Elizabeth Mossop, dean of the Faculty of Design, Architecture and Building, serving as an advisor) and Glen Rabbitt (UTS Facilities Management Operations).
Related topics