The NSW Department of Planning and Environment has revealed designs for the more than $200 million redevelopment of Walsh Bay performing arts and cultural precinct by Tonkin Zulaikha Greer.
The redevelopment includes upgrades to the historic Pier 2/3, Wharf 4/5 and their respective shore shed structures in the heritage-listed Walsh Bay Wharves precinct. The completed arts and cultural precinct will house rehearsal and performance space for a range of artistic and cultural organizations including the Australian Chamber Orchestra, Australian Theatre for Young People, Sydney Dance Company, Bell Shakespeare, Bangarra Dance Theatre, Sydney Philharmonia Choir, Gondwana Choirs and Song Company.
Pier 2/3, the last undeveloped pier in the precinct, will be internally adapted to house spaces for Bell Shakespeare, the Australian Theatre for Young People (ATYP) and the Australian Chamber Orchestra (ACO), as well as two function spaces.
A larger function space on the ground level will be "left as raw as possible to preserve the historic character of the 20th century industrial maritime interior," said the architects. A smaller function space for the ACO will be inserted on level one. Pier 2/3 will also accommodate a 300-seat auditorium for the ACO.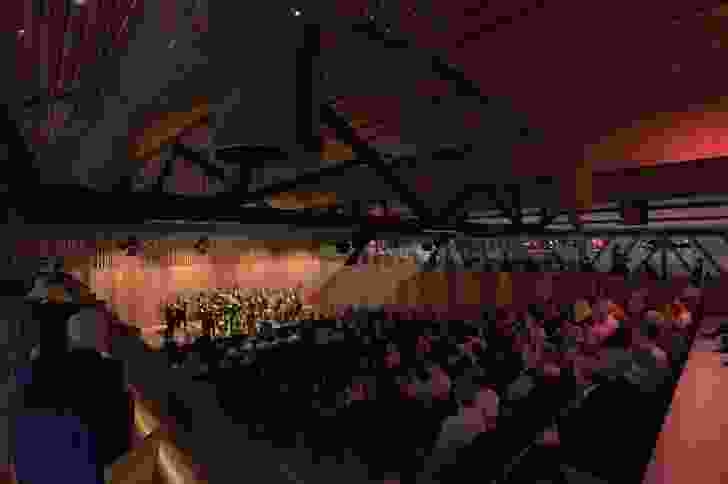 Wharf 4/5 will be refurbished for the existing tenancies: Sydney Dance Company (SDC), Gondwanna Choirs and Bangarra Dance Theatre. Space for the Sydney Theatre Company, in the upper shed of Wharf 4/5, will be designed by Hassell and is subject to a separate development application.
The design will retain original timber structures and finishes internally, while externally, steel framed balconies, elevated walkways and glazed lifts are proposed. The form and detailing of the external elements will echo the original gantries of the wharves.
The redeveloped precinct will also allow for arts and cultural events such as Sydney Writers' Festival and Sydney Biennale arts festival.
Designs for the Walsh Bay Arts Precinct redevelopment are on exhibition for public comment until 24 November.
If approved, construction will begin in July 2018 and is estimated to take two years.
The concept plan for the redevelopment, prepared by Bates Smart and Aspect Studios, was originally approved by the NSW government in May 2015. However, in July 2017, the NSW Court of Appeal ruled the approval invalid, finding the concept plan did not constitute a "staged development application."
Following the court ruling, Marcus Ray, deputy secretary for planning services at the NSW Department of Planning and Environment, said, "The decision affects more than $8 billion worth of major local, regional and state significant development applications under assessment or recently approved."
It prompted the government to propose changes to the Environmental Planning and Assessment Act which clarified the definition of "staged development applications." The bill was introduced to the NSW parliament on 2 August 2017.
Related topics