1. North Bondi Surf Life Saving Club by Durbach Block Jaggers Architects with Peter Colquhoun
Durbach Block Jaggers Architects, with Peter Colquhoun, create the ideal bay-watching platform for Australia's most iconic beach. As Laura Harding discovers, this nimble little building is quite a paradox – largely inaccessible to the general public, it is nevertheless widely public-spirited. More…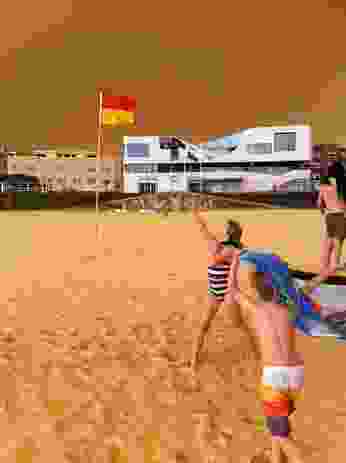 2. GASP by Room 11
Continuing the transformation of Tasmania's tough, working class suburb of Glenorchy that began with MONA, Room 11's Art and Sculpture Park in, with its quiet yet delightful structures, has forged a powerful sense of community pride. More…

3. Highpoint Shopping Centre by Grimshaw Architects and The Buchan Group
Highpoint Shopping Centre, in Melbourne's north-west, is one of the largest malls in Australia – and once embodied many of the worst characteristics of the type. A new wing designed by Grimshaw Architects and The Buchan Group, though, has gone a long way towards "civilizing" this particular machine for shopping. More…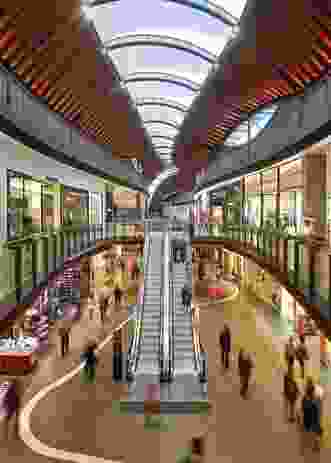 4. Hotel Hotel – Fender Katsalidis, Suppose Design Office, March Studio et al
Located in Nishi, a new mixed-use building in Canberra's New Acton precinct, Hotel Hotel is the result of an intense collaboration between more than fifty designers, architects and artists. By directly engaging with the complex systems that shape successful cities, though, it transcends the already remarkable sum of its parts. More…

5. Advanced Engineering Building by Richard Kirk Architects and Hassell
Drawing lessons from early modernism, Richard Kirk Architect and Hassell have created a new education facility at the University of Queensland that integrates multipurpose teaching and research spaces in a model of "programmatic congestion". More…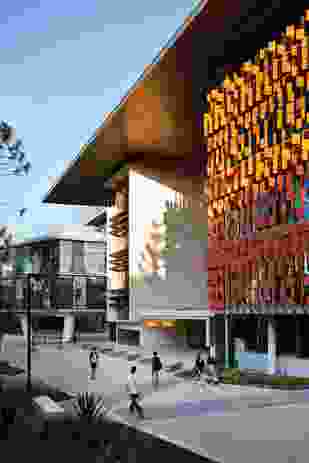 Products and materials
Walls and ceilings

Blackbutt and red mahogany class 1 timber slats on external walls. Stainless steel mesh screen with climbing plants. Profiled precast concrete. Eco mall and level 3 ceilings are faceted stained Copperform plywood and stained Casello LVL timber. Central roof light three-layer is ETFE from Vector Foiltec. Level 2 ceiling is off-form in-situ concrete with stained plywood slats. Crescent mall ceiling is white translucent polycarbonate, plasterboard and high-performance glazing roof light. Fresh Food area uses off-form concrete and angled plywood.
Windows

Vertical louvres (glazed and metal panel) to the perimeter of each mall connected to BMS by Colt.
Flooring

Large-format bluestone tiles. Concrete terrazzo. Spotted gum timber.
Furniture

Furniture designed by Grimshaw Architects. Solid timber and spotted gum/leather and integrated planting. Curved, stained plywood with leather and sliced bluestone boulders. Spotted gum, slatted timber to herb planters.
Bathroom

Curved Trespa panels to parents' room and male/female amenities. Curved stone benchtops.
Heating/cooling

Perimeter louvres by Colt. Roof lights optimized to daylight. Projecting roof edges to shade facades. Tenancy spill air to provide free cooling.
Roofing

Eco roof uses structural timber (LVL) from Casello, Stilcon steel and exposed plywood soffits from Copperform. Undulating form is clad with zinc.
External elements

Large-format sawn bluestone paving. Cut bluestone boulders. Water feature. Edible landscape with fruit trees and herbs in planters are free to take home.
Other

Art installation by Kerrie Poliness.
Credits
Architect

Grimshaw Architects
Australia
Project Team

Keith Brewis, Tim Cox, Jason Embley, Alastair Hudson, Richard Morrell, Cameron Ritter, Jarrod Smith, Neil Stonell, Michael Wu
Consultants

Architect The Buchan Group
Builder ProBuild
ESD Arup Melbourne
Flooring De Fazio
Landscaping Rush\Wright Associates
Lighting Electrolight
Project manager APP Corporation
Services engineer Simpson Kotzman
Structural engineer Baigents

Site Details

Location 120-200 Rosamond Road, Maribyrnong, Melbourne, Vic, Australia

Project Details

Status Built
Design, documentation 18 months
Construction 28 months
Category Commercial, Interiors
Type Alts and adds, Retail, Shops

Credits
Architect

Durbach Block Jaggers Architects
Sydney, NSW, Australia
Project Team

DBJ project team: Neil Durbach, Camilla Block, David Jaggers, Stefan Heim (project architect), Erin Field, Deborah Hodge, Mitchell Thompson, Lisa Le Van;, North Bondi SLSC project team: Peter Colquhoun, Grant McMah, Peter Strachan, Ben Griffiths, Mark Cotter, Peter Zieme
Architect in association

Peter Colquhoun

Consultants

Accessibility consultant Mark Relf
Certifier Tom Miskovich and Associates
Facade engineer Surface Design
Heritage Urbis
Hydraulic engineer Whipps Wood Consulting
Lighting Zumtobel
Mechanical, electrical and fire engineer Cardno ITC
Planner Mersonn Pty Ltd
Project manager Carter Building and Design
Structural engineer M+G Consulting

Site Details

Location Sydney, NSW, Australia

Project Details

Status Built
Category Public / cultural
Type Sport

Credits
Architect

Room11
Australia
Project Team

Thomas Bailey, Megan Baynes, James Wilson, Henry Beresford, Ryan Cawthorn, Nathan Crump, Aaron Roberts
Consultants

Electrical engineer Andrew Sutherland Consulting Engineers
Landscape architect McGregor Coxall
Structural engineer Gandy and Roberts Consulting Engineers

Site Details

Location Hobart, Tas, Australia

Project Details

Status Built
Category Landscape / urban, Public / cultural
Type Culture / arts, Parks

Credits
Architect

Kirk
Brisbane, Qld, Australia
Project Team

Richard Kirk, Paul Chang, Yee Jien, Andrew Drummond, Fedor Medek, Jonathan Ward, Stephen Chandler, Adam Laming, Mitch Reed, Shane Willmett, Erik Sziraki, Matthew Mahoney, Lynn Wang, Grace Egstorf, Mark Loughnan, Mark Roehrs, Mark Craig, Peter Hastings, Joe Soares, Daniel Loo, Alison Hortz, Catherine Van Der Heide, Troy King, BP Loh, George Taran, Nguyen Luu, Mac Young, Fraser Shiers, Cheong Kuen, Greg Allis, Amy Carrick
Architect

Hassell.
Australia
Consultants

Acoustic engineer Arup
Certifier McKenzie Group
Communications and security Aurecon
Containment survey Cetec Pty Ltd
DDA McKenzie Group
Dry fire engineer Aurecon
ESD S2F, Cundall Australia
Electrical engineer Aurecon
Fire engineer AECOM
Landscape architect Hassell.
Mechanical and Hydraulic Engineers WSP Group
Quantity surveyor Rider Levett Bucknall – Melbourne
Risk and hazard consultant McKenzie Group
Structural, civil & facade engineer Aurecon
Theatre technical consultant Arup
Traffic engineers Aurecon
Vertical transportation Cundall Australia
Wet fire engineer WSP Group

Site Details

Location Brisbane, Qld, Australia

Project Details

Status Built
Category Education, Public / cultural
Type Universities / colleges

Products and materials
Walls and ceilings

Hotel rooms' internal walls are in three designs: off-form concrete with ribbed and hammered finish; bespoke clay render with hemp, aggregate and pigment (developed by Don Cameron and Rockcote); and various natural fibre walls made from grass, cork and hessian and sourced through South Pacific Fabrics and The Textile Company. Lobby and entry features concrete lintels from Ultrafloor, blackbutt timber battens, Cube acoustic insulation panels in 'Onyx' from Autex, Ceminseal BareStone fibre cement sheet from Cemintel, custom perforated blackened steel panels.
Windows

Hotel rooms feature Blockout roller blinds, with automation by Chernway. Aesop curtain fabric from Warwick Fabrics. Lobby and entry features VFloat toughened glazing from Viridian, custom-made steel frames with Dulux Ferrodor finish, and SmartTech Tilt windows. Timber hotel room windows by Paarhammer.
Doors

Hotel room doors painted in Resene 'Double Gravel.' Lobby and entry feature custom blackened steel, with penetrol finish and VFloat glass inserts from Viridian; automatic frameless glazed sliding door from Dorma.
Flooring

Hotel rooms feature custom-weave Berber carpet. Lobby and entry features blackbutt floorboards, burnished concrete, concrete lintels from Ultrafloor and velour carpet in 'Bondage' from Supertuft.
Lighting

Hotel rooms feature custom-made bedside, desk, floor, bathroom mirror, corridor louvred and pendant lighting designed by Don Cameron and manufactured by Nocturnal Lighting and Berczi Copper Company. Glass pendant light in hotel rooms designed and hand blown by Amos Enders-Moje.
Furniture

Bespoke cabinetry in hotel rooms designed by Don Cameron and fabricated by Gecko Joinery using ancient Romanian oak salvaged from Loire Valley, France and imported by The Salvage Company. Bed heads, consoles, banquettes, three-way side table, dining table and wardrobes in hotel rooms designed by Don Cameron. Editioned hotel room furniture designed by Don Cameron, fabricated by Berczi Copper Company. Upholstery from Atelier Design Furniture, with fabrics by South Pacific Fabrics and Edra and leather by Instyle.Side tables, coffee tables and hairy desk chairs in hotel rooms designed by Don Cameron with Ken Neale. Vintage furniture and applied arts in hotel rooms and on ground floor sourced and curated by Don Cameron. Side table, coffee table, hoop stool and rag rug stool on ground floor designed by Don Cameron with Ken Neale. Patinated brass communal tables designed by Don Cameron and manufactured by Berczi Copper Company. Feasting table, chairs and stools in hotel restaurant and bar, concrete benches in public spaces around hotel, and wooden bowls in all hotel rooms, all by Broached Commissions with Adam Goodrum. Couches in hotel foyer by Broached Commissions with Charles Wilson. Lenticular mirror (reception desk feature wall) by Broached Commissions with Lucy McRae.
Bathroom

Hotel rooms feature Astra Walker bathroom mixers; Rogerseller basins; custom-made concrete baths from Boyd Alternatives; quartzite benchtops from SNB Stone; and tiles from Onsite Supply & Design.
Credits
Developer

Molonglo Group
Canberra, ACT, Australia
Consultants

Artists and designers Lucy McCrae, Anna-Wili Highfield, Charles Wilson, Adam Goodrum, Amos Enders-Moje, Al Stark, Lee Grant, Gerard Havekes, Kris Coad.
Base building architect Fender Katsalidis Architects, Suppose Design Office
Base building services and ESD Arup
Bespoke furniture Broached Commissions
Building certifier ACT Metropolitan
Building civil engineer Mott MacDonald
Building structural engineer AWT Consulting Engineers
Graphic design & signage Clear Design & Brand Strategy, Studio Round
Hotel room design Don Cameron and Molonglo Group
Kitchen design RBD Consulting
Landscape architect Oculus Landscape Architecture & Urban Design
Lobby and entry March Studio
Lobby and entry builder CBD Contracting
Lobby and entry engineer Co-Struct
Lobby and entry lighting Point of View
Project management Molonglo Group

Site Details

Location Canberra, ACT, Australia

Project Details

Status Built
Design, documentation 18 months
Construction 18 months
Category Hospitality, Interiors
Type Hotels / accommodation