Charles Darwin University (CDU) has unveiled plans for an eight-storey education and community precinct designed by ARM Architecture with interiors by Geyer and landscape architecture by TCL.
The university campus is a central component of the Darwin City Deal, involving the federal, territory and local governments as well as CDU. Along with adaptable teaching spaces for collaborative learning, the campus will incorporate the Northern Territory Government library, a university library and art galleries.
The building will replace an at-grade carpark at the corner of Cavanagh Street and Garramilla Boulevard, which was operated by the council until the university bought it for $14.6 million in April 2020.
Also on the site is a heritage-listed Boab tree, believed to have grown there since the 1800s, that is significant for its association with the Darwin Public School that once stood on the site, according to heritage architect David Bridgman Architects.
ARM's concept places the Boab tree at the heart of the campus, with a large civic park to the south surrounding the tree, offering it protection and incorporating both passive and active spaces.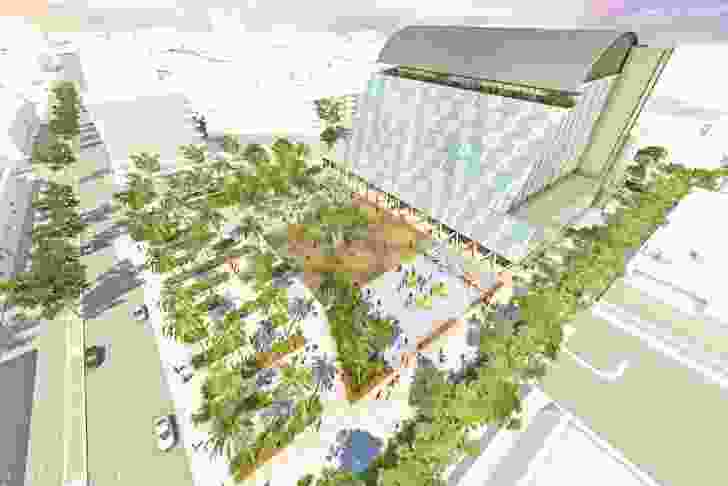 The building itself will face this civic space, with a "great veranda" at the base of the building providing shade and shelter from rain across the full 70-metre width of the building. This veranda opens directly to a glazed foyer, theatre and circulation areas which "especially in the evenings will reveal the glowing interior," according to ARM's architect statement.
Above the veranda, the southern facade of the building rakes back to the north to provide maximum daylight access for the Boab tree.
"This raking facade creates a dramatic architectural treatment for the full height of the building culminating in the barrel vault roof to the plant room," states ARM. "Instead of the usual crude plantroom structure, this curving roof form provides a dramatic feel of occupation at the top of the building."
Landscape architect TCL has prepared three different concepts for the landscape; the preferred option features a green entry threshold to the university along Cavanagh Street with garden beds and integrated seating underneath a dense tree canopy. The central Boab tree would be flanked by a shaded communal lawn with an Indigenous ceremonial area is located within a clearing adjacent to the Boab tree.
CDU first announced plans for the Cavanagh Street campus in 2018, along with indicative renders prepared by Hames Sharley. Concept plans for the precinct are on public exhibition until 5 June.
Related topics