Top five talking points of 2016
This year, there was no shortage of debate around familiar and perennial issues. It was also a year marked by the loss of some of the country's most prominent and widely lauded architects. From the stories that generated the most frenzied clicking, we've unearthed five themes that made for lively talking points in 2016.
1. The future of housing
In a year in which housing was a key issue in the federal election, it's perhaps unsurprising that the way Australian dwellings should be designed was also the subject of much debate among architects and built-environment professionals.
This year marked the introduction of Victoria's Better Apartments Design Standards. But before anything was set in stone, the issues of minimum sizes and the impact of minimum standards on housing affordability were hotly contested by prominent and vocal architects. When the standards were finalized, the Victorian government was vehemently criticized by the Australian Institute of Architects for failing to mandate the use of an architect and failing to provide details of a proposed design review panel.
In New South Wales, a state that has had apartment standards in place for more than a decade, the state government turned its attention to what it called "the missing middle" of housing design policy. The government introduced a draft design guide for medium density housing and launched a design ideas competition to test the draft policies.
The Government of Western Australia is also considering apartment design standards as part of a suite of policies that will shape the future of built environments in the state. The WA government's development agency LandCorp is leading the way in innovative models of housing in two demonstration projects at White Gum Valley: a Baugruppe-style cooperative housing apartment development, led by former government architect Geoffrey London, and a house for generation Y, designed by David Barr Architect, which consists of three interlocking one-bedroom apartments.
2. The lives we lost
It's been a sad year for Australia's architecture community, which mourned the loss of a number of widely lauded architects.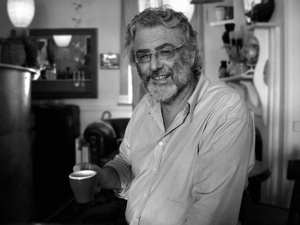 The death of Paul Pholeros AM in February was a "great loss," said Jon Clements, then-national president of the Australian Institute of Architects. "Anyone who had the opportunity to hear him speak about his work could not help but be moved, changed in some fundamental way."
Stephen Ashton, a 2016 Gold Medallist, "will be greatly missed […] and remembered for his incredible dedication to the practice of architecture, challenging the status quo and inspiring clients, colleagues and students alike," said Ken Maher, national president of the Australian Institute of Architects.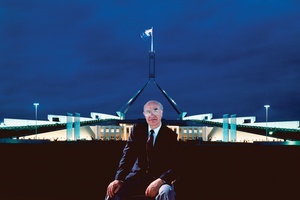 Architect of Australia's Parliament House Romaldo Giurgola AO passed away in May this year. Silvia Mitchell wrote: "His spirit of adaptability and humble strength, combined with his curiosity and deep knowledge of the discipline, allowed him to carve out a unique architectural career driven by civic values, forging a transnational reputation."
Peter Corrigan was an influential architect and educator who was a fulcrum in the transformation in Australian architecture from the 1970s to the 1990s. "[He] embraced architecture's complexity and contradiction," wrote Conrad Hamann.
We also farewelled Neil Everist OAM, architect of the mid-century icon Heide II, and John Morphett AM OBE, who brought the teachings of Walter Gropius and the Bauhaus movement to Australia.
Internationally, the world was shocked to learn of the sudden death of Dame Zaha Hadid, whose passing had local media pondering what would become of her Australian projects. Since her death, Zaha Hadid Architects' first Melbourne tower has been approved and a second, also in Melbourne, unveiled. The practice's Gold Coast towers were withdrawn by the developer following a local council resolution to delay a decision on the proposal.
3. Architecture on television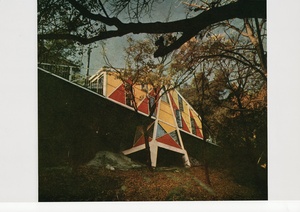 Australia's architecture community swelled with pride to see the ABC celebrate some of the country's most seminal buildings and architects. The season kicked off in October with Harry Seidler: Modernist, a retrospective documentary of Seidler's career that also presented an intimate portrayal of his life. In November, a two-part series, Streets of Your Town by comedian Tim Ross tracked the evolution of Australian suburbs from modernism to McMansionism. And in December, Glenn Murcutt – Spirit of Place gave audiences an insight into the work of Australia's only Pritzker Prize laureate and his latest project, the Australian Islamic Centre.
4. Architects rallying against contentious development plans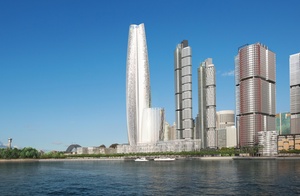 It was a "serial offender" in 2015 and this year, the Barangaroo development in Sydney continued to draw the ire of architects. The NSW Planning and Assessment Commission approved the contentious Wilkinson Eyre-designed casino tower this year, much to the disappointment of the Institute's NSW chapter. But there may still be a glimmer of hope after a legal challenge to the approval was heard in the NSW Land and Environment Court. We now wait with bated breath for the court's decision.
Also in Sydney, the NSW heritage minister's decision not to heritage list the brutalist Sirius public housing building has drawn wide condemnation. Architect Glenn Harper opined that casting aside this architectural and cultural legacy threatened Sydney's heritage.
In Canberra, the Australian government's proposal to build a 2.6-metre-high fence around the lawn of Parliament House has deeply outraged the Institute, which has launched an online petition against the proposal – with a catchy three-word campaign slogan to boot: #stopthefence.
5. What Australian cities could have been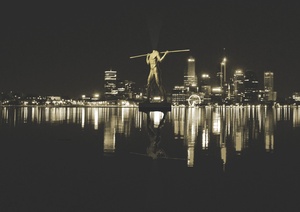 Finally, this year we looked back at some historical proposals for Australian cities that failed to leap off the drawing board, but nonetheless seemed to capture the attention of contemporary audiences. Perth academic Julian Bolleter combed through the archives and unearthed more than 200 alternative schemes for Perth's waterfront, resulting in an exhibition and book. The schemes ranged from an 1833 proposal for "a magnificent topographically interesting public park on the river's edge" to a Statue of Liberty-style sculpture of the headless Indigenous warrior Yagan to be constructed in the middle of Perth Water in celebration of the city's bicentenary in 2029.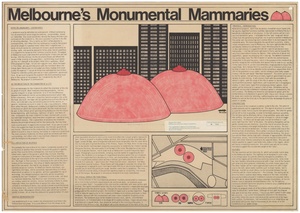 In Melbourne, ArchitectureAU went rummaging in the archives of the Public Records Office Victoria in search of proposals from a 1978 Landmark Ideas Competition for the site that is now Federation Square. Among some 2,300 entries were a few particularly noteworthy schemes and, to paraphrase one well-known Christmas carol, included seven big kangaroos, five big (other) animals, three big letter 'M's, two cricket wickets and a pair of "monumental mammaries".