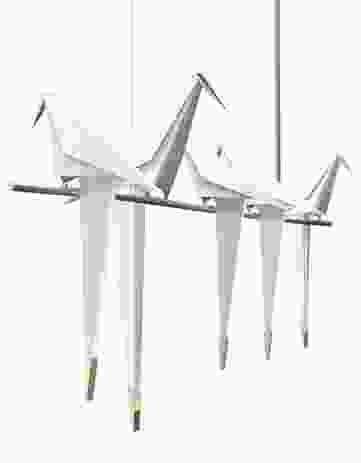 Perch light by Umut Yamac for Moooi
A major feature of Moooi's 2016 installation, themed around Rebellious Harmony, these graphic lamps can be clustered as 'flocks' on branches or as a single floor light, desk or wall-mounted lamp. The soft light emanating from the origami-like form recalls the change of season and awakening of senses from winter to spring.
Visit Moooi's website for more information. Space Furniture is an Australian stockist of Moooi.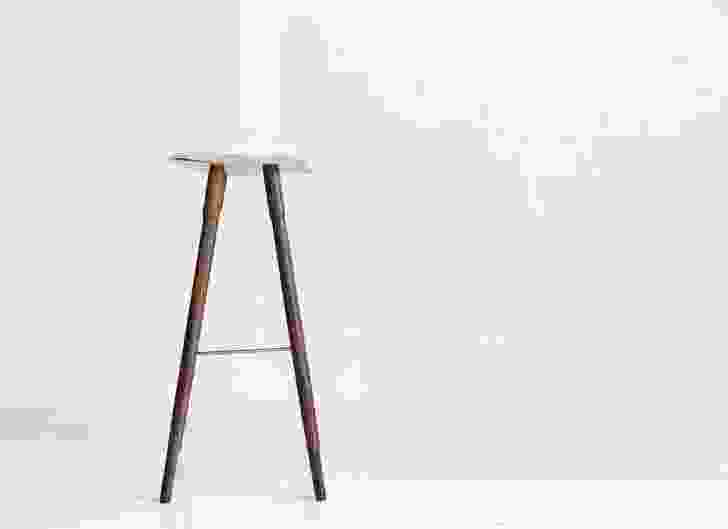 Dowel stool by Mr.Frag for Local Design
Part of the fantastic inaugural Local Design exhibition, showcasing 12 young Australian designers, the Dowel stool marries turned wood legs in natural Danish finish ash, black Japanese-style ebonized ash, or American Walnut, with the tactile lustre of a brass seat. Manufactured with materials chosen to their ability to develop a patina with time, the stool is available in two heights suitable for counters or bars.
Visit Mr. Frag's website for more information. Local Design is an Australian stockist of Mr. Frag.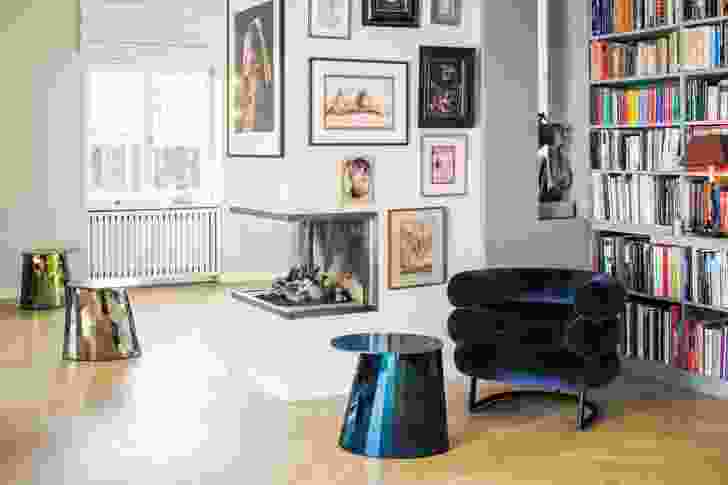 Pli side table by Victoria Wilmotte for ClassiCon
Created from stainless steel polished to a high-gloss finish, and tinted in a range of neutral or more disctinctive colours, Pli's facets enhance the reflective qualities of the material. Appearing like a precious stone topped with a matching glass top, Pli is a contemporary piece that uses technology to get the most out of simple materials.
Visit the ClassiCon website for more information. Anibou is an Australian stockist of ClassiCon.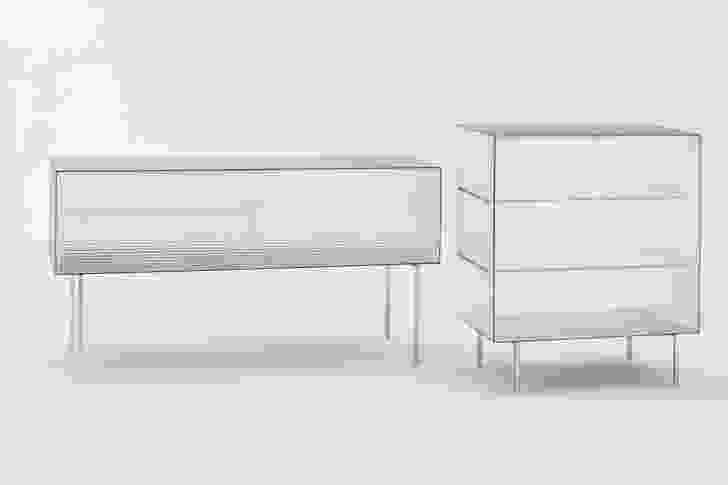 Commodore sideboard by Piero Lissoni for GlasItalia
This sideboard and cabinet give the impression of weightlessness, while the striped or checked print glass adds a touch of intrigue, creating an opaque surface and a slightly vintage sensibility. The streamlined, modernist form would be at home in diverse settings, and the neutral glass complements any palette.
Visit GlasItalia's website for more information. Space Furniture is an Australian stockist of GlasItalia.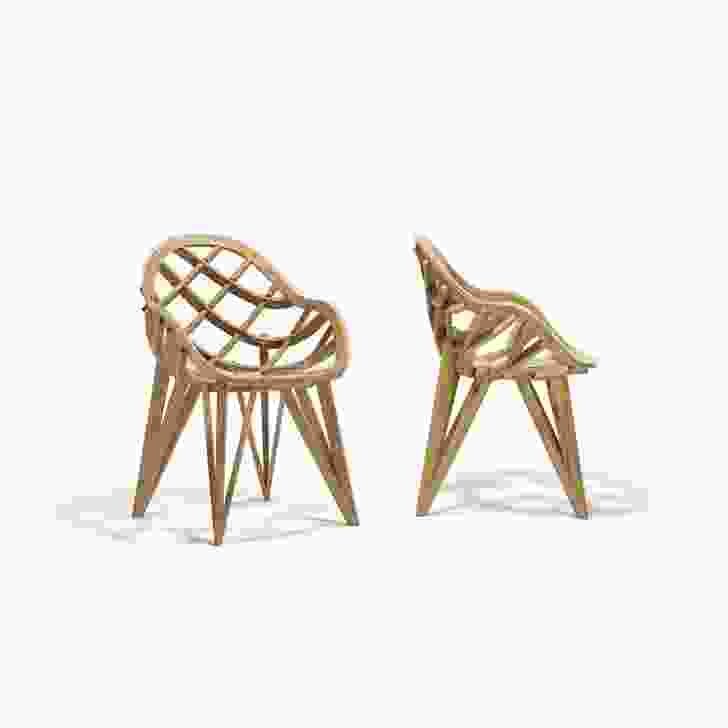 Opera chair, by Mario Bellini for Meritalia
Subverting the aesthetics of a traditional chair, Opera is a new addition to Meritalia's existing collection. A transparent seat made from a single piece of plastic is supported by a detailed oak frame. The articulation of the frame expresses the structural support of the furniture, while the natural finish tempers the strong geometry.
Visit Meritalia's website for more information.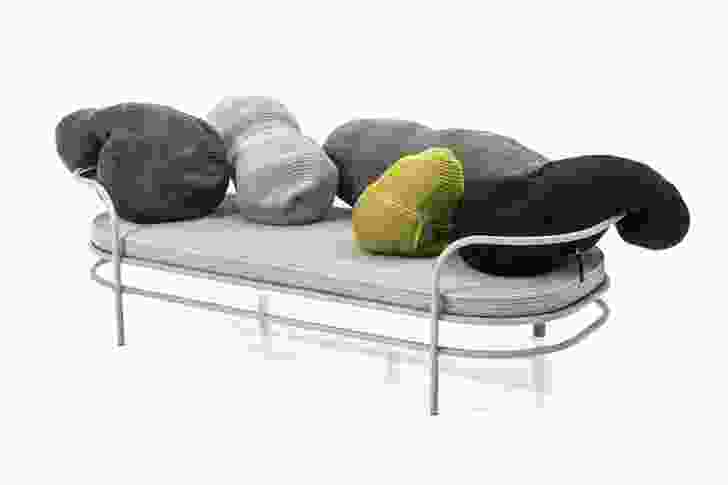 Triclinium sofa by Front for Moroso
Named for the ancient Roman centre of social life – a place for pleasure and politics – Swedish duo Front rethought the place of the sofa in every day life when designing this piece. It's described as a 'transformable landscape' of cushions and upholstery, which can be configured to suit various purposes. With custom accessories such as a side table and amorphous cushions, this sofa is equipped for impromptu meals, work or unexpected guests, and the rope-style upholstery means it can also be used as a day-bed outdoors.
Visit Moroso's website for more information. Hub Furniture is an Australian stockist of Moroso.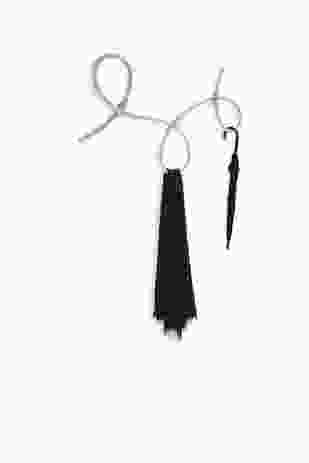 Waltz coat rack by GamFratesi for GTV
This sweeping gestural coat rack follows the steps of the classical Viennese dance, while offering an elegant and modern wall-mounted storage system. The Nordic and Italian design studio brought their combined skills to make this piece from bent wood, a traditional Austrian manufacturing technique. Blending a modern assymetry with natural materiality and Viennese history, Waltz can be placed in single or multiple configurations and offers optional small wooden knobs to add extra functionality.
Visit GTV's website for more information. Space Furniture is an Australian stockist of GlasItalia.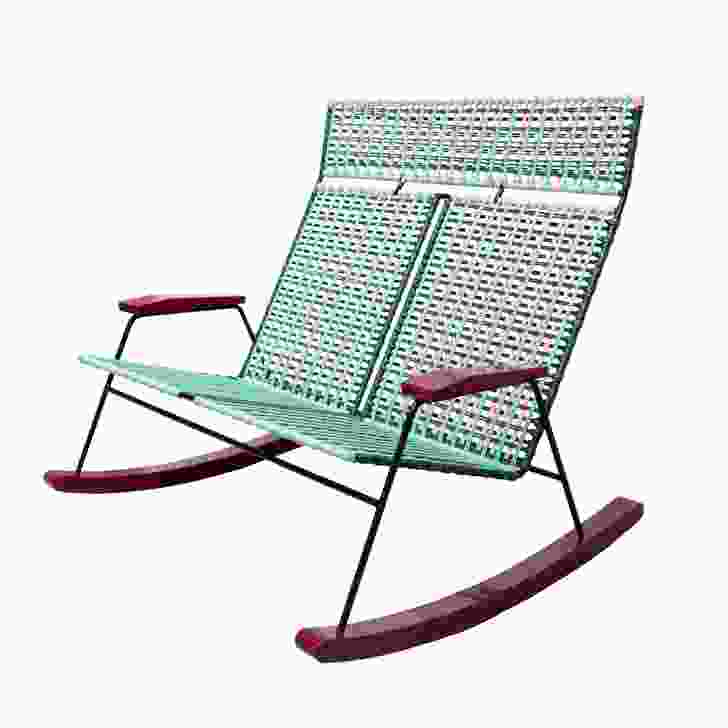 Marni double rocker
Released at this year's festival as part of Marni's Ballhaus installation, these furniture pieces were manufactured through a social project by Columbian women. The limited edition range of furniture is inspired by the Cumbia, a traditional Columbian couple's dance. The colourful double rocker is constructed from wood, metal and hand-woven PVC cord.
Visit Marni's website for more information.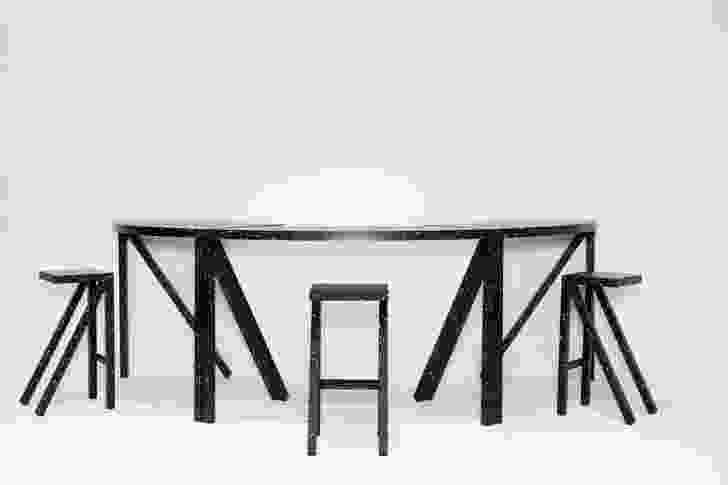 Bureau for the Study of Vivid Blue Every-Colour Inhabitations of the Planet, the Transformation of Reality, and a Multitude of Happy Endings by Jerszy Seymour for Magis
It's a bit of a mouthful, but this conceptual project – a collection of curved bench desks and chairs at various scales – is constructed from recycled, lightweight aluminium and pays tribute to the changing demands of offices, homes and home-offices. The striking white-splattered black colour palette is eye-catching without being too obtrusive.
Visit Magis's website for more information. Cult is an Australian stockist of Magis.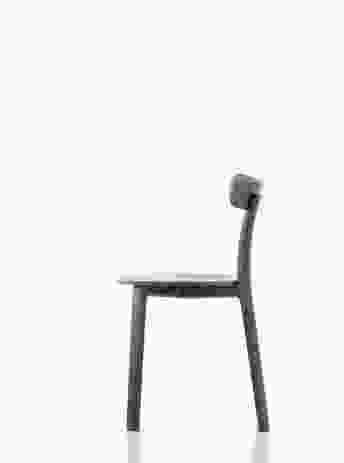 All Plastic Chair by Jasper Morrison for Vitra
Drawing on the classic wooden bistro chair design, Jasper Morrisson has used cutting edge manufacturing technology to create a more comfortable version made from plastic, which moulds to the user's body. The frame is constructed from a single piece of rigid plastic, while the back rest and seat are made from a softer version of the same material. The difference between the two plastics is highlighted by the two-tone colour scheme, available for the moment in white, grey and ice grey, with more colours planned for next year.
Visit Vitra's website for more information. Space Furniture is an Australian stockist of GlasItalia.
Related topics