Sirius tour with Tao Gofers leads National Architecture Conference fringe program
A suite of fringe events to accompany the 2017 National Architecture Conference has been announced by the Australian Institute of Architects.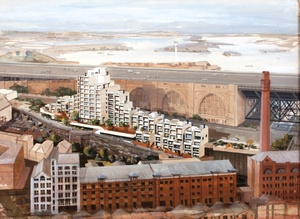 Leading the program is a tour of Sydney's brutalist Sirius building with architect Tao Gofers and members of the Save Our Sirius group, who are advocating for the preservation of the public housing building in opposition to the NSW government's plan to sell the site.
The refusal of the then-heritage minister Mark Speakman in July 2016 to refuse Sirius heritage listing sparked an outcry from both architects and the public. Subsequently, plans for the sale of the site have advanced and most of the residents have been moved to other social housing. 
A legal challenge from a local residents group called the Millers Point Community Association was brought against the minister. The case is due to be heard in the Land and Environment Court of NSW on 6 and 7 April 2017.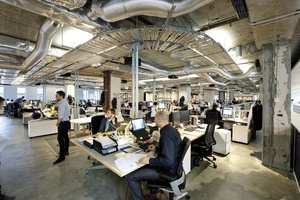 Other highlights from the fringe events program include a series of open studios by some of Sydney's – and Australia's – largest architectural practices. Cox Architecture, Grimshaw, CHROFI and McGregor Coxall are among those throwing their doors open to the public to explain the way they work and discuss their current projects. BVN is also opening its studio, offering visitors a last chance to view the workplace before the fitout is removed to make way for a new studio in the second half of 2017. Attendees at BVN's open studio will be able to experience the practice's work in virtual reality and meet with the 3D printing and in-house model maker.
A variety of walks and tours of architecturally interesting or significant areas will also take place. Eoghan Lewis, founder of Eoghan Lewis Architects and the Sydney Architecture Walks, will lead a tour on the development and governance of Sydney's rapidly changing Ultimo, Chippendale and Surry Hills areas. Projects by Ateliers Jean Nouvel, Foster and Partners, Durbach Block Jaggers, Gehry Partners and Smart Design Studio will feature as points of interest.  
Other associated events that will take place at the same time as the conference include the inaugural ArchiFlix film festival, the Australian Construction Industry Forum and the Designbuild trade show. 
The conference speaker line-up announced so far includes a range of international and local speakers, including Glenn Murcutt, Australia's most internationally renowned architect, in discussion.
These events will take place from 4 to 7 May to accompany Praxis, the 2017 National Architecture Conference. Access to fringe events is limited to conference delegates. For more information, go here. For the full fringe event schedule, go here.