In the future, the fabled quarter-acre block could be a suburban rarity, a stable nine-to-five job could be a relic of the past and private garages could be obsolete (with driverless vehicles coming to the fore). Along with these possible futures, the number of older Australians is projected to continue to grow, with the proportion of Australians aged over sixty-five years expected to more than double by the end of this century.
Such forces are driving rapid changes in the ways that Australians inhabit and occupy their homes. But designer Kirsty Volz says the country's housing stock is ill-equipped to weather the winds of change. Kirsty is one half of Brisbane-based practice Toussaint and Volz, which she formed with her partner David Toussaint. The duo has a future-focused approach to projects, with innovation in housing a principal interest of their studio.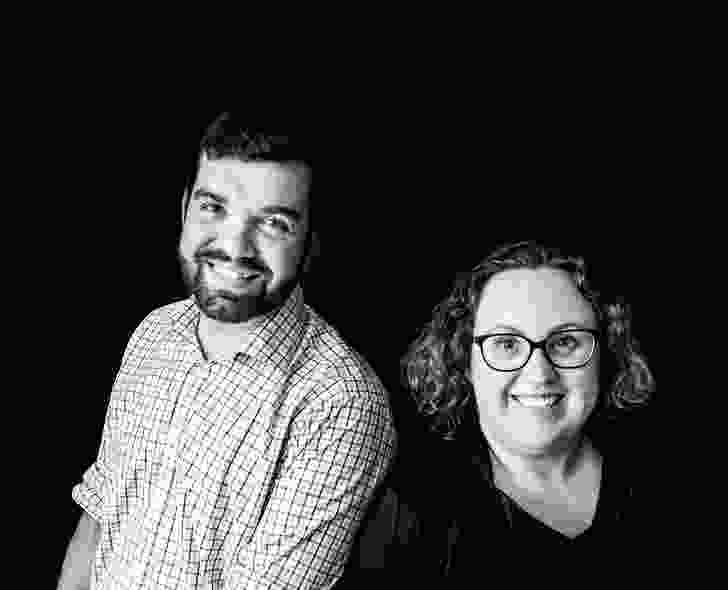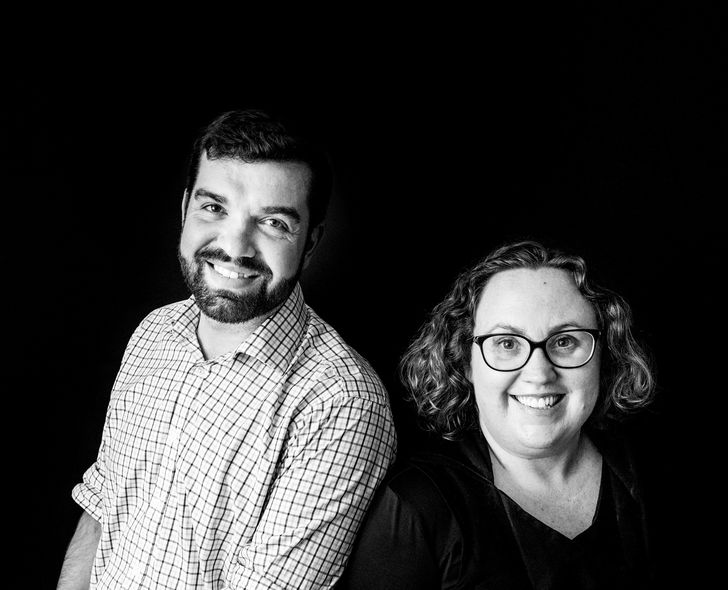 "We are at an unprecedented time in terms of the number of social and economic shifts," Kirsty says. "We've got houses that are designed around an idea that everyone lives in nuclear families and that it's patriarchal. There's a real lack of diversity and flexibility in housing and because of that, it's becoming unaffordable. In general, housing needs to be more adaptable so that when these shifts happen we can change it [and make it] more accessible to different people at different times."
Kirsty also says that the financialization of housing "is a real problem" – a problem that she and David encountered when designing their own home in Brisbane. "We were told we had to have three bedrooms to get finance. But we're only a three-person family, so we only need two bedrooms," she recalls. "It wasn't about what we needed for the house, it was about what the bank needed to make the house work."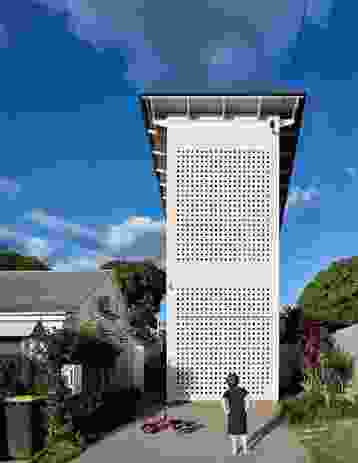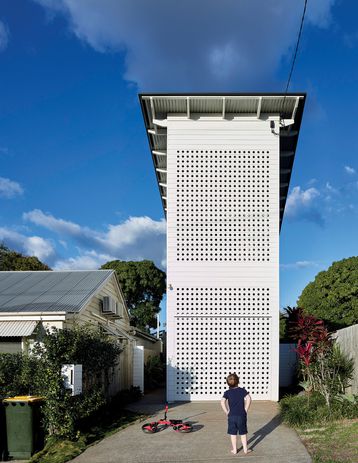 Kirsty and David applied design thinking to resolve both financial and spatial challenges and have in essence "gamed the system" to take advantage of the problems posed to them. The Two Pavilion House is, as the name suggests, a house split into two.
The family lives in the main pavilion at the rear of a very narrow 5.5-metre-wide site. The house's tall, skinny form gives it a striking presence on the street, but the form was designed to mitigate Brisbane's subtropical climate. It allows for passive cooling and ventilation and also helps to prevent mould build-up.
The front pavilion is a standalone structure with its own entrance, bedroom and ensuite. "At the moment that's our office, but for the first couple of years we rented it out," Kirsty says. "The house is averse to risk, but also allows us to find opportunity in the good side of risk and we have ways of drawing in passive income if we find ourselves in high risk with employment. We take advantage of technology and can work from home."
The flexible arrangement of the house also allows for multigenerational living. "My mother has already claimed it for old age. Or, of course, if our son never moves out, we'll move him in there," Kirsty says with a laugh.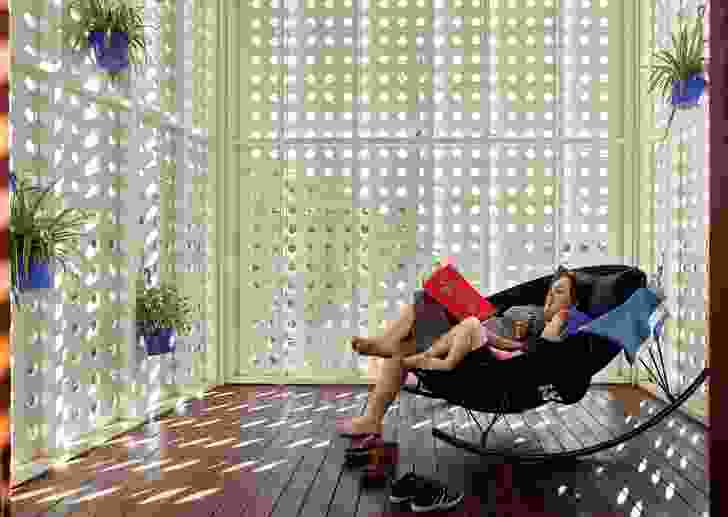 All jokes aside, the ageing population is one of the biggest factors in determining the accessibility and affordability of housing. "The fastest growing demographic of homelessness is single women aged over fifty-five," says Kirsty. "Those are the people who are most marginalized by the current housing stock. There are loads of financial and economic reasons for that, but there's also an issue with the built fabric of our houses, in that we haven't got enough housing stock that is suitable and affordable for those women."
The solution doesn't have to involve a complete tabula rasa or bespoke one-off works of architecture. Queensland's Department of Housing and Public Works has expressed interest in the practice's approach to co-housing. As Kirsty says, there is also much to be gained from adapting ubiquitous mass housing for twenty-first-century living, following in the legacy of Robin Boyd and the Small Homes Service.
Kirsty is interested in accessible and affordable housing and is keen to see how, in some of those mass markets, existing housing stock could be shifted. "I also think we could retrofit garages when we have automated transport systems," she says. "That would be very futuristic."
Source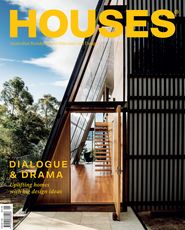 Issue
Houses, February 2019