We are about to see the greatest building boom in history. By 2050, our global population is expected to exceed 9.5 billion people, with the number of households doubling from 1.9 billion in 2010 to 4.1 billion. To accommodate this, we will need to build more than 100 billion square metres of new residential floor area, not to mention workspaces, public buildings, schools, cultural facilities and city infrastructure. 1 Australia is not immune to such increases, with suggestions that 51 per cent of all buildings standing in 2050 will be built after 2019. 2 Building for such numbers, while simultaneously decarbonizing the built environment to tackle the climate crisis, represents one of the greatest challenges of the twenty-first century.
To accommodate this growth, we are often told we have two choices: either "build up," embracing an increasingly vertical cityscape, or infill, with mid-rise urban development. For example, in 2016 the New South Wales Minister for Planning and Public Spaces, Robert Stokes, suggested that Sydney faced a choice between "a Shanghai route or a Barcelona route in terms of the shape of our city." 3 But such a "choice" belies both the scale and the complexity of accommodating such rapidly growing cities. The Shanghai and Barcelona models mark the extremes; in reality, most cities require a far more mixed approach, with large proportions of mid-rise along with strategically located towers – not to mention an intensification of our sprawling suburbs.
We cannot deny that Australian cities are "building up" – and at a rapid pace, too. While a highrise office boom in the 1990s predated a rush of apartment towers just before the global financial crisis of 2007–2008, the current spike in highrise construction – again, dominated by apartments – is our most significant yet (Figure 1). This trend will no doubt accelerate in the future.
Despite our rising skylines, or perhaps because of them, the skyscraper remains a divisive building type. There are some who consider towers a vital component of compact cities, forming high densities that can facilitate mass rapid transit and sustainable living patterns. Many others berate skyscrapers as the building equivalent of SUVs: gas-guzzling Goliaths embracing a bigger-is-better philosophy to our environmental and urban detriment. Such an opinion is understandable; when designed badly, towers can consume far more energy and resources than other buildings, cast large shadows over public spaces and replace diversity with monoculture. Rather than reject the tower, though, this is a call to design teams to tackle these challenges and create generous skyscrapers – towers that give back more than they take away, environmentally, socially and urbanistically.
An environmental generosity
One of the most convincing arguments for skyscrapers is that they can contribute to high densities and thus facilitate low-carbon living patterns. Higher densities can provide proximity to work, leisure, retail and cultural facilities, limiting our reliance on the automobile and instead allowing for rapid public transit, walking and cycling. They can limit suburban sprawl and thus the loss of biodiversity and agricultural land on the city periphery.
However, while the urban case stacks up, at the building scale, it is a different story. Large empirical studies in Sydney, New York and London have shown that towers consistently use more energy than low-rise buildings. 4 The reasons are complex but a contributing factor is that microclimates change with height. Rise above the roof-level in any city and wind speeds rise too, which can increase heat loss through infiltration. Towers tend to be more exposed to the sun, causing unwanted overheating (hence their dangerous reliance on glazed curtain walling that borders on the environmentally criminal). Despite a tightening of building regulations and the increasing use of green rating systems, a fifty-storey tower constructed today would likely contribute 350,000 tonnes of greenhouse gases over the next fifty years. 5
The good news is that there are multiple case studies – both internationally and locally – that tackle the issues successfully. Estudio Carme Pinós' beautifully crafted Torre Cube (2006) in Guadalajara, Mexico, with its central atrium and timber shuttering, shows that it's plausible to design and operate office towers that are naturally ventilated all year round, at least in milder climates. Older examples, such as Harry Seidler and Associates' Grosvenor Place (1988), embraced shade rather than transparency, with brise soleil adjusting around the curved form to respond to orientation. Such approaches have not been widely embraced in Australia in recent times, though Sydney's 1 Bligh Street (2011) (Architectus and Ingenhoven Architects), with its naturally ventilated atrium and double-skin facade protecting operable sunshades, is an obvious and celebrated example. The integration of passive and active systems in Melbourne's Council House 2 (2006), by Mick Pearce and DesignInc, and Studio 505's Pixel (2010), are precedents that could also be scaled up to more vertiginous buildings.
Research by Pitt&Sherry for the City of Sydney has shown that net-zero-energy residential towers in Sydney and Melbourne would be commercially viable through simple moves: less glazing in the facade (between 30 percent and 50 percent), more insulation, increased airtightness, high-efficiency appliances, heat recovery systems and photovoltaic panels to generate energy onsite. Additional costs would be in the order of 7–8 percent. 6 Such strategies are hardly revolutionary yet remain far too rare in their application.
On the positive side, a climate- specific approach to tall building design is pointing the way to a regional skyscraper ethos across our major cities. In Sydney, buildings are grappling with the environmental potential of the temperate climate, incorporating outdoor spaces with shade in summer and sun in winter while maximising residential amenity as required by the state's environmental planning policy SEPP 65. In Melbourne, the seasonal variation of hot, dry summers and cold, wet winters leads to more climate-protected spaces and the growing application of Passivhaus principles. In Brisbane, the only city with a requirement for a climate-specific response to tall buildings, designing with shade, layers and planting creates respite from the subtropical heat (see also Walan by Bureau Proberts, reviewed on page 66). 7
Meanwhile, we're seeing the emergence of mass timber tall buildings constructed primarily of glued laminated timber (glulam) and cross-laminated timber (CLT) rather than the traditional carbon- intensive steel and concrete. Examples such as International House Sydney (Tzannes, 2017) and 25 King in Brisbane (Bates Smart, 2018) demonstrate how timber structures can contribute to a more natural tectonic while also dramatically reducing embodied carbon emissions.
A social generosity
If tall buildings are to be part of the solution for our future cities, they need to be accessible – not only penthouses for the uber wealthy or two-bedroom apartments for DINKs (dual income, no kids). The question is, can highrise buildings comfortably and successfully accommodate more diverse groups, including families with children?
Clearly, highrise living is not the solution for every family. But proximity to the city and the cultural and infrastructural benefits it provides mean that apartment living is becoming increasingly common for Australian families. But one of the reasons the suburban home with its backyard remains alluring in that highrise apartments often lack direct access to social and communal spaces for play and interaction.
In Singapore, where more than 80 percent of residents live in highrise social housing, such spaces are being provided both at ground level and at height in towers. The Pinnacle@Duxton (2009), by ARC Studio Architecture + Urbanism, consists of seven fifty-storey towers interlinked by skybridges at levels 26 and 50. These bridges accommodate social infrastructure for different age groups, a gym for the elderly, a community centre, a children's play area and an 800-metre running track – all at height. Lush greenery is prevalent, encouraging elderly residents to gather and chat during the day and teenagers to leave their apartments to study under trees in the cooler evenings. These elevated spaces supplement, rather than replace, an active ground-floor realm that houses a park, childcare centre, basketball courts, markets and shops. Such ideas have become mainstream, with the likes of WOHA incorporating generous outdoor spaces at height (see WOHA's Kampung Admiralty, reviewed on page 58).
A new wave of Australian residential towers is also beginning to incorporate social spaces, including Sydney's One Central Park (Ateliers Jean Nouvel and PTW Architects, 2019) and the Emblem (BVN, 2017). Meanwhile, it is becoming increasingly common to see such spaces forming horizontal and vertical connectivity in commercial offices, such as at Sydney's 8 Chifley Square (Lippmann Partnership and Rogers Stirk Harbour and Partners, 2013) and the future projects Quay Quarter Tower (3XN and BVN) and Melbourne's Olderfleet (Grimshaw).
An urbanistic generosity
While social space at height is valuable, it is at ground and street level where most people experience and interact with the skyscraper. The pedestrian experience in, around and through towers is often reserved for criticism, with claims of overshading, wind downdrafts and a lack of activation commonplace.
But today's urbanely savvy tenants and apartment owners are seeking more from buildings than image; they are looking to be an integral part of an active precinct and highrise buildings need to create the public spaces to support this. Urban typologies are increasingly incorporated to activate ground planes and integrate with the adjacent context, such as laneways (in Sydney, Barrack Place by Architectus, 200 George Street by FJMT, ANZ Tower by FJMT and The Arc by Koichi Takada Architects – reviewed on page 78; and in Brisbane, Santos Place by Donovan Hill); outdoor plazas and steps (8 Chifley Square, 1 Bligh Street); and podiums for human scale (the towers within the masterplan for Barangaroo South by Rogers Stirk Harbour and Partners), 420 George Street by Bates Smart and 60 Martin Place by Hassell, all in Sydney). Often, it can be simple moves that generate positive outcomes, such as the opening up of north-facing steps at 1 Bligh Street to create terraced seating that is bathed in sunlight in the winter yet shaded by projecting floors above in the summer.
Conclusions
Highrise buildings are becoming an essential ingredient of our future cities, creating density and an intensity of activities. The generic International Style of late twentieth-century modernism has little place in a world where values have returned to an emphasis on the specifics of place and environment. Australia is responding by creating more environmentally, socially and urbanistically conscious highrises. But we need to go further. If we are to tackle adequately the dual challenges of urbanization and climate change, the next generation of skyscrapers must radically reduce its carbon footprint and generate positive outcomes for both occupants and the public.
— Philip Vivian is a Sydney-based design director of Bates Smart, a contributing editor to Architecture Australia and president of the Council on Tall Buildings and Urban Habitat (Australia).
— Philip Oldfield is director of the architecture program at UNSW Sydney and author of The Sustainable Tall Building: A Design Primer , published by Routledge.
Footnotes
1. Diana Ürge-Vorsatz, Luisa F. Cabeza, Susana Serrano, Camila Barreneche and Ksenia Petrichenko, "Heating and Cooling Energy Trends and Drivers in Buildings," Renewable and Sustainable Energy Reviews , vol 41, January 2015, 85–98.
2. Australian Sustainable Built Environment Council and Climateworks Australia, "Built to Perform: An Industry Led Pathway to a Zero Carbon Ready Building Code," July 2018, asbec.asn.au/wordpress/wp-content/uploads/2018/10/180703-ASBEC-CWA-Built-to-Perform-Zero-Carbon-Ready-Building-Code-web.pdf (accessed 23 July 2019).
3. Jacob Saulwick and Kieran Gair, "Sydney Population Booms and the Only Way is Up and In," The Sydney Morning Herald website, 12 September 2016. smh.com.au/national/nsw/sydney-population-booms-and-the-only-way-is-up-and-in-20160911-grdv4b.html (accessed 23 July 2019).
4. Paul Myors, Rachel O'Leary and Rob Helstroom, "Multi-unit Residential Building Energy and Peak Demand Study," NSW Department of Infrastructure, Planning & Natural Resources, October 2005; Luke Leung and Stephen D. Ray, "Low-energy Tall Buildings? Room for Improvement as Demonstrated by New York City Energy Benchmarking Data," International Journal of High-Rise Buildings , vol 2 no 4, December 2013, 285–291; Daniel Godoy-Shimizu, Philip Steadman, Ian Hamilton, Michael Donn, Stephen Evans, Graciela Moreno and Homeira Shayesteh, "Energy Use and Height in Office Buildings," Building Research and Information , vol 46 no 8, 2018, 845–863.
5. This assumes operational carbon emissions of 50 kg CO2e per m² per annum over fifty years and an embodied carbon of 1,000 kg CO2e per m².
6. Philip Harrington, "Accelerating Net-Zero High-Rise Residential Buildings in Australia: Final Report," Pitt and Sherry, 31 August 2016, carbonneutralcities.org/wp-content/uploads/2018/05/Accelerating-Net-Zero-High-Rise-Residential-Buildings-in-Australia.pdf (accessed 26 July 2019).
7. Brisbane City Council, "New World City Design Guide: Buildings that Breath," 2016. brisbane.qld.gov.au/sites/default/files/20160929-nwc-design-guide-btb-full-document.pdf.
Source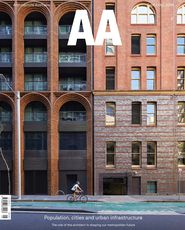 Discussion
Published online: 3 Dec 2019
Words: Philip Vivian, Philip Oldfield
Images: H. G. Esch, Harry Seidler, 1989. Copyright Penelope Seidler
Issue
Architecture Australia, September 2019
Related topics